The Wandering Man: Musings and Meanderings

Jan 08, 2012 11:17PM ● Published by Erik Dittmann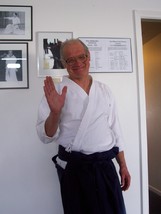 By: Tamon Mark Uttech


How are you? Thank you very much for the Christmas card and the surprise raffle tickets with it! I feel as though I owe so much to so many that I can never repay all of the kindness. I keep my eternal Buddhist homework: "Keep Going".
I'll spend Christmas Eve with an aikido class in my dojo early on, and then turn to family and friends with evening at my mom's. I do wish sometimes that I felt more comfortable; but, truth be told, I never did. How do I know? Each year, the "Uttech" family has an old-fashioned Christmas get-together complete with flaming candles on a tree (there's a fire extinguisher nearby), piano, carols and Christmas cookies… It's a 'clan' thing, and I can never get myself to go; even as the Uttech clan shrinks as far as those I know, and grows as far as those I don't know. I had a favorite aunt who used to ask me the same question every time she saw me: "Are you alone?"
And I would always say, "yes" and shrug. Three years ago I was in court hearing of my about-to-be release from the County Jail when I was handed a note telling me that my aunt had passed away. Everything went out and away from me. The Judge looked at me and asked: "Are you all right?"
I reverted to the shrug. The shrug is a family tradition.
In my dreams sometimes I see my dad, and he does his famous (family?) shrug. It's a good thing to have.
"Teach us to care
and not to care"
               -T.S. Eliot
I hope you do not find this letter depressing! As I write, I glance out the window and there are so many birds out at two feeders; most are common sparrows and when they first came, I would think: "no, no, let the colorful birds come…" and here and there a colorful bird would come, but the sparrows always out-numbered them so they didn't stay long. I love these life lessons unfolding each day. Perhaps there are a dozen or more, but the birds don't come to be counted; not because they don't count.
                                          Can the sparrows count?
                                          You can ask
                                          but the answer won't be final.
                                                                             -tamon
And now a gust of wind seems to have blown them all away,
8:52 am December 22, 2011
poetry
prose
winter