The VanHarens: BDACT's Original Star Couple

Nov 13, 2013 09:39AM ● Published by Erik Dittmann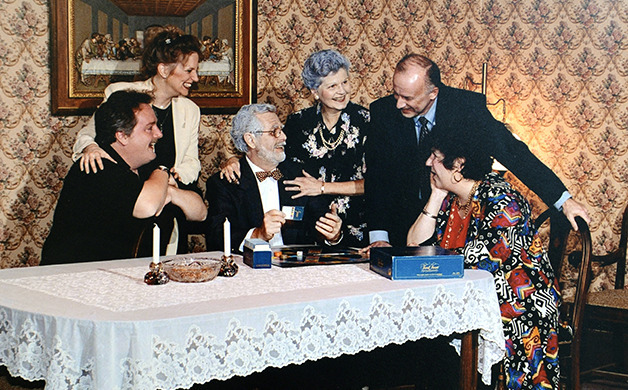 Gallery: The VanHarens: BDACT'S Orignal Star Couple [10 Images] Click any image to expand.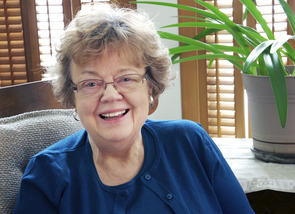 By: Annette Kamps
Beaver Dam Area Community Theatre - Beaver Dam, WI 
Roger and Marilyn VanHaren have been the "star couple" for Beaver Dam Area Community Theatre for almost 50 years.  In 1964, they joined area enthusiasts to form what was then Beaver Dam Community Theatre and have remained loyal, active members, participating in every aspect of the organization's success.
When their five children were young, the VanHarens took turns on stage, but were always engaged in some way. While Marilyn was in the hospital with their new baby Mike, Roger played a lead in the community theater's first production Harvey. The following summer, Marilyn was a memorable Nellie Forbush in South Pacific. When not on stage, she helped actors with their makeup, took publicity photos, worked props, promoted shows and more.  Her very first community theater job was sewing a ticket holder. "I was pregnant, so that's what I could do, but I almost killed my sewing machine and myself sewing through that tough fabric!"
Some of Roger's best backstage work involved his set designs and building ingenuity. He remembers Oliver!, his first set design; the multi-level Diary of Anne Frank set; and Music Man, one of many shows performed on the makeshift stage at the old Wisconsin movie theater.  "Tom Higgins and I stretched cables across the stage so that we could slide set changes. You can still see the braces on the outside of the building."  Roger designed a hidden staircase to be pulled out for Marilyn's entrance in Hello, Dolly!  Marilyn reflected, "There was no railing – it was a long walk down those stairs!" She mentioned the trials at different venues before BDACT had its own building. "At the Elks Club, there was no stage, no backstage, no costume change room, and no actors' restroom! We just coped the best we could."
So, how did these two thespians discover their love of theater and each other?  Marilyn's first role was at St. Mary's grade school in Oshkosh when she played "Fudgie" in an operetta. In high school, she was encouraged by drama coach Olive Davenport; and at Oshkosh State College, now UW-Oshkosh, she performed in "every play and opera." Roger's participation in forensics and play contests at Oconto Falls High School influenced him, and he was in vaudeville shows and one-act plays during college. The "star-crossed" sweethearts met at Oshkosh State when Roger got Marilyn's attention with his red suede shoes. Later, he joined the college choir "to get to know Marilyn better."
In 2011, the VanHarens, now longstanding Beaver Dam residents, celebrated their 50th wedding anniversary. Roger said, "We weren't going to stay very long, but our family grew, our friends Bob and Carmen Hanson were here, and we found friends through the theater and other groups." Perhaps Eric Becker, District Superintendent at that time, gets the credit for attracting them to this community, especially since the VanHarens were the first married couple in the school district. Marilyn was teaching in Beaver Dam when they became engaged. "So, I resigned because of the 'no-married-couples' rule." Happily, the rule changed. Roger began teaching English at the Junior High and Marilyn returned as elementary music teacher until their first child Jill was born. Later, Roger taught at Wayland Academy, and Marilyn taught and did some directing at Wayland, then taught at the high school.
Both of these talented, dedicated troupers are remembered for specific roles, and they have especially memorable ones too.  Roger recalled his dramatic role as Otto Frank as particularly emotional. Marilyn's favorite role was "always the one I was doing, but I Do, I Do has an especially meaningful story, and being "Anna" in King and I and "Mrs. Henry Ford" in Any Color You Like As Long As It's Black was great fun.  Of course, when Roger and some of our children were on stage with me, that was especially nice."  (Several of the children also participated in BDACT's Tell-A-Tale Children's division, which their son Christopher named.)
Roger shared, "Fiddler on the Roof was our first show together, then My Fair Lady, the Beaver Dam Sesquicentennial show Do You Remember?, Morning's at Seven, and we shared lead roles in Over the River and Through the Woods.  John Kraft, who played our grandson in that show, constantly broke us up during those trivia game scenes!"
Other co-leads brought challenges and humor to their roles. Calamity occurred in Mame when Marilyn's zipper broke on her "Gooch" dress and Nancy Nashban lost her dress on stage! There was some stress, too, when the wife of one of Marilyn's co-stars was nervous about the kissing scenes. Roger related how Lee Schmitt and he practiced show lines while painting houses (Roger's summer business). He especially enjoyed performing in Cactus Flower, Arsenic and Old Lace and more with the Hansons.  They both confessed that dramatizing with the popular actor David Proctor was always fun, but a little unnerving when he interjected his infamous adlibs.
The scariest time for Roger alone was singing one line in Oliver!  "The orchestra was in the balcony of the Wisconsin, so I ran up there to get the pitch, and then humming the note, ran backstage for my cue." As F.D.R. in Annie, he lost his voice and nursed it on honey and tea, although Marilyn's "Magic Mouthwash" was her best cure.
The couple's energies for BDACT never stop. They served multiple terms on the BDACT board including several stints as President. Always looking for ways to promote theater, Roger started his Backstage column in the Beaver Dam Daily Citizen in the 60s. In 1967 he was on the board when BDACT purchased its first building, St. John's church, which was not suitable for performances, but used as workshop space.  In 1983, when the building at 219 N. Spring Street was purchased, Roger was on the fundraising committee, as he is now for BDACT's current building improvement campaign. In addition to board and other services, Marilyn directed The Gazebo, Plaza Suite, and Pajama Game, and was vocal director for the first production of West Side Story.
In the late 90s, following Roger receiving a federal grant to study Mark Twain in Elmira, NY, the VanHarens expanded their acting partnership with their original tour show Mark Twain and Livy.  Initially, at the request of local teacher Michael Belongie, then President of the South West Education Association, Roger gave his first solo show at the Madison Civic Center for the association's convention. A year later, with some rewrites to include vocals, Marilyn became Twain's wife "Livy."  For 10 years they presented shows for several Beaver Dam non-profits, schools, and theaters throughout the Midwest and even did a riverboat show. They were pleased to perform the last of 75 shows in the new auditorium at Roger's Oconto Falls High School. But perhaps the biggest thrill was when the VanHarens visited distinguished actor Hal Holbrook in his dressing room following his own Mark Twain show in Madison.
With 50 years of theater experiences and more to come, the VanHarens see BDACT as a central part of their lives. Marilyn shared, "It's education, entertainment, escaping – It brings people of all walks of life, all ages, all skills, into one community. BDACT offers so many opportunities in addition to our main productions." Roger sees BDACT as "a cultural outlet that people here didn't have before. We build interest in theater even beyond our own community."  Reflecting on the importance of BDACT's building project, Marilyn shared her concerns.  "I have seen people carried up the stairs in wheelchairs or with their canes. Others say, 'I would go, but there's no handicap access, there aren't enough rest rooms, and the air conditioning needs improvement.'"  Roger emphasized, "BDACT's such an important entity in the city, and everyone deserves to get into the theater. The building improvements are not as much for us – actors will perform shows anywhere – but we need to get an audience in to see them, we need to give access to all." Marilyn added, "And where can anyone go to see great shows by outstanding talent at such a price?!" 
In Print
,
Today
theatre
bdact
vanharen