In This Issue: January / February 2014

Jan 14, 2014 05:45PM ● Published by Erik Dittmann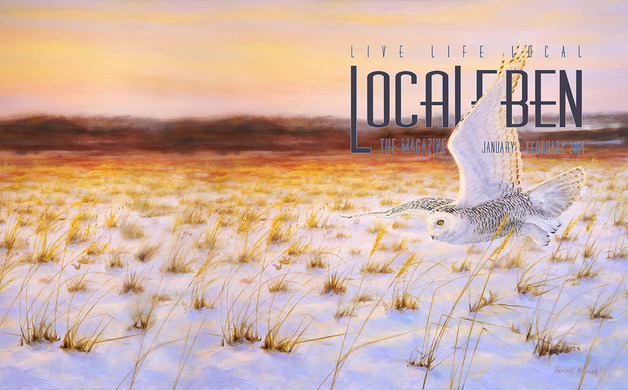 White on White by Terrill Knaack
To The Reader


We now begin the third year of LocaLeben – and we like to start the New Year off with a huge splash.  There are now 5,000 additional copies in the hands of community members around Beaver Dam.  Our audience now stretches into the rural parts of Fox Lake, Waupun, Burnett, Horicon, Juneau, Lowell, Reeseville, Fall River and Randolph.  For those of you seeing LocaLeben for the first time, let me explain what we are all about. 
It will also be a great reminder for everyone to what makes LocaLeben unique as a media outlet.  The title "Local Leben" is a bit of a play on words using foreign language.  Leben (pronounced LAY-BIN) is German for "Life" so the title means Local Life.  With some artistic liberty, the "L" in the center is shared:  LocaLeben.  
Now let me explain what we are all about.
We are reinventing Local Media

We are taking a whole new approach to how people learn about what is going on in their community.

Instead of journalists and reporters finding stories, we simply give YOU a place to share your story.  LocaLeben is a COMMUNITY HUB of information, stories, and events. 
Every other month we deliver a varied selection of YOUR submissions in a beautiful print magazine – FREE of charge.  Also available is www.LocaLeben.com  - an online COMMUNITY HUB of press releases, obituaries, bloggers and extra content for the print magazine articles.  Members of the community submit all of this information.  Yes – your story about the upcoming fundraiser that your service club is doing can be on LocaLeben.com.  Anything that is about, takes place in, or serves the community is welcome.
My personal favorite part of what we do is providing a community calendar that YOU fill with your events.  Fill out the form and it is up for everyone to see.  No more excuses saying there is nothing to do.  This is also FREE.
The power of this new media is YOU.  Without your participation – it is nothing.
18,514 – That is how many copies of LocaLeben are now in the hands of the community.  We are very excited to be able to bring YOUR stories to more people in the surrounding communities.
Live – Life – Local –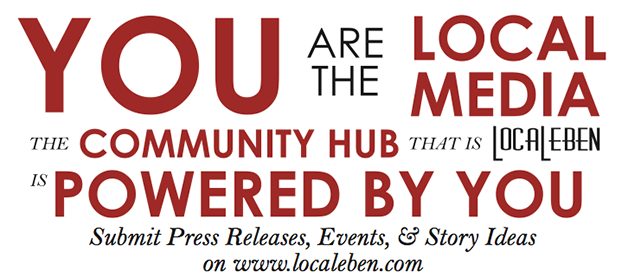 Viewfinder: Friends of The Apostle Islands
When we started our project to capture a killer shot of the Milky Way in 2003, it became obvious that what we needed were dark skies, really dark skies! South-central Wisconsin, with farms and their ubiquitous mercury vapor yard lights, just would not cut it. Read more 

Brin: When TV Becomes Reality
While eating at the counter, our son started to sing, clap his hands and even hit the counter a bit. He was in his own place, having a good time. We sat and ate our breakfast. All seemed good. Read more

Nancy Zieman Releases Autobiography: Seams Unlikely
The key to achieving, to living, is realizing that we all have unexpected twists and turns in our roads. Read more
Now, you can spend many hours planning game strategy or…You can just line 'em up and knock 'em down. Read more  

Glory Glory
They have a dream to raise up the next generation of Haitians to be educated Jesus followers, who know they can make a difference in their country. And this dream begins with 52 orphans. Read more

Legend & Lore: The Fountain - An Obituary
With a wide-arched front window the building is meticulously designed and beautifully made, having held its original character for more than a century. Read more

Artist Feature: Gerri Buteyn 
She radiates her own personal style, sophistication, warmth and softness that compels us to want to move beyond the lovely packaging of herself and her art to truly understand her on a deeper level. Read more 

An Old Fashioned Fisheree
The First Annual Fish Tales Bait & Liquor Fisheree, complete with food, beer, raffles and entertainment under the "Big Top" off of Town Park, Blackhawk Trail, Fox Lake, begins Friday February 14, 2013 at 4 p.m. with fish caught on Fox Lake registered by 11 a.m. on Sunday February 16. Read more   

Stump The Beaver: Jan/Feb 2014
Hanna from Beaver Dam asks: What was your favorite costume for 2013? Read more

Extraordinary Naturalist: Will Snyder
Will spent many of his boyhood years exploring this farm. His interest in birds, mammals, insects, eggs and Indian artifacts must have started on this acreage. It was a fertile place to challenge a young collector's interest. Read more
Inquire Wisconsin: Hiding Love
To study how Wisconsin people bring in the New Year, I traveled to a local watering hole named Come Right Inn. When I arrived it seemed like any other day in a Wisconsin establishment, packed. Read more 
The Wandering Man: November 22, 2013
Life is not orderly; I keep finding that out but always and only in hindsight. Spontaneity has a buildup to it, but again, hindsight tells me that. Read more 

The Social Luxury of Beer: Jan/Feb 2014
You might say I like beer. You might even say I love beer. I think that is true, but at the same time I'm not obsessed with beer. A good life is one of balance. Read more
Parting Thoughts: Jan/Feb 2014
Remember me saying that I felt myself getting a bit more sentimental these days - does it happen due to age or through the ages - Is that a silly question? Read more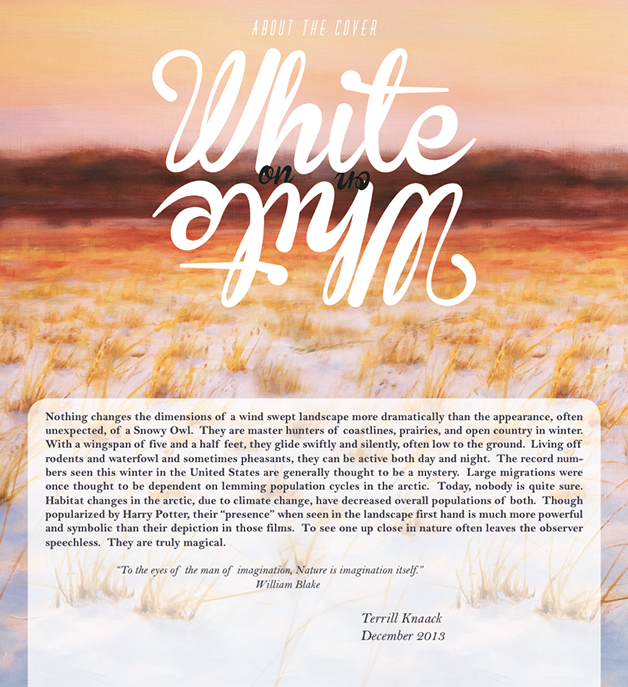 Digital Edition: January / February 2014
In Print
,
Today
january
february
2014
in this issue