Senior Expo May 14th

May 13, 2014 01:12PM ● Published by Erik Dittmann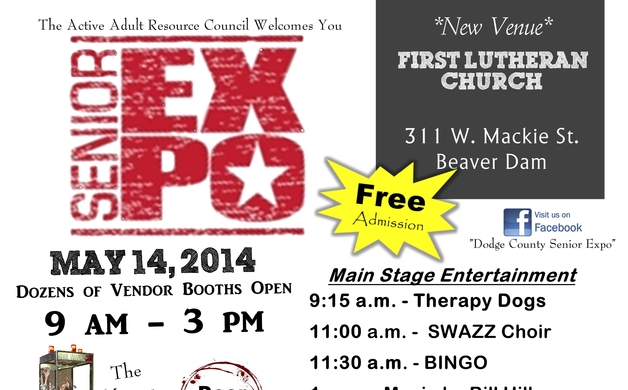 Senior Expo
Wednesday, May 14, 2014 | 12:00AM - 12:00AM
The Active Adult Resource Council of Dodge County invites the public to the upcoming Senior Expo on Wednesday, May 14th from 9 am-3 pm. First Lutheran Church, located at 311 ... Read More
The Active Adult Resource Council of Dodge County invites the public to the upcoming Senior Expo on Wednesday, May 14th from 9 am-3 pm.  First Lutheran Church, located at 311 West Mackie Streets, is the new venue for the annual Senior Expo. A variety of business and service vendors will be available throughout the day. Participants may browse, speak with area business representatives and take home free information. 
Entertainment will be provided by the Beaver Dam High School Swazz Choir  at 11 a.m. and Jazz Band at 2 p.m, Musician Bill Hill at 1 pm, opportunities for Bingo at 11:30 a.m. sponsored by the Beaver Dam Community Activities and Services, and a presentation by Read Therapy Dogs at 9:15 a.m. as well as a food demonstration by WBEV's Brenda Murphy at 2:15 p.m. WBEV/WXRO will also be present from 11 am-2 pm with a brat fry. The event is free to the public. Beaver Dam Community Hospitals is the Expo's Gold Sponsor.
The Senior Expo will continue the tradition of having an antique appraiser, Shroud Auction and Appraisal Service, from 11-2 pm and offering door prizes from participating vendors. Space for vendors is limited so please contact the Active Adult Resource Council now if you would still like to host a booth. 
A second expo in the region is being planned now by the Active Adult Resource Council as well. The Waupun Expo is scheduled for Wed, Sept. 25th 9-3 pm at Central Waupun Christian School. A discount is given to businesses who wish to host a booth at both events. 
Additional sponsors who make it possible to bring the annual Senior Expo to Beaver Dam include Beaver Dam Community Activities and Services, Cornerstone Funeral and Cremation Services, Waupun Chiropractic, Dodge County Housing Authority, Good Karma Broadcasting, Jo-Ann Fabric and Craft Store, Home Instead Senior Care, Mayville Nursing and Rehabilitation, Summit Credit Union, and ContinueUs.
For more information, call Brett Sterk at SIA insurance at (920) 324-2071. The Active Adult Resource Council promotes awareness of adult services and activities available in Dodge County and surrounding areas. The Active Adult Resource Council promotes networking and education of professionals who provide services to active adults through sponsorship and organizing the Senior Expo every year.
Community
seniors
expo
adults
vendors