Wayland Students Lend a Hand

Oct 08, 2014 04:30PM ● Published by Andrew McDonnell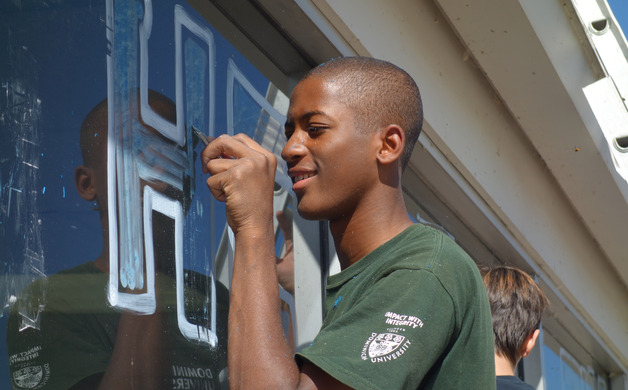 (Beaver Dam, Wis).  Wayland Academy students helped out at 14 charities, non-profits and public services throughout Beaver Dam on September 25 as part of their annual Day of Caring Program. 
Students from Wayland, a college preparatory boarding and day school for grades 9-12, volunteered their labor at the Habitat ReStore, Parent Resource Place, Hillside Manor, Seippel Homestead and Center for the Arts, Beaver Dam Community Library, Clothes for Kids, Beaver Dam Community Hospital, St. Katharine Drexel School, Green Valley Enterprises, Swan Park, First Lutheran Church, the Beaver Dam Police Department, and the St. Vincent de Paul Society Thrift Store.  They also donned orange reflective vests and scooped up litter along County Road G in South Beaver Dam.
Wayland's Dean of Students Linda Tyranski said, "Wayland has a great working relationship with many organizations in the Beaver Dam community and all around Dodge County.  The Day of Caring is one of our efforts to give back to the community."  Tyranski noted that service is one of the school's four "pillars" along with scholarship, faith and health. 
If organizations have ideas for ongoing community service, Wayland students are available to lend a hand throughout the school year.  Interested individuals and organizations can contact Linda Tyranski at ltyranski@wayland.org.
###
Wayland Academy is a co-educational, college preparatory boarding school in Beaver Dam, Wisconsin.  Wayland prepares students for the rigors of higher education through a challenging, robust curriculum and a strong emphasis on personal responsibility and diligence.  Learn more at wayland.org.
Flickr Gallery: Wayland Academy Day of Caring