Dodge County Fall Farm and Foliage Tour

Sep 17, 2015 09:26AM ● Published by Jim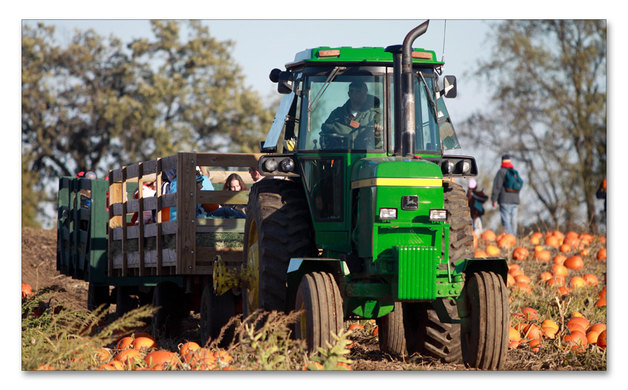 A great day to make memories with family and friends is being planned and sponsored the Dodge County UW Extension and Discover Dodge Tourism. It is a Drive-It-Yourself "Dodge County Fall Farm and Foliage Tour". The tour will be held Saturday, October 3, from 10:00 a.m. until 3:00 p.m. in Dodge County, WI. It will highlight various attractions and farms around Dodge County. The tour will focus on the history of the area as well as provide the opportunity for participants to have an up-close experience of a variety of agricultural enterprises along the tour route. The tour will begin with the first stop and map pickup at the Lebanon Historical Society Museum located at  W4672 Ivy Street in Lebanon. Drive-It-Yourself tour maps and a information brochure will be available only at this first stop on the Saturday of the tour between the hours of 10:00 a.m. and 1:00 p.m.


The 2015 Dodge County Fall Farm and Foliage Tour will have some outstanding stops for all participants as well as provide an excellent chance to take in the beautiful autumn landscape of Dodge County. The tour starts at the Lebanon Historical Society Museum where they will feature a display about brick cheese (with samples) which was invented in Lebanon. They have also just finished building a log cabin which can be viewed and there will be people there to greet the public wearing period clothing. Another feature of the 2015 Dodge County Fall Farm and Foliage Tour is a pumpkin farm with opportunity to pick your own pumpkins, take a hayride, and much more! Also on the tour is a beekeeper, greenhouse with gardens and gift shop, a sheep farm with a wool and lamb products retail store, and an historical limestone museum with artifacts, galleries, and other displays reflecting the history of the surrounding area. If that isn't enough, the tour ends at the Audubon Days Festival in Mayville! There you will find live music, children's activities, food and beverages, an arts and crafts gallery and lots more to see and do. You are guaranteed a fun day with a variety of activities! Load up your car with friends and  family and enjoy the day in Dodge County, WI.


Tour brochures and maps are only available on Saturday from 10:00 am to 1:00 p.m. at the first stop in Lebanon. Participants are asked to stop there to pick up a brochure with map of the tour and to register. The tour is free but donations are appreciated. There is one stop with opportunity to do more activities for a fee.


Go to www.discoverdodgecounty.com for more details about the event and about things to do and places to stay 
in Dodge County or call Jeff Hoffman at the UW Extension-Dodge County at 920-386-3790 or Discover Dodge President Dennis Uecker at 920-349-3985. For more information about the Audubon Days Festival go to
www.audubondays.com.
Dodge County is home to the famous Horicon Marsh and newly opened Horicon Marsh Explorium located inside the Horicon Marsh Education and Visitor Center.
Today
,
Arts+Entertainment
dodge county
audubon days
Fall Farm Tour
Lebanon Historical Society