Watermark Opening for Private and Public Receptions

Feb 15, 2016 10:09AM ● Published by Jim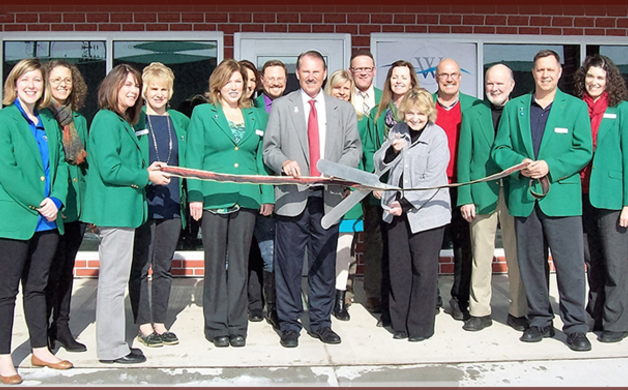 The Chamber Ambassadors recently helped City officials hold a Ribbon Cutting to mark the move into the new facility. Pictured were Ambassadors Emily McFarlane, Remedy Intelligent Staffing, Julie Zahn, Northwoods Casket Company, Mary Parker, Pete Parker Agency, Renee Henning, Community Care Daycare, Brenda Kuhl, Mane Stage Salon, Karen George, Joyful Balance Wellness Center, Phil Fritsche, Beaver Dam Chamber of Commerce, City of Beaver Dam Mayor Tom Kennedy, Ambassadors Melissa Haessly, American National Bank, Ric Fiegel, McKinstry's Home Furnishings, Beth Krebs, Daily Citizen, Beaver Dam Community Activities & Services Department Director Evonne Boettge and Ambassadors Paul Huebner, Horicon Bank, Art Rettschlag, Countryside GM Auto Group, Ron Lindgren, Visiting Angels Home Care and Karen Gibbs, Beaver Dam Community Hospitals, Inc.
By:  BD Chamber of Commerce - Beaver Dam, WI
The Watermark, the new home for the Beaver Dam Community Activities and Services Department, including activities for area Seniors, will be hosting a Business After Hours for the Beaver Dam Chamber of Commerce membership on Wednesday, February 17th and will be hosting a public grand opening on Saturday, February 20, 2016; watch and listen to local media for specific times on Saturday.  
The Watermark is located on 209 S. Center Street in downtown Beaver Dam and it is open daily from 7:30 a.m. to 4:30 p.m. 
Today
,
Community
the watermark
BD Chamber of Commerce