THE HIGHTOWER DETECTIVE AGENCY

Feb 19, 2016 03:43PM ● Published by Jim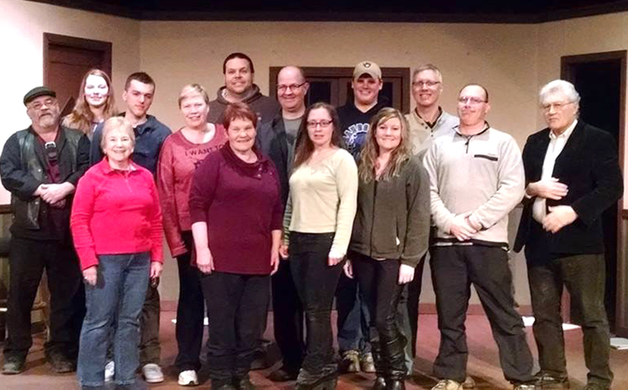 Cast members include: (Front row from left) Barb Vockroth, Nancy Cook, Bonnie Franke, Christina Miller, Jason Bennett, & Wes Reshel. (Middle Row) Harv Woebbeking, John Statmas, Karen Pickhardt, Dan Landsness, & Mike Clawson. (Back Row) Mercy Cook, Tony Kikkert, & Patrick Breuer. (Missing from Photo) Dan Bell, Heidi Freeby, James Stricker, and Angel Yako.
By: Beaver Dam Area Community Theatre - Beaver Dam, WI
THE HIGHTOWER DETECTIVE AGENCY
A mystery comedy by Dan Landsness
MARCH 4, 5, 8, 10, 11 & 12 at 7:30 pm
MARCH 6 & 13 at 2:00 pm
Tickets start at $10.00
On Sale Now!
Rich socialite Thomas Blackmore is killed in a car crash, driving home from the Wilson Auction house. His sister Samantha doesn't believe the DA's report that it was reckless driving, and hires Jason Hightower to find the real culprit. Jason, and his streetwise partner Mooch, enter a world of wealthy snobs, corrupt cops, gangsters, and there only clue is a half dollar bill with the letter "J" on it. Let's hope "The Hightower Detective Agency" can solve the case before their eager, naive junior detective Jodon screws it up.
Things To Do
,
Arts+Entertainment
Beaver Dam Community Theatre