Patriot Tour - SCAG Power Equipment Weekly Update - Homecoming

Aug 25, 2016 01:29PM ● Published by Jim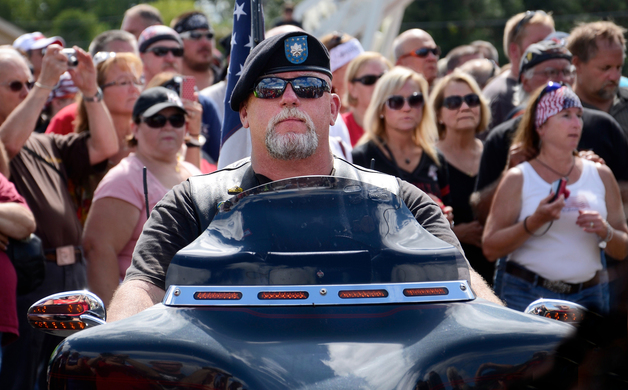 Coming Home ...
The Patriot Tour will complete its 100 Day - 48 State - 14,000 Mile Journey on Saturday September 3rd with closing ceremonies at the Dodge County Fairgrounds. This years ceremony will also include a Junior Patriot Tour
Everyone is welcome for 1 p.m. parade, homecoming ceremony and celebration at Dodge County Fairgrounds. All funds raised directly benefit wounded vets and their families.
A Junior Patriot Tour comprised of children ages 5 to 12 is a new addition and highlight of The Patriot Tour™ closing closing ceremony slated for  Saturday, Sept. 3 at the Dodge County Fairgrounds, event officials announced today.


Junior Patriot Tour registration is noon - 1:30 p.m. on Sept. 3 at the Dodge County Fairgrounds. There is no cost to register. Games and activities will be available from 12:30 - 2 p.m. Following The Junior Patriot Tour segment, children can join their parents to observe the remainder of the homecoming ceremony, which concludes at 4 p.m. The homecoming celebration will follow from 4 - 5 p.m. with music, food and refreshments.
"It's important that future generations appreciate the incredible sacrifices others have made to ensure their freedoms. We hope that The Junior Patriot Tour encourages kids to learn about and find ways to support the brave men and women serving this nation," said Bill Sherer, founder and executive director of The Nation of Patriots.
By the time The Patriot Tour returns to Wisconsin September 3, the American flag carried by motorcycle will have traveled for 100 days, through all 48 continental United States, across 14,000 miles and accompanied by more than 150,000 riders, Sherer said.  It will arrive at Harley-Davidson of Madison, 6200 Millpond Rd., for the flag exchange at 11 a.m. before departing at noon on its final journey to Beaver Dam for a 1 p.m. parade through downtown and on to the Dodge County Fairgrounds east of the city.
Upon arrival at the fairgrounds, riders will be met by The Junior Patriot Tour - children with their bikes decorated in red, white and blue - who will escort the flag from the flag bearer's motorcycle to the stage for the 3 p.m. closing ceremony. One child, whose name will be drawn from those registered, will be designated the 2016 Junior Flag Bearer and receive a new bicycle from Fast Eddie's Bicycle and Hobby Emporium in Beaver Dam. Four more bicycles will be awarded to children whose names are also randomly drawn from those registered.
Last year, more than 500 riders participated in the final leg of The Patriot Tour, escorting the flag from Madison to and through Beaver Dam as hundreds of residents lined the parade route, showing their support for The Nation of Patriots and the men and women of the armed forces. Having outgrown the space at Hogz & Honeez, the homecoming ceremony and celebration have been relocated to the Dodge County Fairgrounds in an effort to accommodate greater rider- and community participation, Sherer said. 
Questions regarding The Patriot Tour or The Junior Patriot Tour can be directed to register.nationofpatriots@gmail.com


About The Nation of Patriots

Founded in 2009 by Bill Sherer and headquartered in Milwaukee, The Nation of Patriots is an independent, non-partisan 501(C)3, non-profit organization whose purpose is to provide financial support to the families of wounded men and women who have volunteered their lives in the preservation, protection and future of the United States and its citizens. More information, donor opportunities, photos, video and a complete Patriot Tour schedule can be found at http://www.nationofpatriots.com

Schedule of events: 2016 Patriot Tour Homecoming Ceremony & Celebration


9 a.m.   Riders depart from Hogz & Honeez (W7771 Hwy. 33 East) for Madison

11 a.m.   Final flag exchange at Harley-Davidson of Madison (6200 Millpond Rd.)

NOON   Kickstands up at Harley-Davidson of Madison for ride to Beaver Dam

Noon - 1:30p.m.  Junior Patriot Tour registration at the Dodge County Fairgrounds

1 p.m.   Parade through downtown Beaver Dam ending at Dodge County Fairgrounds

2 p.m.   Junior Patriot Tour

3 p.m.   Homecoming ceremony commences

4 p.m.   Homecoming ceremony ends; music and celebration begin


Local Coverage of the Patriot Tour is brought to you by these Fine Sponsors:
People
,
Community
nation of patriots
patriot tour
homecoming
Junior Patriot Tour