SPOTLIGHTS: ON BROADWAY

Jan 25, 2017 10:53AM ● Published by Jim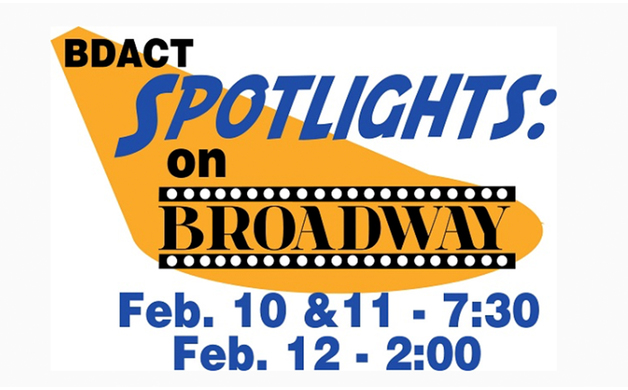 By:  
Beaver Dam Area Community Theatre - Beaver Dam, WI
SPOTLIGHTS: ON BROADWAY
February 10 & 11 at 7:30 PM
Sunday, February 12 at 2:00 PM
Tickets are on sale now for $10, $15, & $17 and can be purchased at the link below, online at 
http://www.bdact.org/default.aspx
 or at Rechek's Food Pride in Beaver Dam. 920-887-7675.
Beaver Dam Area Community Theatre presents SPOTLIGHTS: ON BROADWAY.  The new group, created by and directed by Ryan Madala-Klug, looks to bring regular cabaret performances to the BDACT stage. Upcoming performances will be February 10 and 11 at 7:30 pm and Sunday, February 12 at 2:00 pm.
"There is so much intimacy with a cabaret; a performer with nothing more than a piano telling a character's story in one song. It's a tremendous--and therefore incredibly rewarding--challenge. It's a beautifully raw performance experience.
"Cabarets require three things to be successful: A great piano player that can be in sync with each performer, regardless of style. We have that in Paul Kennedy. Next, powerful and dynamic voices, of which we have an embarrassment of riches.  Finally, the ability to tell a story, which may be most important, and that is something special about these performers. Regular performers in the group include Ashley Bobholz, Kevin Cushing, Ryan Madala Klug, Jessica Lee, Mark Lefeber, and Georgia Roth.  Special guest performers for this show include Brad Westergaard and Chris Connolly.  
For this show, Spotlights will focus on the biggest Broadway blockbusters.  "Most musicals have a few memorable songs. This particular cabaret shines the Spotlight on the greatest songs in musical theatre.  Obviously we can't do all of them in one show, but this way the audience gets nothing but the best."  Some of the Broadway musicals featured in this performance are Les Miserable, Hamilton, Jersey Boys, Rent, Annie Get Your Gun, and many more.
In the future, the sky is really the limit. Madala-Klug has hinted at love songs, lesser known musical gems, focus shows on composers like Andrew Lloyd Webber, Rodgers and Hammerstein, and Stephen Schwartz, and even unique experiences like "miscast," where the performers can sing songs typically reserved for roles that they couldn't play.  "It's a very exciting avenue. There will always be a new show idea that we can find. We can really showcase the area's talent in a new and exciting way."
Arts+Entertainment
theatre
BDACT