14 May 1804: Lewis & Clark Embarked

May 14, 2017 07:50PM ● Published by Gene Kirschbaum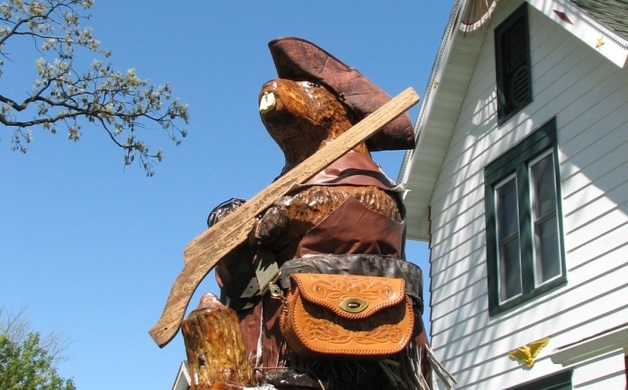 Here's the Beav, celebrating the 213th anniversary of the Lewis & Clark Expedition.  In addition to seeking a water passage to the West Coast, President Jefferson also hoped to establish trade with the Indians and build sufficient geography and biology data to lay a US claim to the Pacific Northwest.
Here are a couple of interesting data points regarding Lewis & Clark . . .
1.  Based on Le Page's book about a previous transcontinental journey, Lewis & Clark were expecting an easy portage from the headwaters of the Missouri to the headwaters of the Snake Rivers.  Rather, they were forced to portage over the Rocky Mountains.
2.  Only one member of the Expedition died:  Sgt Charles Floyd, probably due to appendicitis.
4.  A French-Canadian fur trapper joined the Expedition, along with his Shoshone wife, Sacagawea. She proved immensely valuable serving as translator and generally smoothing interactions with the numerous Indian Tribes that were encountered (over 70 different Tribes). 
5.  In addition, Sacagawea's presence telegraphed the message that the Expedition had peaceful intentions -- since no Indian war party would ever bring a woman along.
6.  Sacagawea was kidnapped by Hidasta Indians when she was 12 and was subsequently sold to the French trapper.  Her roots came in handy when Lewis & Clark were bargaining with a Shoshone chief for some horses to carry them over the Rockies. The Shoshone chief turned out to be Sacagawea's brother! 
7.  Lewis & Clark made some interesting cultural observations about the Tribes they met.  For instance, Indian women were even less liberated than their western counterparts.  Indian men often had multiple wives and young girls were often sold to grown men, or traded for horses.  Furthermore, the idyllic image of peace-loving Indians, thriving in a bountiful paradise is far from accurate.  Rather, the Indian Tribes seemed to be constantly at war with each other, and living conditions were harsh.  Here's the 16 August 1805 account of a deer kill as recorded in Lewis's Journal (not for the squeamish).
". . . when they arrived where the deer was which was in view of me they dismounted and ran in tumbling over each other like a parcel of famished dogs each seizing and tearing away a part of the intestens which had been previously thrown out by 
Drewyer
 who killed it; the seen was such when I arrived that had I not have had a pretty keen appetite myself I am confident I should not have taisted any part of the venison shortly.    each one had a peice of some discription and all eating most ravenously.    some were eating the kidnies the melt 
[1]
 and liver and the blood runing from the corners of their mouths, others were in a similar situation with the paunch and guts but the exuding substance in this case from their lips was of a different discription.    one of the last who attacted my attention particularly had been fortunate in his allotment or reather active in the division, he had provided himself with about nine feet of the small guts one end of which he was chewing on while with his hands he was squezzing the contents out at the other. I really did not untill now think that human nature ever presented itself in a shape so nearly allyed to the brute creation. I viewed these poor starved divils with pity and compassion    I directed 
McNeal
 to skin the deer and reserved a quarter, the ballance I gave the Chief to be divided among his people; they devoured the whole of it nearly without cooking."
Today
,
Community
BEAV
BEAVER