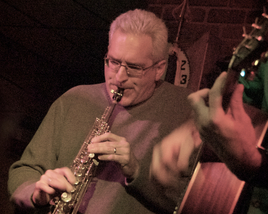 By: Richard Zeman
Musicians have an immediate connection with other musicians. It doesn't matter whether one is classical and one is rock or one speaks English and the other German. It doesn't matter what we play. The experiences that music gives us are universal and with those experiences comes a trust and respect for those of like mind. As a result, our conversations dwell on the substance of what we do, how we do it and, perhaps, why we do it. No glitz, no lights, no questions of girl friends or costumes. As musicians we aren't there. The substance is in the music and that means everything to us.
What in the music community of Beaver Dam do to influence your interest?

Kenny: Growing up with music teachers as parents gave me quite a lot of musical opportunities. Whether it was going to listen to BDAO, a community theatre performance, or one of my parents many school concerts, I was blessed to be immersed in music. I went through the school orchestra and choir programs as I got older, learning from the likes of Mark Leiser, Teresa Ploch, Rich Zeman, David Hoffmaster, and Marcia Paul. Through school music I was inspired to participate in some theatre and try my hand at songwriting. I give oodles of credit to Rich and Marcia for their music instruction that gave me the distinct focus and drive to become a solid musician. The knowledge they instilled in me easily carried me into, and through, my college music experience.
Jesse: When I moved to Beaver Dam, I took band where Mr. Zeman was my instructor. He gave me individual lessons where I learned to read sheet music for the drum set. I then got involved in the choir program with Mrs. Paul and was an instrumentalist in the SWAZZ group my senior year. I found Beaver Dam High School to be very conducive to students who have an interest in music or arts.
Music Picks you – a lot of kids pick music. When music picks you you have a chance – at what point did you realize that music picked you?
Kenny: I always knew that I really loved music in all mediums, but it was in college, when I simply could not put my instruments down. My desire to practice, create, and play took over my life. DESIRING to play all day, every day, never wanting to take a break. I would literally play until my fingers were raw and sometimes bleeding. From there, I couldn't imagine ever doing anything else that would satisfy me the way that music does. It was then that I knew that music had picked me.
Jesse: When I was working +40 hours a week and stay up late 3-5 days a week to play gigs and get up early to go to work with very little sleep, just so I could keep playing. I also realize that I constantly find myself near other musicians and involve myself in projects with those other musicians. My first bandmate in Beaver Dam came after I heard music coming from a house and I knocked on his door and asked "do you want to jam?"
Mark: Music always kept picking me through opportunities. In college I got a job through Kenny teaching guitar and bass lessons. When I joined the Lucas Cates Band I was able to quit my day-job and keep making the same living playing music. I think it was at that point that I knew music picked me.
Lucas: College. It was the first thing in my life I found I had some natural ability to do.
How did you guys meet? How did the band form?
Kenny: I met Jesse when he moved to Beaver Dam. He joined a band with one of my best friends, Robby Hull. I watched them rehearse and play gigs here and there. It really formed my desire to play in a band. I followed Jesse's musical path until we finally played in a hip hop group together in 2005. In 2007 he joined The Lucas Cates Band. At the time, Jesse and I were living together and the band would rehearse at our house. As I was playing in 3 other groups at the time, it made it quite convenient for me to start playing with the band because I was hearing the songs from my own house/rehearsal space. I started sitting in on violin when I was home, and played a gig here and there. Soon I was a full time member of the group.
I met Mark at UW LaCrosse. He was in the music program with me. I had been writing music with Mike Gellings(BD Alumni) for a couple years and we were looking to form a band. Mark joined us in 2001. We began playing shows together and it started a musical friendship that has lasted a decade.
Though the years, Jesse, Mark and I have played in many bands with one another. It wasn't until we started playing in The Lucas Cates Band that we were all in the same band together. It was an easy fit for us since we all knew each other so well both personally and musically. Our friendship has been instrumental in our success. The ability to be in the van for hours and hours at a time(33 hours straight is the record, Reno, NV to Madison, WI) without wanting to kill each other is quite a feat. Lucas essentially sought us all out individually, so, unlike other new projects, this one had a kick start because three of us had already played together for so many years. It has been quite a journey so far and I'm excited to experience what come next!
What's on your i-pod?
Kenny: Over the last several years, I have found that I tend to listen to my friends projects and other records that I have done session work on, more than I listen to popular artists. More recently I have been listening to regional bands from Madison and Minneapolis. Here are a couple I have listening to: STEEZ(funk), The Mighty Short Bus(country/southern rock), Derek Ramnerace(acoustic singer/songwriter)
Jesse: I'm a huge fan of the free downloads on ITunes because it gives me a chance to find new bands I haven't heard of before that I may not have found otherwise.
Mark: Everything from Yo-Yo Ma to Rancid…Big Band to Hip Hop.
Lucas: A lot
What's the coolest new thing you have heard lately?
Kenny: Coolest thing I have heard lately is that we have a Beaver Dam Community Theater show booked for Feb. 11th at 7pm! I am very excited to put on a very special acoustic performance for the community! You don't want to miss it 🙂
Jesse: Well…. we are working on some pretty awesome songs right now for our next album!
Mark: It's not super new but I just heard Blackroc for the first time and thought it was brilliant.
Lucas: Amos Lee, Missy Higgins, Mutemath, Dear Future
Best gig you ever played? Worst gig you ever played?
Kenny: There have been several gigs that I would put out there as the best gigs I have ever played. The first one I recall was with Lost Between(my band with Mark Noxon and Mike Gellings). We were direct support for the 90's pop/rock band Sister Hazel. It was my first experience in front of a sold out performance. It was a magical night! We played so well and the crowd was so receptive, it was a blast. Similarly, TLCB has opened for the 80's hair metal band Night Ranger, and 90's pop/rock group The Gin Blossoms. Both shows were so fun! The energy we get playing in front of huge crowds is a feeling like no other. It is a rush!
The worst gig I ever played was in Huntsville, Alabama. We usually love playing in Alabama, but this particular night was a nightmare. Without going into too many specific stories from that evening, I will give a synopsis of the events that took place. The evening began with a horrible load in, down the street, though a hallway, up an elevator, through a dining room and to the stage that they had cleared by moving some dining tables out of the way. That night, we experienced a drunken midget peeing in the kitchen, a fight, a fire alarm, watching people be arrested for fighting, stage crashers, and to top off the night, someone threw up all over our cases that we had stored over by the elevator. THAT, was the worst gig I have ever played.
Jesse: Best – Optomotrist National Convention in Denver. Worst-like any other job, we all have some good days and some bad, but I can't name a worst gig because we are always playing music.
Mark: I think the coolest show we've played was opening for Night Ranger. We played for a packed house of 1,500 people and they were really into our show. It was everything I imagined about being on stage when I was younger. The worst show was in Huntsville, AL. There was a fight in the bar because some guy pulled the fire alarm, two girls tried to walk on stage during a song and I had to shoo them off with the head of my bass, a "little person" peed in the kitchen and was chased out of the bar by the bouncer….honestly one of the funniest things I've ever seen, and finally when we were done and ready to pack up we found that someone had thrown up all over our cases, and gear….and no one would clean it up…it wasn't "their job", so we had to clean it all up ourselves…in the kitchen that had been peed in.
Lucas:
Best: Opening for Night Ranger-sea of faces 1200 deep couldnt see the end of them all.
Worst: Masons in Huntsville. Puke. Midget pee. Fights. Fire Alarm. Stage crashing. Arrests. Period.
How do you keep shows/performing fresh?
Kenny: We keep our shows fresh though improvisation. Playing between 150 and 200 shows a year, you can imagine that the performances could get stale. For us, the improv makes every show a little different. You never see the exact same show twice. We still play the same songs, but each night has a little different twist to the jam sections.
Jesse: Wear Deodorant ?!
Mark: When you love what you do its quite easy. There are little things we do each night that are always different and that keeps us on our toes musically.
Lucas: New Music. Beer.
What do you wish someone had told you when you were younger/16?
Kenny: I wish I would have been introduced to jazz violin and improvisation when I was younger. It has been instrumental in my success as a performer, but even more so as a session musician. I learned these important skills when I was 23 or 24 years old when a co-worker convinced me to join his Gypsy Jazz Trio. I had never done anything like it before and it took a bit of persuading to get me to try it. Eventually I went to a rehearsal and found that it was extremely easy for to me to do and I loved it! After that experience I started playing my violin in all sorts of mediums, from Jazz to Country and Hip Hop to Rock. I wish I would have been introduced to it at a young age mostly because I would have gotten even more years of enjoyment out of that skill set.
Jesse: I wish someone had told me to play an instrument that forced me to read scales and notes.
Mark: I wish someone had told me to be confident and move to a music city, practice for 6 -8 hours a day, and realize that music had chosen me. The younger you are, the better your chances.
Lucas: That I was going to be a musician when I grew up. I probably would have started playing earlier.
What's your routine for writing new music?
Kenny: Up until recently, Lucas would write a song, we would arrange it as a band, and there it would be. More recently we have had the need and desire to create much much more new material in a short period of time. So we have been coming together and writing songs from the ground up. It has been a learning experience and a process that will only continue to improve.
Jesse: It's always different. Up until recently, Lucas brought the majority of song ideas (lyrics and melody) and then as a band we would arrange and form those ideas into songs. More recently, we have been collaborating more on all aspects; lyrics, melody, and structure.
Mark: routine? 🙂
Lucas: In the past chords come first then lyrics. We have been experimenting writing as a group lately. We arrange together. Everyone writes their own parts.
What's new in the last year?
Kenny: In the last year, the band has decide to hire formal management. After successfully being a year round, full time touring act, we have deemed it necessary to get help getting to the next level. Our new management is going to help shop us to record labels as well as help us secure more showcase performances in major markets in the midwest as well as all over the country.
Jesse: The Packers won the Superbowl!! We are huge fans of football. If we are in the van traveling somewhere on a Sunday, that is what is playing on the radio all day…(Lucas is not a huge fan of that, but majority wins)
Mark: We just signed with a new manager with the sole purpose of getting an investor for a major release (record label, publishing deal, etc.)
Lucas: Hired management and got added to Pandora.com
What is each of your individual families background in music?
Kenny: Both of my parents went to school at UW Stevens Point to study music. They both ended up with jobs teaching music in Beaver Dam. Music is what we do. Laurie is a band director and plays trumpet and trombone extremely well. Mark is an orchestra director and plays all the strings, but plays the bass and the violin the best. My brother Andy plays bass extremely well too. He also participated in school music and was very successful with it.
Jesse: Growing up in Africa, my father was always playing songs on his guitar and dobro. As I grew a little older, he noticed my interest and bought me a eukalale when I was 8 years old. My mom was a manager for a local African pop band. The guitar player taught me how to play a bass guitar, and I would sit in on some of their gigs when I was only 10. Shortly thereafter, I met some likeminded students while attending International school in Nairobi, Kenya and they introduced me to "Grunge" music, which was a popular music genre at the time. My best friend Juan gave me an album of his favorite grunge music, and having a keen ear, i learned how to play air drums while listening to that music. We then formed a band in 6th grade.
Since then, I traveled to various schools in various countries, always finding like minded music lovers in my life to continue to be open minded and passionate about music. During these years I also taught myself to play the guitar and became a more proficient drummer. Life lead me to Beaver Dam, and since then, that same burning desire to surround myself with music has led me to where I am now; a full time musician playing in The Lucas Cates Band.
Mark: My father was a music teacher and performed regularly in big bands. I grew up listening to and playing music. Everyone in my family is involved in music in some form; teachers, performers, orchestras, etc.
Lucas: None really. My family has always sang together on car rides but no one was involved in music for a career.
Questions for Rich:
What made you stop gigging?
I was fortunate to be in a 4 piece band in the Milwaukee area that played on a regular basis for over 15 years. We said to each other on multiple times that when it was no longer fun, it was time to stop. When the fun stopped, so did we. It was a great run! As it turned out, one year later, I was offered the position of music director for the BDAO.
What do you miss? What don't you miss?
I miss seeing the guys in the band. I went through alot with those guys. I don't miss changing clothes in a hotel men's room every Saturday night or hauling our equipment thru the kitchen! I don't miss getting home after 2am or waking up in the morning with my ears still ringing from the night before!