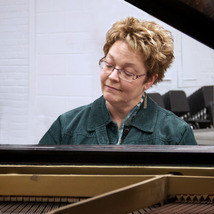 By: Marcia Paul

I am probably the world's most practiced cheerleader…me and the rest of my fellow teachers. We daily shout out our subject matter for all to hear. Then we repeat ourselves over and over, saying the same thing five different ways until everyone gets it right. We aim to get everyone working together while instilling spirit and enthusiasm. We cheer for all the little successes and go crazy over the big ones. We hope our crowd leaves for home wanting more.

I am the vocal music teacher at Beaver Dam High School, have been for the past 20 years. A pleasurable piece of my job is to cheer for a group called SWAZZ, a 16-member co-curricular choir that sings SW-ing and j-AZZ. We spend a great amount of time together performing, but the majority of our time together is spent in rehearsal. This is where friendships are made, habits are established, and success begins. My goal is to produce strongly skilled performers, but my secret goal, like every other teacher, is to shape and mold respectable citizens.
I had one of those proud teacher moments about a month ago when I met a former student for dinner. He was in SWAZZ during the early years. He has doubled in age since I taught him, but amazingly, the connection was still there. It was heartwarming to see him happy and successful. Our conversation quickly led to the members of SWAZZ 1994. This particular group was loaded with talent, creativity, imagination and promise. They worked hard and played hard. Most of the time, they just kept me laughing. Now they are 30-somethings and spread out all over the US, doing incredible things with their lives.
You may remember Jeremy Kamps as the actor that often played the comical yet lovable character in the school drama productions. I remember him riding a bicycle across the stage in the middle of a concert. After years of teaching English around the world, Jeremy is now living in New York City, completing his Masters of Fine Arts degree in Dramatic Writing from NYU.
You may recall Heather Hampton in the lead role of Ti Moune in the 1995 production of Once On This Island. She now works as the Director of Training and Development for Legal Sea Foods in Boston, MA. This is the company that first produced New England clam chowder. If you've ever attended a home Red Sox game, you'll know their product. Heather is a new bride having just been married this past February.
Eric Jorgensen's musical talent, red hair, and quick smile made him easily recognizable in high school. He is currently in NYC, living the professional and academic life. Eric has worked as the Revenue and Field Finance Officer for Doctors Without Borders for the past six years. His job has taken him the world over. Eric has also earned a Master's Degree in Classical Acting and a second Master's in Performance Studies. He is currently seeking a PhD program that will enable him to blend his humanities efforts with theatre.
During high school, Brad Fitzpatrick was very active in sports, music and drama. He always enjoyed a good prank. After graduating from the Naval Academy in 1998, he spent 9 years navigating F18's for the Marine Corp. After leaving the Marines five years ago, he took a job with Lockheed Martin, one of the world's largest defense contractors. He uses computerized simulation software to train and prepare military pilots for active duty. Brad now lives 60 miles north of San Diego, CA. He is married to a district attorney and has two children that are very active athletes.
How could anyone forget the unbelievable piano skills of Teresa Drews? She is now the chair of the piano department at the Wisconsin Conservatory of Music in Milwaukee, teaching piano to students ages 4 to 94. She is also the piano Artist in Residence for the Washington Island Music Festival in Door County each August. She recently recorded the piano tracks for the "All About Singing" instructional book by Hal Leonard Publishing. She and her husband have two beautiful daughters.
Dan Jackson probably had the lowest bass voice I've ever taught. Of course, he deserved that distinction after it took an entire year for his voice to change. It was worth the wait. He is now Dr. Daniel Jackson, an MD specializing in pediatric allergy/immunology at the UW Hospital in Madison. He graduated from the University of Wisconsin School of Medicine and Public Health in 2003 and now serves on its faculty.
Jonah Haase will always remain in my memory as the very first freshman to get into SWAZZ and the only one of my students ever to receive the "Best Male Soloist" award in a show choir competition. If you've ever been to one, you know he was up against the best. Jonah developed a great love for the people of South America during a college semester in Ecuador. After graduation, he spent time in Panama with the Peace Corps. These experiences helped him to recently gain employment as the Coordinator of Latin American Outreach with the Mariners Church in Los Angeles, CA.
You may remember some of these fine people, you may not. What is important to know is that all of them had their start right here in Beaver Dam and you may have made an impact on their lives without even knowing. You may have clapped at a concert, attended a basketball game or bought a fundraiser product. You may have said "thank you" for carrying your groceries or "good job" for lifeguarding your grandkids. We all share in the responsibility of encouraging the youth of Beaver Dam to be the best they can be, urging them to dream big and pursue excellence.
I am so proud of my students, both past and present. I am honored to be their cheerleader. I will continue to shout, repeat, instill spirit, and go crazy over each success. I fear, however, that my days of doing cartwheels are long past!