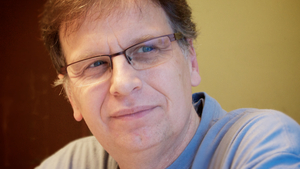 By: Dave Bowman

During a conversation I was having with my daughter about a teenage girl's reaction to her mother in a department store, I had made a comment, which then resulted in a spirited yet respectful retort from my daughter, "Dad, you're starting to sound like an old fogey!" I did a spot check. Old fogey. Well, this 53-year-old male was not wearing dark socks with sandals and Bermuda shorts. When I go "out on the town," I don't wear a powder blue leisure suit with a white belt and matching shoes. What I did begin to realize was that life does keep moving forward like a moving sidewalk in an airport terminal.

At what time does one slide into that "in my day" mode? It does invariably come to everyone at one point or another. And as a parent, I have attempted not to slide into that "in my day" trap, but to no avail.
Several birthdays ago my kids wished to drag me into the 21st century and introduced me to the wonders of the micro-sized music machine – my very first MP3 player. Now, as MP3 players go, it was a "starter model", but perfect for me to dabble with on my first go 'round. I learned to download, upload, sideload, and just plain load. The amazing part of it was that it could hold all 120 of my favorite tunes! Now, bear in mind that my son's micro-sized music machine can hold thousands of songs, play major motion pictures AND synchronize with any geosynchronous satellite in orbit, but I digress. I was very close to sharing that "in my day . . ."
The technological advances in music and communication were second to none. (Probably an old fogey phrase.) Why, we could actually stack vinyl record albums on a bona fide console hi-fi system. And if the records had any defect in them whatsoever, there was the art of attaching just the right amount of pennies on the tone arm for maximum sound effectiveness. Now that's true downloading! And who is to deny the thrill of listening to your favorite 22-minute drum solo by "Iron Butterfly" on 8-track tape, only to be interrupted in mid solo by the familiar "kachunk" as the 8-track player switches tracks.
In the same vein, I have been utilizing my handy-dandy Tracfone for many years, but may be ready to jump into the upgraded cell phone pool. Watching my wife and kids texting makes me wish I had taken advantage of the extra practice time in my high school typing class. Although I am willing to test the waters, it is fair to note that there is a slight longing for the days of actually needing to get up, walking over to a large heavy desk or wall phone and working to dial the number. It seemed to make the call, and the call-lee, important enough to make the effort. And who can deny the fact that the party lines of the good ol' phone systems were the original "Facebook" of its day. Where else could you "make friends" by sharing your phone life with every person within your phone area and "delete" others at abandon. My oldest brother, visiting at Christmas, had just obtained a new phone and was excitedly showing everyone its "Voice Activation" feature. Now I know how ancient cavemen felt when they first discovered fire.
When all is said and done, I guess being an "old fogey" is a sign that time is marching on, but we certainly can keep up with it. Oh, I still like to show that I can keep up with the youth by throwing in an "I'm down with that" or "groovy" every so often, just to get the eye roll and sigh from the younger crowd around me. (Translation: my kids.) And just to show that I'm hip and do know the latest I-Phone, apps, wireless network, I am going to honor the great "Dire Straits" from their hit "Money For Nothing" and tell my kids that for my next birthday " I want my MP4!"