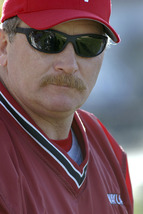 By: Kris Boucher
It's been said that Wisconsin has some of the smartest baseball people in the country because we have all winter to read and study the game. In spite of that winter weather, or maybe because of it, baseball is important to Dodge County and Beaver Dam; like all the US, this area loves "America's Pastime." Youth programs (2 in Beaver Dam), high school ball, American Legion teams, even the long-running Rock River League for post-secondary amateur players keep local ball diamonds busy from late March into September, often developing players who go onto college, sometimes even professional teams. Many people probably do not realize how many fine players have developed from our region, especially notable players from the earlier days of the game.
David Stalker of Watertown is very aware of those players and what they did for the great game. Stalker is a baseball fan and historian; his writing is often posted on seamheads.com. With Archie Monuments, David has undertaken an effort to permanently recognize (especially Midwestern) players of the "dead ball" era, when the strategy of "Get 'em on, get 'em over, get 'em in" involved more bunts, stolen bases, hit-and-run plays or "the Baltimore Chop" than the home runs relied on in modern baseball.
David and the craftsmen at Archie Monuments developed a simple, dignified and distinctive design for their markers: A square block of granite topped by a granite baseball, standing about 3 feet tall with an image of the player and summary of his life inscribed on the stone. Fred Merkle (Watertown), Davy Nelson (Cambria), Pete Husting (Mayville) and Adrian Joss (Juneau/Woodland) are some of the first players for whom David was able to place markers.
In the spring of 2009, Nancy and I were on our way into Miller Park. As we neared the home plate entrance, we noticed something new, something that looked like a piece of stone topped by a granite baseball. It turned out to be recognition of the first Major League Milwaukee Brewers. The curious little monument summarizes the 1901 season on one side (not very successful – the club moved to St. Louis to become the American League's St. Louis Browns in 1902); on the other side is that Brewer roster, one that includes Nelson, Husting and Beaver Dam's own Emerson "Pink" Hawley.
In August of 2009, I noticed a front-page article in the Daily Citizen that included a picture of that Brewers marker and reported that Mr. Stalker had approached the City of Beaver Dam about placing a marker for Pink Hawley in one of the city's parks. The article pointed out that Hawley, who had been a very fine ball player in Beaver Dam and at Wayland Academy, went on to play Major League baseball. His first big league appearance was on August 13, 1982, at age 19, for the St. Louis Browns of the National League (an organization which would eventually be known as the Cardinals). Pink also played for Cincinnati, Pittsburgh and the New York Giants before closing his major league career with the 1901 Brewers. Hawley was a fine pitcher and a well-regarded hitter too. His best season was 1895 with Pittsburgh, when he pitched for 31 wins and hit for a .308 average! A dapper dresser, the fans came to call Hawley "The Duke of Pittsburgh." Pink spent several years helping build minor league baseball programs before returning to Beaver Dam "full-time" to take over the family business. In spite of such a notable career for a local "kid," the Citizen article related it did not seem like the city could offer a place for one of Mr. Stalker's little monuments.
I got to thinking: Since Hawley was a Wayland graduate (class of 1891), would The Academy be interested in having such a curious thing on its campus? How would Mr. Stalker take to the idea? I wrote and asked, and David replied right away that he thought it was an excellent idea. Realizing that placing such a marker on campus would involve seeking funds to pay the cost, I approached Wayland's Vice President of Development at that time, Trent Jackson, who would oversee all fund-raising efforts for the school. Trent, too, liked the idea very much, and he proposed it to the Academy's administration.
The ideas came to completion on October 8, 2011, during Wayland's annual Alumni Weekend. During the two years between the first conversations about recognizing Pink Hawley and the ceremony, there were a lot of e-mails, phone calls and delays. I found it pretty amazing how complex it can be to pull together several entities to accomplish something everyone thought was a neat idea. Also during that time, a bit of a wrinkle to recognizing Pink Hawley happened when I asked David Stalker if he realized Addie Joss had also played at Wayland Academy; that was a surprise to David.
Pink Hawley was an established big league star by the time Joss enrolled into Wayland in 1897. Joss's coach was E.P. Brown, who had been a teammate of Pink's and returned to teach English at the Academy. Joss had a "brilliant season" for Big Red in 1898 and was 22 when he pitched his first big league game for the Cleveland "Naps" (later the Indians); he threw a one-hitter!
Joss became a huge star in the American League. He had four consecutive seasons with at least 20 wins. He pitched two no-hitters, one in 1908 facing Chicago White Sox "ace" Big Ed Walsh; Joss threw a perfect game. In the 1911 spring training, Joss took ill and returned home (then Toledo, Ohio). On April 14, 1911, just two days after turning 31, Addie Joss died of tubercular meningitis. Joss was so admired by his peers that they organized an "all-star" game (maybe the first ever) as a benefit for Joss's widow and children. The game raised more than $12,900.00, more than $325,820.00 in today's money. In the "Baseball" documentary by Ken Burns, several minutes are given to the Joss story. In spite of not playing the minimum 10 years in the Major Leagues, Joss was voted into the Baseball Hall of Fame in Cooperstown, NY in August 1978. A Hall of Famer – We started to think that certainly deserved its own monument, so "the hit-and-run" was on to recognize these two Wayland alumni who left such notable legacies.
A beautiful autumn day set the stage for the little ceremony attended by David Stalker; Ms. Susan Peterson, Wayland's Chair of the Board of Trustees; several other trustees; Tom Forrester `76, a descendent of Hawley's; and several other alumni and friends. Two markers are indeed in place behind the backstop of Wayland's current ball field (not where Hawley and Joss played) and a short walk from the Hawley home at 310 Washington Street. Two years passed to pull the idea together and have that 12-minute ceremony, but now the accomplishments of Hawley and Joss will be known for as long as fans come by those curious little markers.
Play ball!