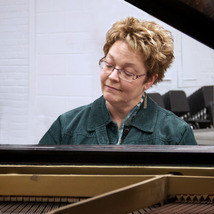 By: Marcia Paul

It all started on Grandma's lap. She held the youngest child while she played, and the other grandchildren gathered around the piano. Christmas carols, school songs, hymns, it didn't matter as long as everyone got to sing. It was the highlight of each visit and kept everyone looking forward to the next one. That was twenty years ago and how Chelli Wuesthoff fondly remembers her first singing experience. "It was a family thing. My older sister and brothers all sang, and I couldn't wait to do what they were doing. I would learn every song they were singing at school until I knew it even better than they did."

Her first public performance was in 6th grade. She was cast as Miss Hannigan's brother's girlfriend – maybe an insignificant character, but it afforded her an impressive solo of "Easy Street" that made people sit up and take notice. Her strong soprano voice rang through St. Stephen's gymnasium clearly. It seemed effortless. It was the beginning of something very special.
Singing continued to be an integral part of the family. Siblings Chloe, Adam, and Broc moved on to the high school and all became members of the high school vocal jazz choir. Naturally, this also became Chelli's goal. She worked hard at her skills so that she may become the fourth Wuesthoff to join the ranks of SWAZZ. Indeed she did. As a sophomore she auditioned into the group and attained her goal. She spent the next three years learning various styles of popular music, as well as important performance skills. Through the years not only did her singing skills improve, but her confidence level grew as well. Chelli recalls her mom saying to her before each performance, "Sing your heart out, girl." And she did, with fire and passion.
Cancer became an unwanted intruder into the family. Mom courageously rode the roller coaster that disease can force upon a family. Singing then took on new meaning for Chelli. It became an avenue for her to bring pleasure and happiness when such things were sometimes hard to find. Mom's dream was to see her children perform together. At the 2006 SWAZZ concert, Mom got to see her dream come true when all four siblings "sang their hearts out" in a poignant performance of Bridge Over Troubled Waters, dedicated to their biggest fan. A year later, Chelli created a lasting memory with her solo performance of Angel, chosen because of its significance to her family. She had never sung so beautifully.
Although Chelli had long known that she wanted singing as a career, her mom's passing prompted her to pursue it. Since country music seemed to be a natural fit for her voice, she entered the Cowboy Troy and A Star Promotion Karaoke Contest sponsored by WBEV/WXRO in May of 2010. Contestants were judged on vocals, stage presence, appearance, and audience reaction. Chelli sang through the rounds until she was named the top female winner in our area. This made her eligible to sing at the final competition held at Log Jam Festival held in Phillips, WI. Over the course of two days, she advanced to the final round, which was performed on the main stage with a live band. Before a cheering crowd, she gave a shivering performance of Miranda Lambert's Gunpowder and Lead, complete with an unexpected a cappella ending. It was no surprise that she won the title of America's Next Top Country Star, awarding her $1,000 and a one-year performance contract.
Her singing career was on its way. Over the next year, she performed at various venues in Wisconsin, Illinois, and Tennessee. The next step was forming her own band: The Band Chelli. It included local talent Emily Kern on violin, Adam Beyer on guitar, and brother Broc Wuesthoff on backup vocals. Their repertoire consisted of current country hits and even some classic rock. One of their first performances was in familiar territory – back on the stage of Beaver Dam High School, where they graciously donated the concert proceeds to the vocal music program.
In June of 2011, dreams came true. The first big event happened in Nashville, where they performed at the Country Music Association Festival, a coveted gig for any country musician. This festival annually draws in the likes of Martina McBride, Reba McEntire, Rascal Flatts, Keith Urban and more. The second big event was performing at Milwaukee's Summerfest , Wisconsin's largest annual music festival. It was an exciting experience. In glowing yellow t-shirts, two busloads of family and friends cheered as The Band Chelli took the Harley Davidson stage for a powerful and memorable concert performance. It was a proud day for everyone.
The family is still their source of inspiration. Grandma and Grandpa are always at every performance. Dad can always be seen videotaping. A swarm of relatives are always cheering. Chelli and Broc are always singing together with the beautiful blend that only siblings can attain. Their ritual before every performance is saying to each other, "Let's do this for Mom." They then go out and sing their hearts out. After all these years, singing is still a family thing.