From The Editor
I truly enjoy having the opportunity to share with you all the wonderful people I get to meet while I put together each issue of LocaLeben. I was lucky to see Meghan grow up as a young actress in the Tell-A-Tale performances at BDACT where I was a Student Director. It makes me feel old to see her move on to college – but even more excited the great future she has ahead of her.
Here Meghan Turner shares her parting thoughts as she prepares to graduate from Wayland Academy:
As many people will attest, the closer you get to your high school graduation, the more you start to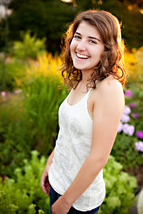 reminisce on how your last four years lined up with the goals and aspirations of your freshman self. Looking back, my years at Wayland have been both everything and nothing that I expected. I have discovered new passions here, learned invaluable life skills, and been pushed to challenge myself academically. I have come to realize, however, that these experiences would mean nothing if it were not for the people with whom I have shared them. We often refer to our school as the Wayland Community, and although it sounds cliché, community is the only word I can think of to describe this place. Here, the meaning of that word goes far beyond just a group of people who spend a great deal of time together; Wayland is our second home and the people we share this home with become almost another, albeit sometimes slightly dysfunctional, family. As a day student, I found teachers who took time out of their day to help me with class work and encourage me to join extracurricular activities that were out of my comfort zone, and I found friends who were willing to drop everything to be there for me when I needed it most. Moving into the dorms my junior year opened my eyes to yet another wonderful aspect of this community; marshmallow fights, late night movie marathons, borrowed clothing, and hilariously random conversations have all played a part in making my last two years particularly memorable. I never want to forget the people who have made this place my second home.
In This Issue


Feature: Meet Limpy
You couldn't miss Kenny. It was the way he walked. Because of that, most people called him Limpy instead of Kenny. This is his story. Read more

Feature Artist: Emily McKnight
She moves full-throttle from chaotic lines to beauty and intensity as one-dimensional features bloom in seconds. Read more

Chelli Bri: Sing Your Heart Out
Her strong soprano voice rang through the gymnasium clearly. It was the beginning of something very special. Read more

Baseball Legacy: Pink Hawley & Addie Joss
Now the accomplishments of Hawley & Joss will be known as long as fans come by those curious little markers. Read more

Community: BD Lake Days
The 19th Lake Days takes place July 12-15. This family friendly festival celebrates Beaver Dam Lake and its community. Read more

Legend & Lore: Clete Gillihnganz
Cletus G. Willihnganz shares the legend of the American Legion Band of Beaver Dam. Read more
This & That: "Daydream Believer"
It had the capacity to kick my memories into daydreaming about an era that seemed simpler and yet was complex at the same time. Read more

Viewfinder: Dave Edwards
Dave Edwards will invite you into the viewfinder on a tour of our national parks.
The Wandering Man: Patient with Hell
There may be some love in the mix, but you can't always tell where it is. Read more

Minne-Wonka: The Crystal Lake Story
The story of Crystal Lake Beach. This is a history about some local visionaries.
Parting Thoughts: May/June 2012
Pause to consider the tremendous benefits from keeping our money in our community.