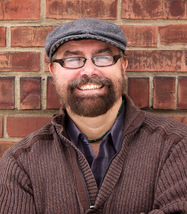 By: Lloyd Clark
In 1869, Beaver Dam was plagued by an issue common to rapidly growing towns at that time – the local cemetery, the final resting place of our City's Founders was full. Already, the lot sizes in the Beaver Dam Cemetery had been cut in half in order to attempt to address the issue causing an uprising among the citizens and a slew of articles in the paper. It was determined that a cemetery that could comfortably inter 5000 residents would be needed; however, the city budget had not accounted for the need to purchase such a large piece of property. To the rescue rode an unlikely savior, a former tavern owner from Indiana named Ingraham Gould.
In 1855, Gould had founded the Gould Nursery on the land that now houses Lincoln Elementary, Beaver Dam High School and the Family Center. By 1869, Gould was renowned for his development of apple trees that were of "Wisconsin stock," which allowed them to survive through the cold of our winters, and his nursery was touted as the largest nursery west of New York State. Gould owed his fame and fortune to Beaver Dam, its soil providing the perfect growing medium for his trees and shrubs, and to repay this debt, he purchased 20 acres of land east of the city with the intention of creating a new cemetery.
Gould had the land cleared, surveyed and platted at the cost of $3000. Now, that seems to be a very inexpensive gift and a very small price to pay for 20 acres of cleared property, but that amount is equal to more than $50,000 today. He also retained the right to purchase 17 more acres adjacent to the property in case more was needed to meet the goal of 5000 lots. Without fanfare, he deeded the entire piece over to the Cemetery Association on July 24, 1869.
Within a year, Oakwood Cemetery had already seen 22 interments, some of which were reinterred from the overcrowded Beaver Dam Cemetery on University Avenue. The Beaver Dam Argus on June 2, 1870, made note that lots in Oakwood were selling for between $3 and $15, depending upon their size and location, with blocks of four lots selling for as low as $20. Oakwood was touted as one of the most beautiful cemeteries in the entire United States.
The initial Board of Directors read like a list of "Who's Who" of early Beaver Dam. Its President was G.H. Stewart, who owned and ran the wool mill; James Ackerman, Vice President, a local farmer; Edward C. (E.C.) McFetridge, Secretary, a local attorney that served as Beaver Dam Mayor, Dodge County Treasurer, State Assembly Representative, State Senator and State Treasurer; G. Stolz, Treasurer, one of the town's first aldermen; and Ingraham Gould, Superintendent and Sexton. Now, you must remember that not a single one of these men had, at that time, a single second of experience serving on a cemetery board, much less one that they were expected to create the rules, regulations and policy for (you must remember that, in this day, the State Legislature had to approve the creation of a new cemetery…the pressure to "get it right" had to be immense).
The men were of a pragmatic nature, and as a pragmatist will, they asked for advice. They sent requests for copies of cemetery rules and regulations all across the state, Milwaukee and Janesville in particular, and out of state as well. They met regularly for five weeks, pouring over the copies that they had received, retaining the "best" of them and discarding the rest, until they created a policy manual that has served well for nearly 125 years.
Taking a walk through the peaceful tree-lined lanes, one can find not only the final resting places of many famous Wisconsin citizens, but you can see the art of funeral architecture at its very best.
There is no shortage of beautifully hand-carved statues created to commemorate many of Beaver Dam's most refined and famous citizens. Perhaps the most striking is that of the Schutte-Schemmel monument. The statue, a life-size sculpture of a woman, eyes downcast in sorrow with her cheek resting in her left hand, and in the right, a garland of flowers, grabs your attention immediately. Though the stone is pitted with age, she stands guard over the graves of John Schutte and his family. John Schutte, if the following obituary is any indication, was a true Beaver Dam character.
"Beaver Dam Argus, Friday, October 30, 1903 – page 5.
DIED – SCHUTTE – At his home in the Fourth ward, Monday, October 26, 1903, 7:47 a.m., of old age, Mr. John Frederick Carl Schutte, aged 74 years, 8 months and 16 days.
Deceased was born in Buckeburg in Lepe Schaumburg, Germany, Feb. 10, 1829, where he received his early education. In October 1840, he came to America. In January 1847, he came to Washington county and engaged in farming. In 1853, he went to California and opened a general store at Feather River, and the next year, he went to Australia and engaged in gold mining for two years; then he returned to Washington County via London, Eng., Germany and New York. In 1857, he moved to Beaver Dam and built the Farmer's Brewery, now owned by Mrs. L. C. Binzel, which he operated for about eight years. He then opened a general store under the firm name of Spuhler and Schluckebier, which he continued for nine years, after which he engaged in the insurance business representing the Germantown, Farmer's, Phoenix and Concordia Fire Insurance Co.'s.
Mr. Schutte was alderman of the First ward for four terms and School Commissioner of said ward for nine years. At one time he was assistant Superintendant (sic) of Oakwood cemetery and at the time of his death was a director of the Beaver Dam Cotton Mills, Williams Free Library and Oakwood Cemetery.
October 27, 1857, he was united in marriage with Mary Spuhler of Bavaria, who with three children, Mrs. Minnie Schemmel and Baldwin I. Schutte of this city, and Herman A. Schutte of Phoenix, Arizona, are left to mourn the loss of a kind loving husband and father.
The funeral which was held Wednesday afternoon at 2:30 o'clock under the auspices of the Masonic Lodge of this city, was attended by a large number of our citizens. Interment at Oakwood.
Thus one by one Beaver Dam's pioneer settlers are crossing the dark river."
One of the more interesting monuments is that of Lyman Witherall, his wife Amia and their daughter Maria. From a distance, the upright monument and three on-ground tombstones appears to be of dark granite, the words and decorative elements carved deeply into its surface. As you approach, you wonder at the extremely crisp nature of the carvings, unbelievably legible, almost as if they were carved this very morning. If you reach out and touch the monument, you realize that it is not made from stone at all – but from metal that has not rusted or faded at all since its erection in 1867.
The Witherall monument and all three of the "tombstones" are made from zinc. Zinc, often called "White Bronze" during the era, became an extremely popular material for the creation of funeral monuments. About one-third less expensive than marble or granite, the tombstones and upright monuments were cast in molds, which could be quickly created. Zinc tombstones were also touted as being more durable than stone, and since they could be created quickly, a family could have one placed on the grave of their loved one very much sooner than one of stone.
One of the more famous residents of Oakwood is Andrew "Scott" Sloan. Originally from Morrisville, New York, Sloan moved to Beaver Dam in 1854. It didn't take the New York attorney long to make his mark on our city. In 1857, he both served in the state Assembly as well as Mayor. In 1858, he was appointed a Wisconsin District Judge, serving in this position until 1862, when he was elected to the 37th Congress. According to the Wisconsin Historical Dictionary, "In 1881 Sloan was elected judge of the newly created 13th judicial circuit, was re-elected in 1887 and 1893, and served from Jan., 1882, until his death. In 1886 he presided over the trial of the leaders of the Milwaukee labor rioters involved in the citywide strikes of that year."
Sloan also served as the state's Attorney General, Dodge County Court judge and, in 1879, Beaver Dam's Mayor, once again. He passed away on April 8, 1895 and has a very simple headstone for such an important historical figure.
Historians find cemeteries to be filled with treasures not found anywhere else. In Beaver Dam, it is impossible to visit the log cabin of Thomas Mackie or even see the natural spring that once provided water for the new residents of our town. It is not possible to visit the historic mills that first gave Beaver Dam its industry or to even drink directly from the sacred springs in Swan Park that attracted hundreds of thousands of visitors from around the world to our fair city.
However, you can walk through Oakwood Cemetery and visit the graves of the people who worked, fought, and created our town. Take the time to visit some evening, view the beautiful works of art, read the touching memorials and you are sure to come away from the experience with a new appreciation for Beaver Dam.