By: Tracy Scheffler
"It's so easy to get up on Wednesday mornings because I am going where I want to be." ~ Bev
Beautiful women. Coffee. Tea. Treats. God. What a lovely combination! Often one must live in a big city to experience this type of offering, but Beaver Dam is blessed with a non-denominational women's Bible study to rival that of some mega-churches. Each Wednesday, women from all over Dodge County and all walks of life gather for fellowship, friendship, growth and celebration.
What are we celebrating? Life and love of a great God and the saving grace of His son Jesus Christ. BUT…that doesn't mean every attender is a believer; all are welcome and invited to seek and find and all WILL find friendship within the walls of Heart & Home on a Wednesday morning.
Heart & Home was started in Beaver Dam in 1996 by a small group of women from Harvest Church who recognized a need for women to meet together to grow in God's word. It was important to these ladies that Heart & Home encompassed not only Harvesters, but also the community at large in order to extend the possibilities for connection and friendship within the Beaver Dam area and beyond. Through the years, as women have come and gone through various life transitions, Heart & Home has influenced women and left its mark on many hearts and homes. A friend invited me to "something special" seven years ago. We had only lived in Wisconsin for a year, so I had not cemented many friendships yet. I must admit my initial reaction was skeptical. I thought, two hours, what could we possibly do for two hours of bible study? I promised my friend I would give it a try, but was very intentional about not committing. Then that first Wednesday came. I stuck by my girlfriend's side at first, not knowing what to expect and not knowing any of the other women. What unfolded after that will forever be emblazoned in my mind as the first day of a new beginning in my life, a path untrodden, and a harvest of friendships that would go on to mold me into who I am today.
When I think back to my eye-rolling response to my friend's invitation, I smile at my own pre-conceived notions, never happier to have been so wrong about something. I walked into the room that first day, and I saw so much fellowship, so much love, and so much knowing – knowing of each other, knowing of God, and knowing that there is always room to grow. Throughout those first weeks of getting to know these women, my phone started ringing so often that my husband finally asked, "Who are these people?" I joked that I went from having one friend to having sixty in just one day! That really is the bottom line: Heart & Home is about friendship in all of its forms and venues, in all of its strengths and weaknesses, and has changed me as an individual, as a wife, as a parent, as a disciple and as a friend.
It is, by far, one of my favorite places to be. It is a place where we can come as we are and grow together, connecting with other women and doing life together. My kids often ask how I can still be excited on a Tuesday night about the coming Wednesday morning, even after all these years. It is simple. It is like a party every Wednesday, a date with my girlfriends and my God. It is a reprieve in the middle of a busy day, in the middle of a busy week, in the middle of a busy year, in the middle of a busy life. We are so blessed by each other that we feel like maybe we should apologize for being so ridiculously happy to have our Wednesday mornings together!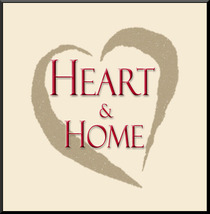 What might you expect to find on any given Wednesday? A room full of 40 to 60 women spanning all generations – stay-at-home moms, small business owners, part-time workers, full-time workers, retirees and professionals. You can also expect music, videos, live speakers, large group and small groups, and more importantly, laughter, tears, shared joys and sorrows, and a sisterhood that I myself had sought my whole life and had not previously known until Heart & Home. In a room full of beautiful, intelligent, loving and broken women, I have found a home. Would you like to come over?
Contact Information: Linda Allen (920) 887-9611. www.harvestefc.com
"No matter how long I am away, I know I can always come back and it will be here; it's like home." ~ Lisa