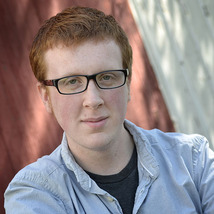 By: Colton Dunham
Find time for happiness. I slid the small piece of paper into my jean pocket and disregarded the two halves of the cookie, as I took what I truly wanted. Who would have thought that a piece of paper could make someone feel so hopeful of what life has to offer. I shouldn't be this hopeful. Unfortunately, tearing apart a flavorless cookie to receive a profound message was going to be the best part of my day.
I have been tearing apart cookies for a message for a few years now, ever since my family and I arrived to this strange cement jungle. My new home is a two-bedroom apartment that my parents can barely afford. They run a restaurant with authentic cuisine from our mainland. A home is supposed to make you feel comfortable and secure. Where my family and I live is not home. It is a steamy bare vessel where I can only escape through memory. My parents keep telling me on a daily basis that this is my home now.
I sit alone most nights in my small bedroom, dreaming of another time and place where everything was okay. My bedroom floor is made out of dark and dirty wood. I do not dare to walk around barefoot. The floor creaks as I make my way to my bed. I open up the torn journal that I bought when we moved here. I tape every single fortune into this journal that I keep safe underneath my bed. I graze my finger along the edges of the torn paper as I study each one. Find time for happiness is the latest addition to the collection. The voices of my parents pierce through the paper-thin walls. They must be fighting about money again, or the lack thereof. I curl up on my bed trying to tune out the voices of my parents as they get louder and louder until my hands reach over my ears to make them stop.
There is a loud thud on the floor. I whip out of bed to see my fortune journal open and scattered. As I recollect my fortunes and writings, a picture peers out of the corner of one of the pages as if it is playing peek-a-boo with my conscious. It is the picture that my parents do not know I have in my possession. The boy in the photo is Han, my older brother who never made it over to this new land. He has dark wavy hair and brown eyes. I understand now why Han was always popular with the girls at school. His handsome features made him stand out from all the rest. After the accident, my parents never talk about him. We never mention his name. As strange as this cement jungle is, my parents are trying to forget as they escape into the strangeness. I miss you. I whisper gently as I tuck the photo of Han between the pages.
This is now the fourth day in a row that it has been raining. Not a hint of sunshine to enlighten my gloomy disposition. With each step I take, I splash tiny puddles. The sound of heavy traffic speeding past me allows me to be oblivious to the surrounding conversation. It is a Saturday, so any worries of feeling like a stranger in a strange land inside a classroom can be ignored, at least for the next forty-eight hours.
A bell rings as I rush into the restaurant to immediately grab the first fortune cookie of the day. Cracking a cookie open is a gratifying experience for me. It's exciting. As I pinch my fingers on the piece of thin paper, I slowly pull it out to reveal a message. Find time for happiness. This was the first time that I have gotten the same message more than once. Receiving the fortune twice must mean something. It has to mean something. Is this a sign from something beyond our comprehension to bring positive change? Possibly, but I am not getting my hopes up.
Happiness is hard to achieve, but once you have it, you have to hold onto it. This is what my mother told me when Han graduated from school. I just wish that she followed her own advice. As much as you can hold onto happiness, it is easy to let go, especially when everything falls apart. My family and I are like a lot of people. We have struggled, and through our struggle, we have found that it is hard to accept reality and move on. It is especially hard for my father who has not moved on quite yet. He is bottled up with so much frustration that he often takes out his anger on my mother with a relentless open palm.
Today is a relatively slow business day, so I observe out the window to see strangers stride past. Most of these walks of life walk past seemingly content. Glass shattering makes everyone's eyes, including mine, turn toward my mother as she sluggishly stands with her cheeks rosy red. My father rushes out of the kitchen to notice what she has done. All of the plates my father ordered are in pieces on the reflective tiling. My father ferociously grabs my mother's arm and pulls her into the kitchen and out of the eye of the public. My eyes trail away from strangers on the street to the swinging kitchen doors to see my mother, the woman who has kept as strong as possible since the accident, kneeling on the floor in tears. I stand frozen cold in my tracks, as I cannot think of a thing to do to comfort her.
Our two-bedroom apartment contains an eerie silence later that night. Father has yet to arrive home and my mother is sitting alone at the kitchen table. As I make my way to her, I grab the crumpled fortune out of my jean pocket. When my mother looks up at me, I see the pain in her eyes. I gently place the small piece of paper into her hand and clutch it closed with my hand over hers. Please read this. I wrap my arms around her with no intention of letting go. This is the fortune that will save us all.