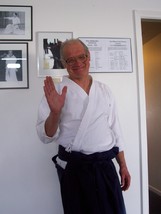 By: Tamon Mark Uttech
The month of August is a kind of prison, because it is the last of the summer months. A time to reflect on opportunities we might be missing and SUMMER'S ALMOST GONE. As the song goes: "Where will we be? When the summer's gone?"
It has taken years and years, but I think I finally learned a thing or two! Three simple words I tell myself: "Make an effort," and once that is done, NEVERMIND the outcome.
I recently received a wedding invitation in the mail. The wedding itself is a private affair (the church chosen only accommodates 40 people), so I was only invited to the reception. Would I attend? Enthusiastically? Regretfully? Would I attend alone? With a guest in tow? Would I prefer the Chicken Cordon Bleu? The Seasoned Roast Beef?
I had fully 37 days to reply; I am down to 5 days. You might wonder what the problem is. The simple answer would be to return to the previous paragraph and look at all the questions! The complicated approach would be to break it all down, which makes more sense. So here goes:
1. Would I attend? My life policy is to take no invitation for granted. That idea wreaks havoc when confronted with all sorts of 'inviting' junk mail. OF COURSE I would attend. (I didn't burn the invitation, just the junk mail.)
2. Enthusiastically? Actually no. The signature song from 'HeeHaw' comes to mind: "I searched the world over and thought I found true love . . . "
3. Regretfully? (See above.)
4. With a guest in tow? This added to the dilemma. Should I try to find a date? Or hope to meet someone there? I actually spent some time reflecting on this question, and this question turned out to be the MAIN reason why my 37 days to reply dwindled down to 5. So I contacted the bride-to-be and explained why I hadn't mailed in my RSVP yet. It didn't really have anything to do with the food choices, I told her. She said that so far the responses she had gotten were few, but of those few, the women chose the Chicken Cordon Bleu, and the men chose the Seasoned Roast Beef. Whew! What the bride-to-be told me actually DID give me a clue about how to handle the 'guest' question. I would no longer have to worry about getting a date and then having to argue about my choice of food. (She: "What?! You ordered Chicken Cordon Bleu?! A Real Man would order the Seasoned Roast Beef! I don't know if I want to be here with you on this 'date' now!" etc.) Since my actual preference was for the Chicken Cordon Bleu, I could also forgo the date problem and meet someone there who was having the same meal. (I reasoned that each table would not want to have different meals delivered so I could easily be seated at a table with MANY women.) And then what? Argue with them all? But ALL women CAN'T be the same . . .
I mailed in the RSVP on the due date, which means it will be received a little late. I responded that I would indeed have a guest in tow, which I named: MYSTERY WOMAN, and we would both have the Chicken Cordon Bleu.