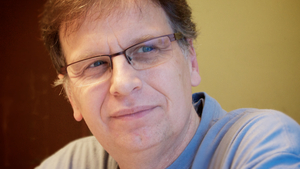 By: Dave Bowman
On a hazy warm summer evening in July 1969, I watch a grainy black and white picture on the large Motorola console television set placed in its proper majestic spot in our living room. Being 11 years old, I marvel at the idea that this picture could travel a quarter-million miles through outer space, bounce off a large radio dish, careen through the atmosphere, make its way to the state of the art television antenna perched atop our house and into our home. A shadowy figure makes his way down a spindly fragile metal ladder, bouncing down once, then up to the bottom rung, then down again, all the while describing the surface of another world as "almost like a powder." He pauses and then tells the audience of over a billion earthbound souls, "I'm going to step off the LEM now. That's one small step for man, one giant leap for mankind." Neil Armstrong, from the small town of Wapakoneta, Ohio, had become the first man to step onto the moon.
Watching television in the 1960s was an experience that cannot be replicated ever again. Oh, there were iconic moments which will always be ingrained in our pop culture, and who cannot appreciate the fact that we had a whole THREE networks to choose from: NBC (with its "In Living Color" Peacock), CBS (with its ever present eye looking into your home over the shoulder of Walter Cronkite) and ABC (with its unique logo of its three letters "ABC"). Television offered a veritable wasteland of tomfoolery, silliness, groan-inducing jokes and schlock drama, but it also had its "diamonds in the rough."
During the early '60s a show came on the scene which presented wholesome values, a moral compass, excellent writing and consistent bona fide entertainment. The Andy Griffith Show had a way of showing how people hoped their lives would be and how they would like to act toward their friends and fellow townsfolk. Andy was raised in Mount Airy, North Carolina, a small town which became the model for the fictional town of Mayberry. His homespun humor and gentle characterizations of everyday people and life in Mayberry made the show an instant classic.
As the Mayberry story unfolded over the years, another real life story was playing itself out for everyday Americans – the quest for the moon. While Mayberry provided a welcome respite for those in need of an occasional rest, television also provided the chance for Americans to ride along and join the astronaut heroes on their space adventures. They both exemplified our dreams and aspirations for what we as a nation could achieve. Andy Griffith and Neil Armstrong, who both passed away this past year, never lost their humility and always exemplified the old adage "small town boys make good."