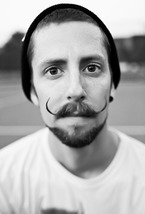 By: Tim Gallenbeck
Skateboarding challenges me every time I engage in it. It is a never-ending quest for improvement. It is also one of the best stress relievers I have ever found. When I step on my board and start pushing, any concern or worry I had disappears.
I found skateboarding 18 years ago. I did try other sports, but I just did not connect with them in the same way that I connect with skateboarding. When I started skateboarding, there were not many serious skateboarders in this area. It was sometimes frustrating because we had nowhere to go with our sport. We were not allowed in public areas. Our sport required a different kind of setting – one that could take some abuse and hold up against our attempts at landing a trick. It was then that I made a resolution to make skateboarding accessible in our town. With the help of a friend, we took the first steps down a very long road (for me) toward getting Beaver Dam a skate park. We were quite young at the time, inexperienced to say the least, so our efforts were cut short when we were intimidated. We did not know who to talk to or how to go about obtaining land or funds. Further attempts were made over the years, some with a bit more success. Success occurred because more adults participated at those times. At one point I decided to build my own ramps and share them with anyone that wanted to ride. I would set up at Swan City Park and everyone was welcome. It was huge! Kids from other areas even came to skate with us, and our average was about 30 kids every Wednesday night (we sometimes peaked at about 70 kids). I had some of the citizens who lived around the park say that they loved having us there and that we were fun to watch. I did this for about three years, and when I decided to take a break from it, I had parents ask me when I was going to start it back up. It was clear that a desire for a skate park was building.
Looking for help regarding the development of a skateboard/BMX park here in Beaver Dam, Alderman Matt O'Brion contacted me in the spring of this year. A small group of people was creating a proposal to present to the city for a land request. I happily agreed to help. I contacted a skateboard park construction company to get a design idea, as well as an estimate for cost. We all contacted friends, family, neighbors, anyone that we thought might be interested in seeing this happen to give us support. The response was amazing. People attended a council meeting where I explained what we would do with the land we were requesting, and the support clearly made a difference. The land was approved for the development of a skateboard/BMX park; it is located at the intersection of Fletcher Road and Beichl Avenue. Not only do we have support from many of the citizens here in Beaver Dam, we also have the support of the mayor and the chief of police, as well as many leaders in the community. We now have the land to make this happen, but we still need the funds. The funding for this park needs to come from the citizens of Beaver Dam and the surrounding areas. If you are on Facebook and wish to help out with this, I strongly urge you to "like" Skateboard/BMX Community Park Beaver Dam WI's page.
Enthusiasts who love to skateboard or ride BMX need a safe and well-constructed area to enjoy these sports. A skateboard/BMX park will provide this along with a venue for people to learn more about skateboarding and BMX. Currently, those who are interested in either sport may not know where to go to learn more about them. I have three daughters and they all have shown an interest in skateboarding. I am doing this in part for my daughters. I want them to have something I did not – a place to skateboard freely. I also want to help make this community a better place for kids and families. This park will be a great place for kids to come skate or bike and for parents to watch their kids and learn more about them, or maybe even for parents themselves to skateboard or BMX. This park could get people of all ages up, out, and moving around.
The park will also be a great way to bring people in from surrounding areas, and perhaps while they are here, they may decide to eat lunch or browse some of the shops downtown. It certainly will bring revenue to Beaver Dam because "if you build it, they will come" truly applies to the world of skateboarding. I have been to skate parks in Canada and many states here in the U.S. including Washington, Kentucky, Tennessee and Florida (the list is long). I even moved to Arizona for a while just for the skateboarding. I travel all over Wisconsin and usually take a few people with me. I truly appreciate the people I have met over the years because of skateboarding. My passion for skateboarding has also led to my co-owning a skateboard company. I do not think skateboarding is something I could ever give up completely. Even after my body refuses to cooperate, I will still be involved in some way.
Make Tax Deductible donation to:
"City of Beaver Dam- BMX/Skatepark Fund"
Send to the Association's Secretary/ Treasurer
Michael Erwin, 115 James St. Beaver Dam WI 53916