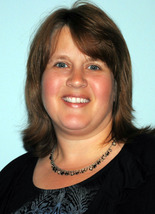 By: Kelly Simon
Big Brothers Big Sisters of Dodge County & Watertown Community celebrates those who invest in a child through the gift of mentoring as part of National Mentoring Month this January.
Do you remember someone who encouraged you to believe in yourself, who inspired you to work hard in school and in life? What if every child fulfilled his or her potential? Think how amazing that would be.
Big Brothers Big Sisters provides children facing adversity with professionally supported one-to-one mentoring relationships. Two mentoring options are available: The school-based Big Buddies program and the traditional community-based Big Brother, Big Sister or Big Couple program.
Kris Schefft has been Selena's "big buddy" for over a year. Selena is 10 years old and in 5th grade at Dodgeland Elementary School in Juneau. They spend lunch and recess together once a week. Selena comes from a big family and one of her sisters is in the Big Buddies program as well.
On the day I visited Kris and Selena, Selena proudly showed me a t-shirt that Kris had given her from a recent trip to Houston. She also was sampling some freeze-dried cookies & cream ice cream from the Houston Space Center. "The chocolate part is good, but the white part tastes like cardboard," she said. Big Buddies is all about friendship and new experiences.
Kris had heard about the school-based mentoring program and debated if it could fit into her work schedule. She works for Dodge County in the Aging and Disability Resource Center and receives a half-hour lunch break. The Big Buddies program typically requires 45 minutes, one day a week. Kris approached her boss about her desire to become a mentor and was told, "Absolutely, yes. We'll make it work."
Selena is a very talkative girl and the two quickly became friends. They discovered a shared interest in crafts, so many of their meetings revolve around art projects. When Selena mentioned she hoped to become a fashion designer one day, Kris decided to ask around for donations of material scraps. She received a bunch and they have been used often. Last year, they hand stitched a re-useable sandwich bag and today they were designing a play apron. Selena has learned how to sew on a button and how to embroider and cross-stitch. Although they admit their projects do not always get completed, they delight in the progress made.
Kris said she is enjoying the experience of being a mentor. "It's just a chance to come and hang out with a child…a fun and casual way to make a difference." Selena summed up her feelings for Kris by calling her "my new best friend."
The Big Brothers Big Sisters Community Program offers time outside of school to spend with one another. Steve Gentz, an area farmer, looked into becoming a "Big" after his four children were grown and no longer living at home. He recalls wanting to give a child some of his time and attention. Steve first met with his "Little" Jacob Potter in 2004.
Jacob was matched with Steve when he was 10 and their formal relationship continued until last year, when Jacob reached the age of 18. Jacob graduated from Beaver Dam High School in 2012 and is currently attending Fox Valley Technical College to become a police officer. His mother Karen Potter feels the friendship between these two will last for many years to come. She mentioned that Steve took the time and drove to Appleton recently to meet Jacob for lunch.
Karen approached Big Brothers Big Sisters about finding a mentor for Jacob after the death of his father. She wanted him to have someone to do "guy things" with – someone with whom he could form a male connection. Karen feels the pairing of Jacob and Steve was a perfect match. "They seemed to click right off the bat. Both of our families attend the same church, so we share the same Christian family values. Steve always supported Jacob," she said.
Steve said he did not realize he had made such an impact on Jacob's life; he was just having fun and teaching him things. Karen believes when Steve taught her son about farm life, Jacob discovered the importance of hard work. He would sometimes help with the cows or bail hay; he even had the chance to show steers at the Dodge County Fair. Steve laughed saying, "I'm not sure Karen always appreciated me on those days when Jacob would come home dirty and smelling like a barn."
Throughout their eight years together, many of their outings focused on their mutual love for sports. Steve and Jacob bowled in an adult/child league for many years. Steve taught Jacob how to hook the ball and improve his game. Afterwards, they would sit and talk while eating a burger and fries. Karen remembered how happy her son was when his "Big" attended his basketball and football games. Because of the generosity of Big Brothers Big Sisters supporters, some of the pair's favorite memories involve having had the opportunity to enjoy several Packer, Brewer and Badger games together.
As we mark National Mentoring Month, Big Brothers Big Sisters of Dodge County & Watertown Community is applauding all those who work together to make a mentoring match strong, enduring and successful. We honor our volunteers and parents for their commitment and trust. We pay tribute to our board members and staff, and we show gratitude to our donors.
The need for mentors in both the community and school-based programs is great. Being a Big Brother or Big Sister could be one of the most enjoyable things you will ever do – not to mention one of the most gratifying. Getting together does not require a special occasion or an expensive activity – just a couple hours of time every week. Too few young people have a caring adult role model to provide encouragement and support. Resolve in 2013 to mentor a child and you will have a great and rewarding new year.
***
For more information on how you can help, please contact us:
Watertown
Betsy Bright, Executive Director
920-261-2315
Beaver Dam/Juneau/Hustisford
Lori Liddicoat
920-344-0667
Horicon/Mayville
Kelly Simon
920-342-5029