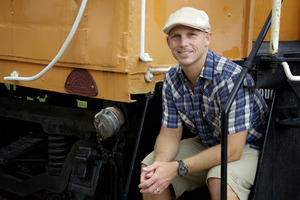 By: Clayton Grow
My family's relocation to Middleton was in the making since February 2012. I accepted a job offer that was just too good to pass up, and I began driving from "The Beav" to Middleton and back 5 days a week to work as a technical writer. My recent relocation to Middleton has made me step back and realize just how many of my memories will be forever cast against the backdrop of this quaint, friendly, "hometown" city.
My head is full of many, many beautiful memories of our 10 years of living in Beaver Dam. Some of the memories I will treasure from this great little city:
-Slicing into a juicy porterhouse at a local restaurant on a Saturday night… the chatter of happy patrons building to a happy ruckus during a Brewer game…
-Skipping across Crystal Creek on rocks after watching my Frisbee slice between two willow trees on Hole #14 at Crystal Lake Park… my disc careening down the impossibly steep hill towards the lake on Hole #18…
-Supporting my fiery, passionate little red-headed man as he grew from scrambling T-baller to mohawked rookie… who knew coaching 5-year-olds was so much like herding cats?
-Smiling ear-to-ear as my blonde little princess twirled and swirled a ribbon at dance class, tiptoeing in a tutu… her tightlipped little grin as she eyed her own reflection…
-Spying my beautiful wife's wide smile through the window screen as she checked the status of the burgers grilling in the backyard… me casting a goofy glance back while sipping my ceremonial "Grilling Beer"…
We adored the intentional mindful beauty of our early 20th century house in Beaver Dam, the steep impressive roof peaks, the crown molding in the archways and the smooth sturdy wooden floors. Our 1910-built house gave us a sense of genuine thoughtfulness in architecture. Compared with our old Beaver Dam house, every late-20th century building we step into feels like a Styrofoam box.
Beaver Dam sure felt like home. I would not trade our 10 years there for anything. I thoroughly enjoyed the walkability of Beaver Dam, the expansive beautiful cemeteries and the wonderful parks that will forever live in some of my kids' first memories.
Thanks, LocaLeben, for being such a positive spark in the community!
Thank you, Beaver Dam, for being such a great city to live in.