My journey as a photographer began in 1990 when my parents bought me my first Single Lens Reflex (SLR) film camera. It was a Nikon FE2 accompanied by a bag of lenses, filters and numerous other goodies, all of which I experimented with while teaching myself the basics of photography. It did not take long for me to fall in love. Today I proudly live and work in Beaver Dam with my husband Jonas and two beautiful little girls, Lillian and Cecelia. As a stay-at-home Mom, my family is my life, while photography is my passion.
Diversity is the spice of life. I have been asked if I ever get burned out or tired of shooting the same things over and over again. My answer is always, "Never." I genuinely enjoy people and especially in the case of weddings always feel privileged to be part of one of the most important days of a couple's life. I also try to diversify my shooting repertoire as much as possible to avoid getting stale and burned out. In one week this past summer, I photographed a newborn, a family, a commercial property, a wedding and, last but not least, my own children. Each of these sessions demanded a different photography skill set and persona. Newborn sessions require enormous patience, but not much personality. Weddings, on the other hand, demand intense focus, quick thinking and lots of personality. My personal challenge as a photographer is to make each session unique to the subject so they are never left feeling like the dough in my cookie cutter.
A Spiritual Session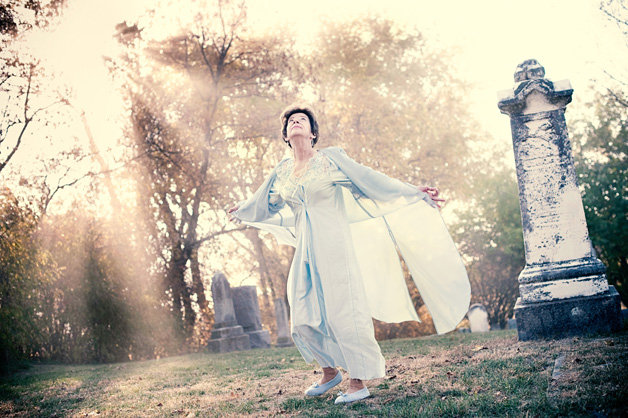 Photos are taken for many reasons; some are purely pragmatic while others are more emotional. Commercial work, such as photographing a product or property, tends to fall on the more predictable end of this scale. Weddings and portraits, on the other hand, are usually a pleasant mix of both anticipated and unexpected emotional moments. My session with Margaret topped out my scale at the emotional end and was definitely atypical.
Margaret is a strong spirit and confidently wears her spirituality like an elegant evening gown. She came to me asking for a portrait unlike any I had ever done. A few days earlier, Margaret was diagnosed with an aggressive cancer. She had started making her final arrangements and wanted a unique portrait taken in the cemetery where she wished to be buried. She wanted to dance, laugh, and spiritually connect with the special place where her body would forever remain at rest. We made plans, and the next day I was standing in a rural cemetery under a gorgeous autumn sky taking pictures of a lovely woman dancing around in her nightgown amid a grassy sea of ancient tombstones. It was wonderfully surreal and a session I will remember forever.
Context is Key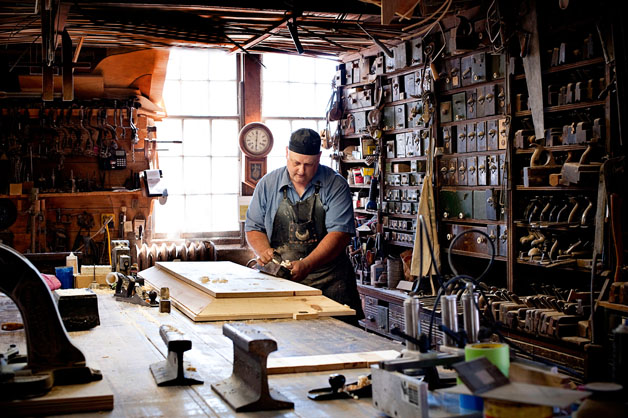 Candid photography can be a challenge to even the most experienced photographer. Most candid photographs require the right amount of context to tell the story. With too little or too much context, the meaning can be lost or misinterpreted. This photograph, from a commercial shoot of a local carpenter in his shop, would not have had the same meaning had I left out the walls of antique tools on either side of him. Had I shown more of the shop, he might have been lost in the clutter. As it is, the viewer's eyes go right to him. He is clearly a carpenter who prefers doing things the old-fashioned way.
When in Doubt, Improvise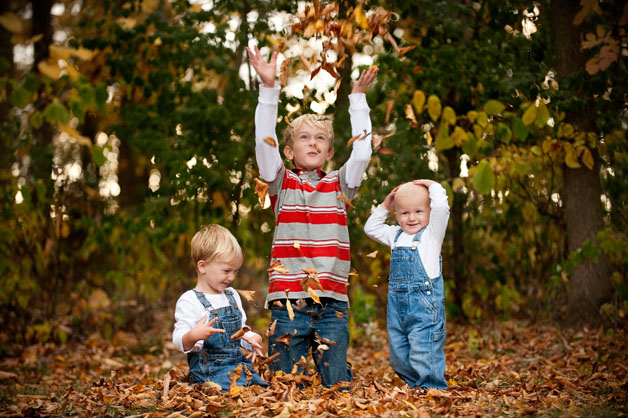 This session required a little bit of everything from my bag of tricks. These adorable brothers were very active and I quickly realized that getting them to sit still together for a traditional portrait was not going to happen. The idea came to me to have them do what every kid loves to do in the fall – play in the leaves. Problem solved. They had a great time and I got exactly what I wanted.
Finding Beauty in the Unexpected. As a photographer, I think I view the visual world around me differently. I see patterns, color, textures, and most importantly – light and shadows. When others see a dark room lit only by a single window, I see dramatic lighting and great potential for a striking black and white image. Where others see a dirty brick wall in desperate need of tuck-pointing and paint, I see a fantastic backdrop full of interesting texture and color. This is exactly the case in my favorite old brick alley in downtown Beaver Dam. At the right time of day, it erupts with gorgeous light that would make even the most finicky photographer giddy. This senior portrait of lovely Abby was shot late in the morning when the alley was evenly lit from both ends, making for ideal ambient lighting conditions that did not require any help from artificial flashes.
Ready, Set, Sleep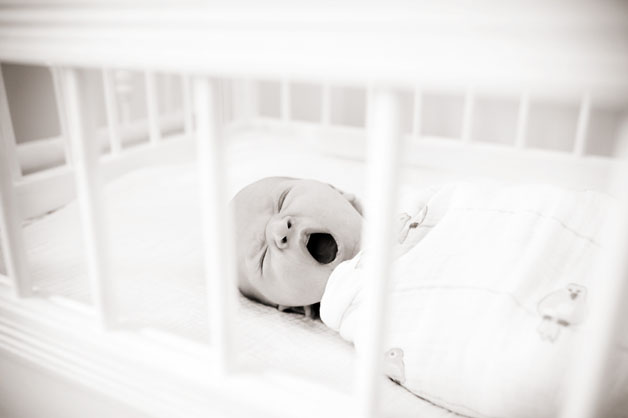 Babies are a ton of fun to photograph. They start out so tiny and tired, and before you know it, they are running around the room quicker than you can keep up with even the fastest lens. I prefer to photograph infants in their own homes where they feel comfortable and I am most likely to capture their true personalities. This image was taken in baby Melanie's room only one week after she was born. The cradle is a family heirloom that has been passed down through several generations and is very dear to Melanie's mother thus making the photograph even more meaningful.
The Big Day
Wedding days are a unique challenge for a photographer. Every big day is different, and though some of the moments are predictable, none are ever the same. The couple, their families, the venue, the time of day, the weather, and unanticipated extenuating circumstances make each wedding unique. I can photograph two weddings on back to back weekends at the same time of day in the same venue and guarantee that they will be completely different, each with their own special set of memories. For nine to twelve physically grueling hours, I have to remain focused, yet fun and creative. In general, people tend to reflect back to you what you throw at them, so a fun and animated photographer will get better shots at a wedding than a dull and bored one.