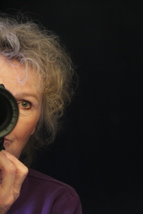 By: Michele Sutton
There were only 48 stars on our flag. Harry S. Truman was President. "I Love Lucy" debuted on television. Remington Rand delivered the first computer to the United States Census Bureau. I received my first camera as a gift from my father: A Kodak Brownie 127. Original list price: $6. Value: Priceless! I was about to embark on a journey that would change my life forever. I was 5 years old, and the year was 1951.
"Brownie" (the name I so originally bestowed upon "her") and I were inseparable, the best of friends. Much like children make up "imaginary" ones, she was my "real imaginary" friend and went everywhere with me. I recall that I went through the two rolls of film I received with her very quickly, too quickly. They were eventually developed; small black and white prints with curly edges for a frame and quite grainy, not very memorable. For many reasons, it would be a long while before I would be able to obtain more film. Children are resourceful, and if forced to, will turn a negative into a positive. Figuring out that the camera would not produce without a roll of film in it was not rocket science, even at my tender age.
Therefore I set about working very diligently on my "pretend" shots. I took this perfectly seriously, just as though there was film in the camera. It would begin by scouting a location, often choosing something around my neighborhood that appealed to me, visualizing the shot and just how it would look, waiting to snap the shutter until everything was "just so." That evening at bedtime, I would be lost in my world, recounting the scene to the smallest detail. My "alone time" meant so much to me and was the most special of times. Remembering what I "shot" that day, sans film, became a mental game each night. It did not take long to learn the value of real film after those lean days, and as I became older and wiser, I would never be as cavalier about that precious commodity again. It is ironic that I do not remember anything at all about the pictures that were developed; however, I do remember, quite vividly, most of those pretend shots. Studied so painstakingly, those precious pretend pictures have been burned into my memory bank forever.
I wish I still had "her," but Brownie has long ago been replaced with a series of cameras over the years, and most recently by my latest, a wonderful DSLR. I will never forget what she meant to me then and still means to me now. In her memory, I would love to look one last time through her viewfinder, and yes, perhaps visualize one more pretend picture. Amazing technological advances in photography are a phenomenon that I have fortunately lived long enough to see, and unfortunately, long enough to struggle learning. I will most likely never master the complexities of the computer age or beyond; however, photography still requires a mixture of passion, curiosity and an "eye" to see what is beautiful or interesting, along with a finger to snap the shutter. Thankfully, my camera still requires me behind the lens. Photography is so much more than taking pictures. It continues to bestow a most extraordinary and powerful gift, the gift of stopping time.
My interests are what some would call eclectic. I love abstracts to wildlife, portraits to still life, and everything in between. There are many genres in photography, but I have not met one yet that I have not liked or appreciated. If I had to choose a favorite, it would be landscapes. The sky with its dramatically ever-changing canvas has provided me with a oneness with nature like no other. It speaks to me and it is magic. I am always looking up…up toward the heavens, and will be forever grateful for that first gift given so very long ago to a little girl who just wanted to stop time and share her pretend shots with others. I hope you enjoy some of my world.
Interlude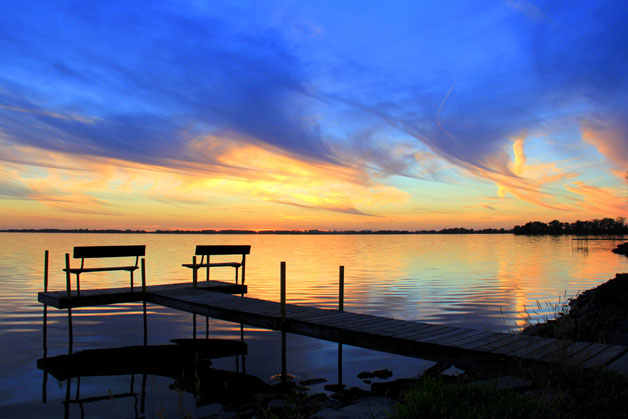 This was taken at the Edgewater boat launch where I had gone hoping for a pretty sunset. What came next was so extraordinary that it took my breath away. The layers of color were so rich, unusual and beautiful that I can truly say I have never seen anything quite like it before, a one-of-a-kind "show" by Mother Nature.
Fluidity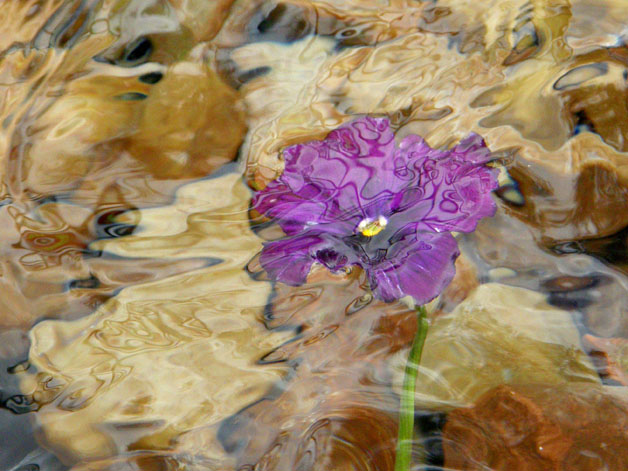 This is what I call a "happy accident." I noticed this pansy jumping about in a water fountain, forcibly swirling over and under the moving water. I snapped about 20 pictures and thought nothing of it until I uploaded them the next day. This amazing result was unlike the other 19 shots. I love that it reminds me of a Monet. The lighting was just perfect to create this "painting like" image. This was unedited save for a bit of cropping.
Weary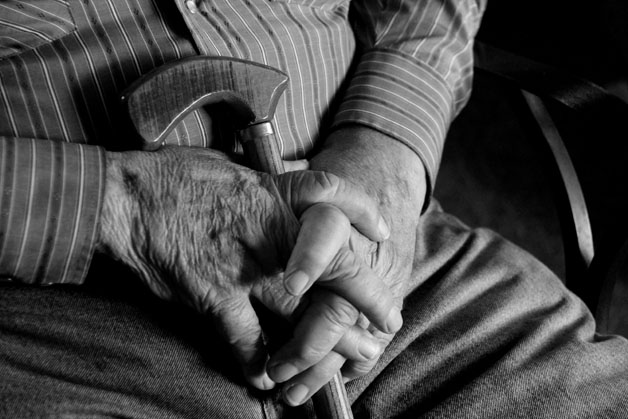 Quite honestly, once in awhile there are photographs that require no words. They just "speak" for themselves. I believe this is one of them.
The Fragrance of a Flower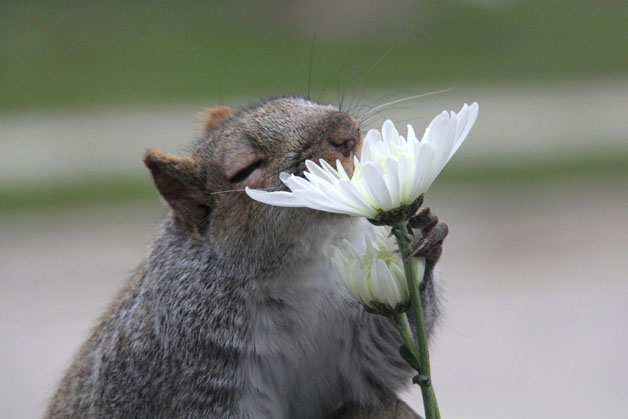 Photographing something humorous is not a simple thing to do. I was not sure what to expect when I sat fresh flowers between the birdfeeder and myself. I was hoping a squirrel would come along and pose with a flower and do something cute. After two days of waiting (getting them acclimated to me was the hardest part), she finally appeared. I got lucky, and this was the result! I hope this lighthearted moment gives you a chuckle.
Food for Thought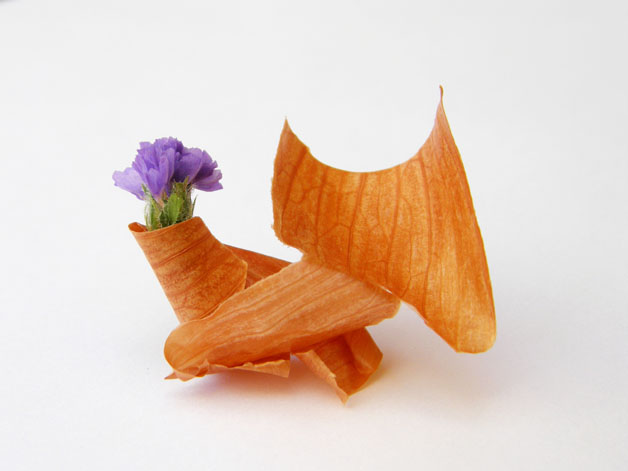 Oftentimes during the cold winter months, a photographer must get creative so as not to go stir crazy when the weather is inhospitable. This abstract is a result of being cooped up for too long. As I was emptying the garbage one day, this onionskin fell out of the bag onto the floor. I picked it up and was quite taken with its shape. Using a bit of tiny dried flowers from a dying arrangement, I completed the picture by inserting the flowers into what seemed to be a vase-like opening. A la Eco Art was born…or perhaps a hat fit for a Royal?
Baby Steps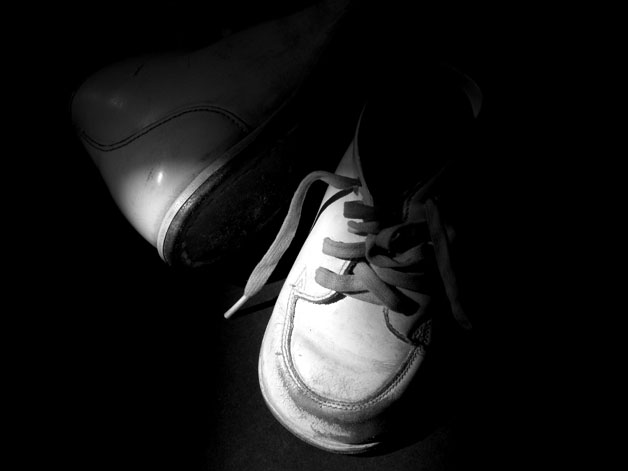 This still life is one of my favorites. It is a shot I took of my son's first pair of shoes. Dedicated to all parents out there whose child has long since grown, but the sweet memories of those first halting baby steps will forever remain in the heart.