I remember the days of the Rocket Slide at Swan City Park and the Tornado Slide at Lincoln Park. Lakeview Park used to have that giant solid metal slide with the 500-degree mirror-like surface that seemed to always be facing the sun no matter what time of day. The second-degree burns were a badge of honor to your friends daring you to go down it. We never played inside. We were never tethered to an electronic device like an iPad or cell phone. Cable TV was a luxury, not a necessity. We would play until either the streetlights came on or one of our parents yelled out the back door. It is surprising how loud a mother's voice can be when your dinner is getting cold.
I have made a lot of great memories at the area parks of Beaver Dam. Many of my friends now, are friends that I had 20 years ago playing at the Park. Our initials may or may not have been permanently Sharpie'd among the others on the Tornado Slide. Steve down the street…he ended up being my Psychology Teacher, and is now School Superintendent. I remember how hard it was for me to call him Mr. Vessey. He would later have to correct me many times when we were in the school to call him Mr. Vessey, not Steve. George ended up on the fire department and a Staff Sergeant in the United States Army, twice deployed overseas. Ben is an architect. Gabe is a journalist in Germany. The point is, I grew up in this small town, WE grew up in this small town, and generations to come are going to grow up in this small town. I love Beaver Dam. I get a kick out of walking through a grocery store and my 7-year-old waving to friends as we pass through the aisles. My wife jokes that Jaelyn knows more people in town than I do.
Everyone we met, everyone we knew, we met them at school…or at the Park. The kids NEED something like that again. An adventure, beckoning them to go outside – a place where they can have fun, where they can play tag, hide and go seek, and maybe even catch the occasional cootie. An epic playground, one that brings daycare centers from OTHER cities to our little city. A field trip…to Beaver Dam. To Waterworks Park. To the cool Pirate Ship on the lake.
As we are winding down to Build Day and tax season approaches, remember your childhood and consider donating. The kids NEED something like that again.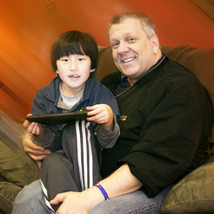 Speaking as a parent with a child with special needs, I can honestly tell you that there are good days and there are bad days. When there are bad days, my son may be louder or may look like he is misbehaving, but he just needs a way to relieve what he is going through. He has sensory spectrum disorder (autism) and also may struggle with everyday things. There are times when noises bother him, smells bother him or even lights bother him. We spend quite a lot of time driving around or jumping from park to park or store to store, just for him to feel comfortable. He has sensory toys, blankets and equipment to help him get through a day. I know that what he goes through is difficult to comprehend, but as parents, like all parents, we try to make sure our children get what they need so they too can coexist with all children, with or without disabilities.
I saw the video of Tanya, the project co-chair, pushing her daughter Sophie through the grass in a wheelchair and Tanya's two other sons running to the playground equipment. It was then and there that I realized that what we go through with our son is similar, just on another level. I also realized how hard it must be to take a family to a park and not have suitable equipment for all abilities.
I do feel very blessed to have our son in our life, and I also believe that he was put in our lives for another reason. He has given me, and my wife Barb, the opportunity to be advocates for children with special needs. We do not have a lot of time, but when we do, we try to do what we can to help. I feel very fortunate to be able to help with the fundraising and creation of this park for all families that may or may not have the funds or opportunity to take their entire family to one location – a safe place where they can be themselves, where the parents do not have to struggle to get there, a location where they all can 'be' together. This park is needed and is a great opportunity for the families in Dodge County and the City of Beaver Dam. It will be a park that will be around for years to come. For all kids. For all abilities.
The Waterworks Park Project was formed in November 2011, when two ideas, a park that includes kids with disabilities and a community-built, themed playground, were combined. With community input at every step of the way, the volunteer group has helped design such a playground and raised approximately $200,000 to make the idea a reality. The new playground will be built at the current location of Waterworks Park in Beaver Dam. This is planned for Summer 2013. There is no other playground like this in Dodge County, and most typical parks cost significantly more. We have used community resources, in-kind gifts, and private donations to reach our goal. The community build days are set for May 17-19 2013, and if the playground is to be built at that time, we need to reach our $300,000 goal by the end of March. Please consider making a donation at www.waterworksparkproject.org or emailing us at waterworksparkproject@gmail.com. All donations are tax deductible.