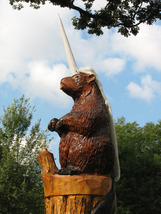 By: The Beaver
Subject: Fred the Beavercorn
Long believed to be genetically incompatible, researchers have recently unveiled indisputable evidence that unicorns and beavers are sometimes more than "just friends" (see photo of Fred the Beavercorn). As we all know, the unicorn is featured prominently in the Bible in multiple locations (King James version); however, the beaver is glaringly absent from the Bible, leading scholars to question the actual existence of this mythical creature. According to Fred, his mother was no myth, and when he misbehaved and she walloped him with her powerful, flat tail, it "rattled my horn and made me sneeze." Fred's parents enjoyed many happy years together until one day when his unicorn father swam off with a mermaid, sparking endless debate among geneticists regarding the origin of the narwhal.
When writing to me at Beav@localeben.com, please send a photo and phone number if you are a small furry creature or a handsome blue spruce tree. Also, let me know if you'd like to receive my Sunday e-mail, complete with wardrobe update and silly story.
Jim from Fox Lake asks: Why does brick cheese smell like dirty socks?
Answer: Brick cheese smells like dirty socks because the bacteria used in its production (Brevibacterium linens) are the same critters that are found between your toes. As you may know, brick cheese was invented in 1877 by John Jossi right here in Dodge County! I'm not sure why Jossi chose to manufacture his cheese with the great taste of feet; however, it might be due to the simple fact that armpit-flavored cheese was already being produced by French cheesemakers.
Joyce from Beaver Dam asks: If dirty socks make great tasting cheese, then should I throw an old tennis shoe into my next tuna casserole?
Answer: Silly question – I 've tasted your tuna casserole and it's perfectly obvious to me that you are already flavoring it with old shoes.
Mitzi from Fox Lake asks: Girl Scouts are famous for selling great cookies that we all love and adore; why don't Boy Scouts do anything useful?
Answer: Boy Scouts are preparing to be men.
Jay from Beaver Dam asks: What is your gender?
Answer: Good question; I do have some "gender identification issues" because my creator Bob Younger left those important bits covered up. So, I'm looking for a good animal psychologist or wood carver to help me sort it out.