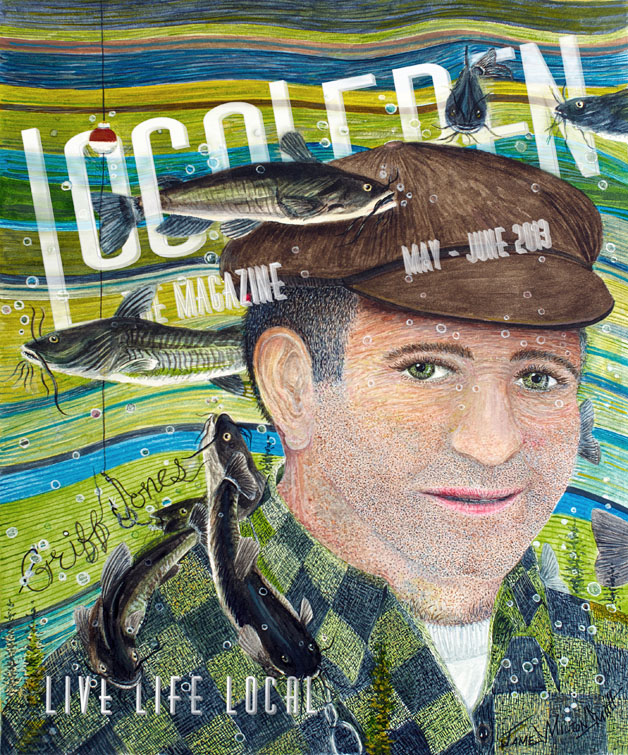 The Legend of Griff Jones – On the Cover of May/June 2013
By: James Milton Smith
The legend begins on a quiet summer day at the Browns Valley Resort in Western Minnesota. There a young boy of 17 named Griffin Jones from Beaver Dam, Wisconsin, denuded 2,150 lbs. of live bullheads in a daylong event. Thus "Griff" becomes the World Champion Bullhead Skinner and takes home the title to Beaver Dam.
Griff was born in 1898. He was a long time authority on Beaver Dam Lake and worked his whole life to make the lake a fishermen's destination in Wisconsin. Some of his accomplishments were:
1941 – President B.D. Whiskers Club to celebrate Centennial in 1848
1951 – B.D. Chamber of Commerce Manpower Chairman
1958 – B.D. Lake Fisherman's Club President – He headed up many projects on B.D. Lake to improve fishing and water quality. B.D. Lake was the best bullhead fishing lake in Wisconsin at the time.
At the high-water mark in Griff's life he owned both a tavern on South Center Street and a resort called Ma and Pa Jones on Sunset Point on the east side of the lake. He proudly put up signs on both properties declaring his championship title.
From his obituary after his passing in 1965: The folks who knew him well have always appreciated his interest in community affairs, especially Beaver Dam Lake, and they also knew that he never was one bit hesitant about making his views known and giving dedicated support to all of them.
We knew Griff Jones of Beaver Dam long before we ever came to Beaver Dam or met him personally – the World Champion Bullhead Skinner – and he was just that. Griff, through his interest in Beaver Dam Lake and the bullheads, served as a public relations director for this community and made Beaver Dam Lake famous for its bullheads.
That Griff was controversial cannot be denied, but in his dedicated efforts in conservation, he had his own ideas and went to the limit to carry them out. But whether you agreed with him or disagreed, you couldn't help but admire him for his determination – and he did have that.
A story passed on to me by Jon Abfall, a local resident and retired postal employee, who was about 10 years old at the time: On a summer day taking a sightseeing trip on Beaver Dam Lake, they left his grandmother's cottage with his father and relatives, him and his brother; they proceeded up the lake in a crowded boat that was "low" in the water. His father decided to pull into Ma and Pa Jones Resort for refreshments. As they were arriving, Griff came hurriedly walking down the property as they were exiting the small boat and began shouting at the group…"What the blazes are you doing with all the people in your boat, do you want to tip it over!" This boy and his brother were so upset with Griff's temper tantrum that to lighten the load they both decided to walk a mile and a half back home to the cottage to avoid a confrontation for the return trip.
Griff had a personal habit of having the driver's side window on his car rolled down all year long. He was seen driving around town never seeming to mind what the weather was doing and enjoyed the fresh air summer or winter.
A wise old senior said he could remember proudly sporting a particular hairstyle as a young man. Griff called him aside while he was walking downtown and said he didn't like the way he parted his hair and that he should change it. Whenever he saw Griff walking down the same side of the street again, he would cross the street and avoid the confrontation. There was no way he was going to change his hairstyle.
Lloyd Kaul, Jr. told me an unusual story about Griff and his conservation of the bullhead population in Beaver Dam Lake. One summer day Griff stopped down at the dam behind the shoe factory in Beaver Dam to check on the dam. He found that the dam gates were open (they should have been closed) and that a lot of bullheads were packed into the narrow river below. He then closed the dam gates, and acting quickly, he rallied all the fishermen in the area to grab their buckets and bring them down to the river below the dam, bail the bullheads out, and take them back up over the dam and throw them back into the lake, thus saving hundreds of fish for anglers to catch another day.
In conclusion, the life of Griff Jones had a lot to due with service, dedication and conservation of our natural resources. His efforts to save and perpetuate the bullhead population in Beaver Dam Lake will always be his lasting legacy.