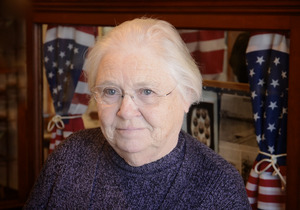 By: Mary Cudnohfsky

The Dodge County Historical Society is celebrating the 75th anniversary of its founding by giving credit not only to the men and women who helped develop our area but also to the people who recorded the information that we can now read and appreciate. Historians, both amateur and professional, have written stories of our heritage. In 1880 an invaluable book was published. The History of Dodge County includes this story written by perhaps the County's first historian James H. Warren, the first settler in the Town of Hubbard. His original manuscript was destroyed by fire but when this book was contemplated, he again wrote what he could recall, and the following story was included with other reminiscences.
AN OLD SETTLER'S TALE: TWO DARING FRONTIERSMEN
The first white settlers located in the county about the year 1838, or perhaps a year later. But I desire to go back of this date and relate an incident or two given me by Narcisse Juneau, at the time I was collecting the history that I prepared in 1859 and 1860.
There are two towns in the county bearing the names of two daring frontiersmen, namely Burnett and Clyman. In 1837 these men started out from Milwaukee on their hunting and trapping expedition into the then unsettled part of the territory now known as Dodge County. Before leaving Milwaukee, they agreed with Solomon Juneau that his son Narcisse, then a lad of ten or twelve years, should accompany them to act in the capacity of interpreter with the Indians. After the departure of the party, Mrs. Juneau was so troubled with forebodings of evil that she persuaded Solomon to send a friendly Indian on the trail. He overtook the party on the old Milwaukee and Fond du Lac trail about 20 miles out from Milwaukee and returned the lad in safety to his anxious mother.
Burnett and Clyman proceeded on their journey to the point where the trail crossed the Ossian or east fork of the Rock River, where the picturesque little village of Theresa now stands. Here they purchased a canoe from the Indians, intending to make their way down the fork to the great Winnebago marsh, afterward known as Lake Horicon. A little before sunset they had reached a point in the river called the "Ox Bow," in what is now the town of Theresa. The men had hauled up their canoe, started a fire, and Burnett had stepped a short distance away to gather some dry branches for fuel, when Indians fired upon both men. Burnett was shot dead on the spot and Clyman was wounded. By this time it was nearly dark and Clyman, seeing no safety except in instant flight, ran at his best speed, hotly pursued by one of the Indians. The darkness increased as he fled from his pursuer, until it was with the greatest difficulty that he avoided injury to himself from coming in contact with trees. He finally came to a large tree that had fallen and lay directly in his way. Leaping over, he dropped behind and partially under it (the Indian jumping over him and passing on), where he lay concealed until about midnight when he resumed his flight and after several days' wandering made his way back to Milwaukee.
The two Indians who pursued the white men and killed Burnett, afterward told Mr. Juneau the story, fully corroborating the statement as given by Clyman.
Solomon Juneau is best known as founder of Milwaukee, where he served as first postmaster and first mayor, but he had a profound effect on Dodge County as well. Born in Montreal in 1793, he came to this territory and went to work for Jacques Vieu who had headquarters in Green Bay, but who had developed fur trading posts all along Lake Michigan. Juneau married his employer's daughter Josette, who was also the granddaughter of a Menominee chief. He and Josette moved to one of the trading posts that later became the site for the city of Milwaukee. Beloved by both Native Americans and settlers, they were well known for their integrity and generosity.
In 1847 Solomon Juneau built a summer home in Dodge County and named this settlement for his mother, Theresa. The family moved to Theresa permanently in 1852. Their home is now a museum. Josette died shortly after that and Solomon died the year after his beloved wife. His death occurred while he was on the Keshena Indian reservation near Shawano and he was first buried on the reservation. Seven hundred Native Americans walked in procession at his funeral. Six native chiefs served as his pallbearers including Chief Oshkosh. Narcisse Juneau and his other sons came and got his body and took it to Milwaukee where another huge funeral was held.
Narcisse lived in Theresa, married and had a family. He served as Register of Deeds for Dodge County and was elected to the State Assembly twice. In 1867 he accompanied a band of Indians to Oklahoma and in that same year moved his family to a farm in Kansas.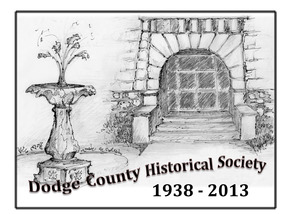 The Dodge County Historical Museum is located on the corner of Front and Center Streets in downtown Beaver Dam; regular hours are 1-4 p.m. Wednesday through Saturday.
Since May is Archeology month, a series of events are underway. A shovel test on the grounds of the Girl Scout House has been undertaken in preparation for a dig. The area was once a campground for Native Americans.
On May 25th at 10:30 a.m., Curator Kurt Sampson will lead a bus tour of the mounds of Dodge County.
Call the museum for further information or to make a reservation. 920-887-1266