By: Erika Jensen
The farmer's market is a great place to visit for the sights and smells of summertime. The season starts with bedding plants and hanging baskets filled with flowers. Delicious fresh vegetables and fruits arrive during June with spinach, lettuce and radishes. Midsummer brings sweet corn and tomatoes. During September and October, customers can purchase winter squash, onions and pumpkins. When crops are picked at the peak of their perfection, they taste great and are highly nutritious.
Buying your produce locally means that you are keeping your money in the Beaver Dam community. Although it may not be possible to purchase everything locally, shopping at the market can really make a difference in the lives of small-scale farmers.
If you talk to anyone about the farmer's market, one of the first things they mention is the people. It is a place to say "Hi" to your neighbors and friends, and chat with the farmer that grows your food. Relationships germinate in spring, develop over summer, and ripen in fall. It is clear that local food builds community.
Here are some of the faces you will see at your local farmer's market.
Lisa Hedberg, Market Organizer
Lisa has been the market organizer for the past three years. She is also a devoted customer.
"I love the fresh vegetables and fruits, particularly lettuce, radishes and zucchini. I try to buy something from each vendor. My husband loves the fresh raspberries."
Lisa works hard to recruit farmers who can offer a diversity of products, from fresh fruit and vegetables to different kinds of meat and home canned produce. She is always trying to expand the market.
"Many of the vendors come back year after year, and people do get very attached to their farmers. Sometimes a farmer will be absent on a market day, and I'll get a phone call from a customer who wants to know why they weren't there," Hedberg commented.
Jan Coughlin, Mixed Vegetables
During the long summer days, you will find Jan Coughlin in the greenhouse or out in the garden growing vegetables for the market. She and her husband Dick start gardening at 7 a.m. and finish up by 7 or 8 p.m.
"You have to enjoy being outside to do what we do," she says, laughing.
Jan has always loved gardening. She and Dick have been married for 30 years and raised three children together. As a homemaker she had a small home garden, which got bigger and bigger. Now she rents a one-acre space from her daughter, who lives about three miles from Beaver Dam.
The garden is a family effort. Dick does a lot of the weeding, and three grandchildren help out by watering and picking. On market days, Jan's 16-year-old grandson Dakota Wolfgram helps at the market. Local food supports local families.
"We have a very nice farmer's market. The people are very nice, very friendly" Jan said. The growers enjoy socializing too. "A few of us like to park next to each other so that we can chat. I met Don and Shirley Clough at the farmer's market, and we've been close friends ever since."
Part of the fun is adding a few new and different things to her already long list of products, which include lettuce, carrots, beets, radishes, sweet potatoes, peppers, squash and tomatoes. New this year are "ghost peppers" (also named Bhut Jolokia), so-called because they are one of the world's hottest peppers with a Scoville rating of 855,000 heat units.
Jan also brings jam and pickles to the market, which she makes herself. She benefits from the "Pickle Bill," which took effect a couple of years ago. The law allows limited sales of home-canned foods without a license. Gross sales for each producer may not exceed $5,000 yearly. This allows small producers to bring their products to market and sell directly to consumers.
Don and Shirley Clough, Container Pots and Hanging Baskets
You will find Don Clough at the farmer's market most days, since he acts as an assistant manager to Lisa Hedberg on the days she cannot attend.
You do not have to talk to Don and Shirley for very long before you find out that they love unusual plants. Don likes to sell plants in larger pot sizes from 12-20," as well as hanging baskets. The couple offers standard choices such as geraniums and petunias, as well as more unusual plants such as dipladenia, mandevilla, alocasia and anthuriums. Some of these are more frequently used as houseplants, but they make good container plants too. In August Don starts selling chrysanthemums, as well as ornamental grasses.
As with Jan Coughlin, one of the highlights of the market is relationships with customers.
"Don really enjoys talking to people, and he has many people that come back year after year," said Shirley. Well versed in plant lore, he loves to share his knowledge.
Both Don and Shirley have other interests associated with plants. Don is a retired dairy farmer. He and Shirley purchased their farm in 1964 and have always lived in the Beaver Dam area. Shirley has owned and operated Floral Expressions for the past 30 years. On the farm, Don grows some flowers for the shop, including gladiolus, snapdragons, lilies and delphinium.
Nancy Braaksma, Vegetables with a Focus on Greens
Like the Cloughs, Nancy Braakma shares a love of plants and flowers. She has been involved in gardening since she was a child and, at one point, owned a floral shop in California. Now she is back home in Beaver Dam and lives on a property that adjoins her parent's home.
After a battle with fibromyalgia, she decided she wanted to learn more about diet and nutrition. At the same time, she began to grow vegetables organically. Her forte is growing different kinds of greens, such as salad mix, Swiss chard and kale. She also grows all kinds of other vegetables, such as broccoli and cabbage.
"That's my passion, I love growing things," says Braakma. Although not certified organic, she grows her vegetables without pesticides or herbicides and does not use synthetic fertilizers. She concentrates on mulching for weed control and uses manure for fertilizer.
You can hear the enthusiasm in her voice when she talks about the market.
"I love the energy out there," Nancy said. "You're pooped when you get there, because it's so much work to get ready for market. But once you get there and set up, you're completely energized."
Nancy emphasizes that locally grown food is more nutritious, because it is fresher. Produce loses vitamins and nutritional quality as it ages.
On average, fruits and vegetables imported from other areas travel over 2,000 miles before they reach your plate. Food that is shipped over long distances also uses a lot of resources in terms of fossil fuels and packaging. In many ways, local food is more sustaining for our communities, our environment and our bodies.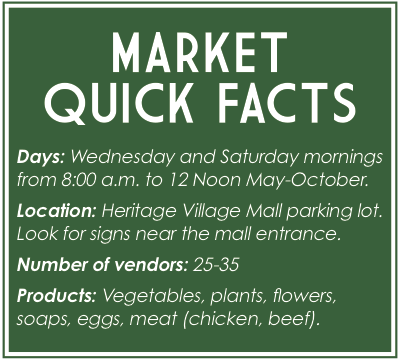 Market Quick Facts
Days: Wednesday and Saturday mornings from 8:00 a.m. to 12 Noon May-October.
Location: Heritage Village Mall parking lot. Look for signs near the mall entrance.
Number of vendors: 25-35
Products: Vegetables, plants, flowers, soaps, eggs, meat (chicken, beef).