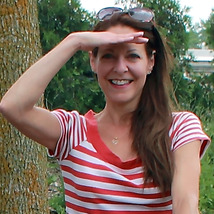 Article and Photos By: Kristyn Adams
Habitat for Humanity's vision is a world where everyone has a decent place to live. Over 2000 volunteers who champion efforts in Washington and Dodge Counties here in Wisconsin take the worldwide ecumenical mission of Habitat for Humanity to heart. With each nail driven, caulk-gun clicked or foundation poured, a splendid message of Welcome is closer to home, readily joined by others to help a community grow. The principle mantra, "A hand up, not a hand out," means stringent approval protocol and hundreds of sweat-equity hours before the keys are even imagined to be possible. It also means hope; for the family who resides in the house, for neighbors, schools, businesses, the community.
In his four years as developmental director for Habitat for Humanity, Rex Melius of West Bend has witnessed with pleasure the kindness, compassion and expertise of volunteers, and partnerships with dozens of area businesses. In Washington County alone, more than 70 corporate and community sponsors are involved with the Habitat for Humanity effort. Proving bigger is wonderful, expansion to Dodge County in August 2012 had Melius on a self-initiated canvas drive to contact as many corporate or community entities as his feet could tolerate. Consistently answers are "yes" to provide talents and skill-sets from office administration to logistics to feeding a hungry volunteer work crew. Youth to adult to senior, walking the walk is common-thread. "Before you know it, a community blossoms," Melius said.
A dedicated team of 55 high school students and parents from Germantown worked rain or shine from 9am to 3pm every Saturday in May. Rather than the usual single-day volunteer effort, more than 300 man-hours of labor were applied to a 62 x 120 square-foot Eastern Avenue Habitat for Humanity build site in West Bend to help a home happen for a family in need.
"Wherever you see the pink stakes, that's where the house is going to be laid out," said Habitat for Humanity volunteer coordinator Emily Jennings. "There will be a basement and a one-car garage for a single mother and her three daughters, and the mother already completed her 500 hours. It's very exciting." (Note, 500 sweat equity hours were required.)
Site supervisor Joe Bohn said previous property owners had built a series of retaining walls out of lannon stone. "They had some sort of rock garden, but there was a lot of rock," Bohn said. "We have 25 more pallets already hauled to the warehouse for storage."
If the environment had a voice, a sigh of relief would emanate from landfills and junkyards worldwide, because Habitat for Humanity implements a green approach through endeavors that include E-cycling and Habitat ReStores. Lead by the state of Wisconsin Habitat for Humanity organization through partnership with Vintage Tech Recyclers in Illinois, E-cycling encourages proper disposal and recycling of appliances and electronics. Habitat ReStores are a hub for used building materials, hardware and furniture, with the proceeds going directly back to funding more Habitat for Humanity houses.
Habitat for Humanity Washington and Dodge County executive director Russ Wanta defines Habitat E-cycling and ReStore efforts as a triple-win situation. "The benefits go to consumers, the environment and to low-income families," Wanta said. "The highest priority goal for E-Cycling is to waste absolutely nothing. This is also true for the ReStores. Of the 41 Habitat for Humanity affiliates statewide, about half implement E-cycling, and we're happy to be involved."
The Habitat for Humanity mission statement, "A hand up, not a hand out," also holds true for its Home Repair Program. "It's not a freebee," Rex Melius said. "Besides upgrades to a residence, benefits include neighborhood revitalization, community connections and preservation of affordable housing." Formerly known as Brush with Kindness, Habitat International's Neighborhood Revitalization Initiative – Home Repair Program focuses on those who need help with residential maintenance issues. The program partners collaborate with low-income, elderly or disabled homeowners to facilitate repairs.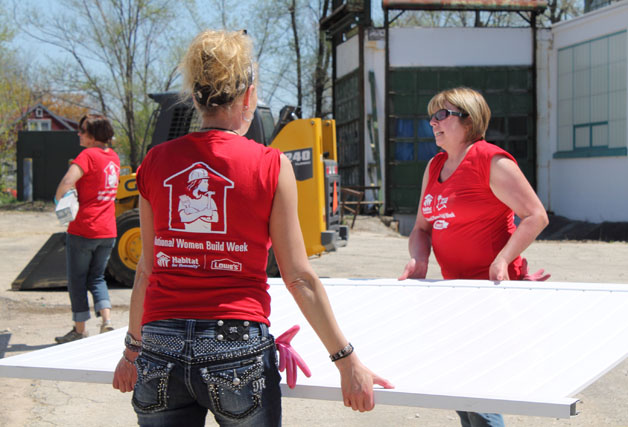 A residential makeover in West Bend was considered golden by homeowner Kay Lemke and an aesthetic boost to her Kilbourn Avenue neighborhood. Having lived in her house for more than 30 years, a myriad of memories were intangible decorations in each room. Age, weather distress and a trying economy hindered Lemke's maintenance efforts. A post-assessment notice from her insurance company spurred Lemke into action. "I got a letter saying if I didn't have the house painted and some tuck pointing done on the chimney, they would drop my insurance next year," said Lemke. Julia Benson was Habitat for Humanity Washington County volunteer coordinator at the time of Lemke's request for assistance. During renovation, Benson glanced at the new paint job. "If you had seen this place before we started, you'd hardly believe it was the same house," she said. "They're going to love this house all over again."
"I was thrilled," said Lemke. "You don't believe how much of a relief it was to hear that Habitat for Humanity could do so much. I'm so pleased with what I see. The work took longer than professionals, but why in the world should that matter? I'm just thankful for the help."
Volunteerism and support from generous donors like Thrivent Financial for Lutherans or Lowes building products can mean the difference between quality of life issues like faulty plumbing or a missing safety rail on Lemke's stairway, and the chance for a low-income family to enjoy peace and safety in their home.
Instead of standing back in amazement, Habitat for Humanity volunteers tend to get more involved. West Bend local Elizabeth Vantreeck knows from experience that the finest gifts are those passed to others. Turning 13, the generous young lady requested money in lieu of birthday gifts resulting in $500 worth of wooden boards (100-count) to be used in the construction of two new West Bend homes. "I think Habitat for Humanity does really nice things for people," said Elizabeth. She expressed best wishes for the families selected to reside in the Second Avenue houses and decorated a plank with positive thoughts for the families who will call these houses 'home.'
"Elizabeth Vantreeck is an exceptional person," Melius said. "There aren't many children who would be willing to give something up for others this way, but life is all about giving back. Some of us learn about it at an earlier age than others, some not at all. Without that caring, all of our families would not have the opportunity to own a home."