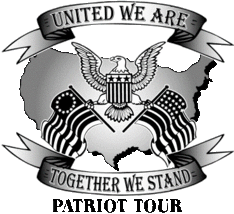 Submitted By: Hogz & Honeez – Beaver Dam, WI
Nation of Patriots Homecoming Celebration
August 31 closing ceremonies at Hogz & Honeez Bar & Grill will include appearance and remarks by Governor Scott Walker
BEAVER DAM, Wis. [August 23, 2013] –Hogz & Honeez Bar and Grill has been selected by the Nation of Patriots to host the August 31 closing ceremonies for The Patiot Tour, it was confirmed today. The Patriot Tour is a nationwide effort supported by more than 100,000 riders shepherding one American flag city-to-city across the U.S. by motorcycle to honor past, present, and fallen military personnel and raise funds for the families of wounded veterans. Closing ceremonies will begin at 2 p.m. and will include an appearance and remarks by Governor Scott Walker, according to Wade Fletcher, co-owner of Hogz & Honeez. The event is free and open to the public. Hogz & Honeez is located at W7771 State Hwy 33 just east of Beaver Dam.
"We are pleased and proud to have been selected to host the closing ceremonies," Fletcher said. "Hogz & Honeez is a biker-destination bar and grill, and our patrons –bikers and non-bikers alike – are some of the most patriotic folks we've ever encountered. We expect to welcome hundreds if not thousands of friends from right here at home and from across the country for the culmination of this historic ride, to honor our nation's past and present military personnel and fatten the fundraising pot for families of wounded veterans throughout the U.S."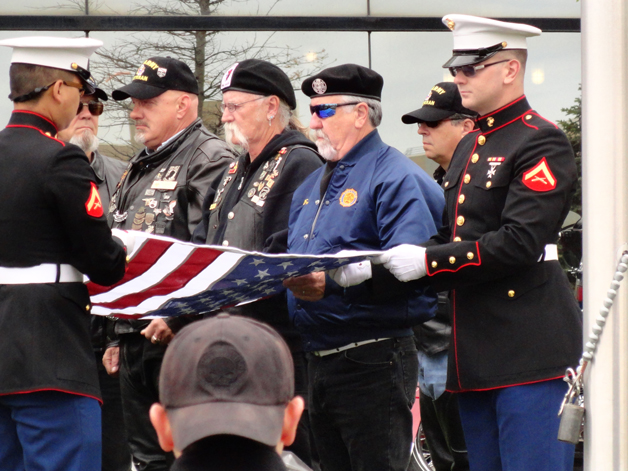 Entering the final week of its 100-day journey, the flag is making its return trip to the Midwest, said Nation of Patriots Founder and Executive Director Bill Sherer. Between August 24 and 29, the flag will make daily stops in Alexandria, St. Cloud, Eden Prairie and Albert Lea, Minn. and Waukon, Iowa, landing finally in Madison where it will rest for two days before making its final journey to Beaver Dam. More than 500 riders are expected to escort the flag on its final leg, Saturday, August 31, from Joint Forces Headquarters at Truax Field in Madison and ending at Hogz & Honeez Bar & Grill.
The Patriot Tour has shattered last year's phenomenal turn out in both participation and funds raised, Sherer said. "With a little more than one week remaining we have raised nearly $75,000," he said. "That's more than the last four years combined and a long way toward our goal of $100,000," he said. All of the funds raised will be distributed to families of wounded veterans across the nation before the end of the year.
"We ride for the men and women who have stood to our nation's call. We ride for those who stand today in defiance of tyranny, oppression and evil," Sherer said. "Above all, we do this to uphold the memory of those brave souls who left their valor on the field of battle defending what we hold so very dear. Together we say thank you. Together we remember. Together we stand united beneath the colors of our Flag."
The Patriot Tour launched from Wisconsin Harley-Davidson in Oconomowoc on May 25 and will have traveled some 14,000 miles through all 48 Continental United States escorted by nearly 100,000 participating riders before returning to Wisconsin.
The Nation of Patriots is a non-profit 501(c)3 corporation founded in 2009 by Bill Sherer. A complete map of the 2013 Patriot Tour, photos from the current and previous years and more information about the organization and ways to contribute or get involved can be found at www.nationofpatriots.org.
Founded in 2012, Hogz & Honeez Bar & Grill is a biker-friendly destination for great food, camaraderie and entertainment in a comfortable and inviting atmosphere. It is co-owed by brothers Tim and Wade Fletcher, and Brad Weber. The partners also own Steelhorse Motorsports, the Midwest's premier destination for quality, affordable motorcycle parts and accessories. More information and closing ceremony details can be found at www.hogzandhoneez.com and www.steelhorsems.com.
Schedule of Events for Saturday, August 31
For those riding from Beaver Dam:
• Gather at Hogz & Honeez 10-10:30 a.m.
• Depart Hogz & Honeez at 10:30 a.m. for ride to Truax Field in Madison
• Meet with riders coming from Milwaukee and from Badger Harley-Davidson at Joint Forces Headquarters (Truax) 11:30 – 12:30 for transfer of the flag to its final flag bearer
• 12:30 – Kickstands up for ride to Hogz & Honeez in Beaver Dam with State Patrol Escort
• 2 p.m. Closing Ceremony at Hogz & Honeez, including remarks by Governor Walker
• 3 – 5:30 p.m. Celebration and live music by the Mad Polecats
Click to check out The Madpolecats music!