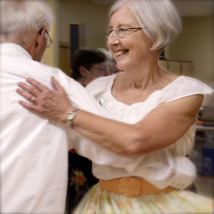 By: Janet Willard
Most beavers are passionate about building dams, but there are some beavers in Beaver Dam that find square dancing to be their passion. The Swingin' Beavers Square Dance Club has brought that passion to Beaver Dam since 1970. Over 40 years ago, do-si-do calls by their first caller Art Weisensel echoed through the dance halls, and you can hear those calls now, albeit to more modern music, when the Swingin' Beavers Square Dancers take to the dance floor.

Regular Tuesday dance nights open with a flurry of busy singles, couples and families setting up for the activities, usually in the fellowship hall of Trinity United Methodist Church at 308 Oneida Street. The dancers know it is time to move onto the dance floor at the first hint of music flowing from the speakers of Club Caller Tom Nickel of Middleton.
It's fun . . . Square dancing is party time, bringing people together for fun and fellowship. The fun starts right on the very first night of class. You meet new people and make new friends. There are few wallflowers and you do not need to have a partner for there are "angel" helpers handy to complete the squares of eight. The fun keeps right on going as long as you do. More fun begins when you join a club. It is a wonderful way to share common interests and to escape the worry and pressures of today's busy world.
It's healthy exercise . . . Modern square dancing is a mental and physical challenge. It is dancing, thinking and teamwork. You cannot do it by just ones or twos. Moving in rhythm to the music keeps you physically fit. Reacting quickly to the calls keeps you mentally on your toes. Your team of eight dancers depends on you to keep those toes moving. Learning the basic steps is easy. Experienced square dance callers teach you the moves and the names of the calls. You practice those moves until they feel as natural as walking. Your square dance caller continues the basic moves and steps into whole dance patterns. You and your teammates follow the calls – each arm turn brings a surprise, and as the pattern concludes, all the arm turns bring you back to your partner. Back home, so to say!
It's American folk art . . . Modern western square dancing has an American heritage. It is as American as barn raisings and ice cream socials. Coming here with the earliest settlers, it has roots just as diverse with terminology from French instructors to replace British dances post Revolution, as well as banjo and fiddle music. Square dancing mushroomed in popularity as more and more people got in tune with it. Nineteen states have made it their official state dance. Creative new dance figures are being added, and with the variety of music available, you never have to worry about being bored with what could become your favorite pastime. As a beaver passionately places layers of sticks on his dam, a square dancer layers their repertoire and builds on the basic calls by adding plus-, advanced- or challenge-level calls if they are looking for more adventurous colors on their palette.
It's captivating and rewarding . . . From the first choreographed call to the last, the Caller captivates each square. It is a fascinating dance involving sequencing movements and multitasking. With short breaks in between, the dancers square up again and again for a two-hour evening of exercise. Anyone that has danced a dance from beginning to end knows the feeling of accomplishment and enjoyment that square dancers love. Dancers excited about their accomplishment show it with a smile and a swing that keeps them coming back for more. Square dancers share a sense of devotion and commitment, a purifying and transforming of minds from daily stresses and routine; laughter and smiles continue to draw them closer together.
It's for you and most everyone else . . . New dancer classes start in October for those that want to bring their feet to the square dance halls in Beaver Dam. As a newly graduated dancer, you can dance twice a month with the Swingin' Beavers or branch out to other area dances. Depending on your schedule and how much healthy exercise you want to enjoy, you can find dances every night of the week in Wisconsin and many dancers even head off to surrounding states or the National Square Dance Convention. New to the square dance world, Brenda and Scott Deal of Juneau did just that and are passionate about the friendships they have gained through this experience.
Visit www.swinginbeavers.com or call 920-386-2951 to check out this great social mixer that gives dancers a great-to-be-alive feeling.
If you are not now enjoying square, round or any kind of dancing, you are missing a lifelong recreation of enjoyment. It is what most of us are looking for in life.
Take a Peek and Trade the Wave! Stop building dams and turn your passion to learning how to Allemande Left and Grand Right and Left through friendship set to music – SQUARE DANCING.