Floyd Rose Tremolo Vs. The New AxMAX Tremolo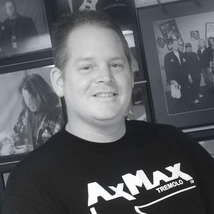 By: Alex Smith
Have you ever thought why things are the way they are? Have you ever asked yourself why did they do it that way, while thinking there has to be a better way? Some of us see the world and accept it for what it is and others see the world and wonder what could be. I am a dreamer. I am not Einstein. I am not a great performer, and I am not a politician. I am just a man with an idea and a crazy notion that I could change the world in some small way, specifically the guitar world. I have been into guitars since I was eight years old. Over the years, I have owned many guitars, learning how to play and repair them. I quit playing at times, put it down for a year or so, but I always went back.

When I was 15, I got my first quality electric guitar from L&W Music; it came with a Floyd Rose tremolo, a guitar bridge made famous by Eddie Van Halen and a few other national artists back in the early 1980s. Then I broke a string and I found my dream guitar just turned into my nightmare. I could not get it to stay in tune and had nothing but problems. For years I fought this guitar bridge. Then one day, I figured it out. I got it to stay in tune and it worked well, except for the now rusty bolts and worn out parts. There had to be a better way!
In the mid 1990s a friend of mine and I started entertaining concepts for guitar tremolos. We wanted to make a user-friendly guitar tremolo that would smoke the Floyd Rose and make a million bucks! It sounded great, but the reality was neither of us had the means to accomplish such a monumental task. I had ideas for a tremolo I wanted to produce, but I was a printer, not a machinist. I tried a couple different concepts with prototypes I had built by Tom Brzezinski at Tom's Machine Shop here in Beaver Dam, but it was failure after failure, until one day it started to work. Not well, but nonetheless I was seeing progress. After a couple years of prototyping, I thought I was close enough to go after a patent.
I received my first patent in 2000, over a year after I contacted a patent attorney in Fond du Lac and found out this was no easy task. A patent search revealed over 40 inventions, necessitating hours of study to find a way to get my project done without legally infringing on someone else's patent; this was frustrating and scary, although interesting to see what other people were doing.
I started to look into manufacturing the tremolo. I wanted to do it locally so I could control quality. I hooked up with Pivot Point in Hustisford around 2003. They make non-threaded fasteners and started producing the arm that actuates the tremolo. Pivot Point turned me onto another company, Barton Precision Components in West Bend. Barton is making all the very small stainless steel components. I still needed a company to produce the body of the tremolo. After being rejected by more companies than I can count, I found Tru-Cut in Fox Lake. They wrote the program and started knocking them out at a price I could work with, and in 2005, I had 100 aluminum AxMax Tremolos. I polished and assembled them with a friend in the course of a few days, but after testing, they were not functioning properly and they were not staying in tune. Looking into it, all my suppliers made a great product. The flaw was in the design, and I had had enough. All the money, time, effort and failures had beaten me down to a point where I gave up the project and found a new job and basically stopped playing guitar.
Four years later, my friend Scotty Meyer called. Scotty is a local guitarist from Waupun who needed me to do some repairs to his guitar. He stopped by and was telling me about a meet and greet with Frank Hannon of the band Tesla. Scotty knew the promoter who was bringing Tesla to the Dodge County Fair. We contacted the promoter and he planted a guitar with my invention in the car for Frank to check out. Two days later I get the call from Scotty that proved to be the game changer. Frank Hannon played the guitar and kept it. I needed to get to the fair and get backstage to get some feedback.
At the fairgrounds, I hung out with friends and family and watched Tesla play. I was able to get backstage thanks to a firefighter, whom I never saw again! I have never been able to thank him. If you are reading this, thank you. Backstage I met Ryan Vander Sanden, the promoter that planted the guitar. He introduced me to Frank Hannon and I found new inspiration to move forward. Since that day, Ryan has been a key player in my project.
In the summer of 2011, my wife and I went to her class reunion where I met Roxanne Allaire, a marketing director with Roxx Consulting in New Berlin, Wisconsin, who works with startup companies. Also around this time, I hooked up with Rotech Inc. in Mayville and started prototyping tremolo bodies. Within a few months, a small production run was ready to be tested: tremolo bodies with the form, fit and function that I needed to move forward. I contacted Roxanne, and we got going strong on marketing. We even entered the Wisconsin Business Plan Competition, where we made it to the semi-finals.
In the last 15 years I have been working full time and chasing my dream. I feel I have a chance to make a difference in this world. The Axmax Tremolo was on display for the first time at a national level in July at the Summer NAMM show in Nashville and we got a good response. We sold a few and made some important contacts in the industry, and I had the pleasure to meet some guitar heroes I have idolized.
The AxMax Tremolo is currently being built from brass and stainless steel components and may finally be a national competitor. All the components are produced locally and the AxMax Tremolo is assembled and shipped from Beaver Dam. Many thanks to my wife Jen and all my friends and family and business associates that have helped, encouraged and inspired me. None of this would be possible without you, and the firefighter. I am proud to say I am "Living Life Local."