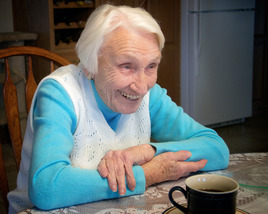 By: Lena Reis
Now that I have told you a little of the history, I would like to tell you about my life. Perhaps it would be better if I were to call them memoirs of my life.

I was born in the town of Palesnik on April 21, 1922 as Magdalena Troll, daughter of Martin and Elizabeth Troll nee Muehl, who was the daughter of Jakob and Ottilia Muehl nee Kromer. My father's parents were Josef and Teresia Troll nee Steidel, daughter of George and Christina Steidel nee Freivogel. I was their sixth child, albeit only the third living one. My oldest sister had died at the age of seven in an epidemic. Their second child was a boy who had died at the age of eleven in an accident. Their third child was a boy who is now my oldest brother Jakob living in Germany. Then there was a baby boy who had died at the age of 12 days. Next followed my brother Josef who was taken away by the Partisans in 1945 and has never been heard from since. He had been married seven weeks. Then I came, and last, my little brother Andrew who now also lives in Germany.
My family was what people here would term peasants. We had only enough land to survive what with seven mouths to feed. As Grandma Troll was a widow, she also lived with us. I think the truth of the matter was that we really lived with her, as she had owned everything since grandfather's death. The land, which they owned at the time, must have been no more than ten acres. Their livestock consisted of a team of draft horses to work the land; one, or at the most, two cows to feed the family; and perhaps two pigs and several chickens. As the family grew, it was impossible to make ends meet.
In the 1920s, the times got so bad that almost every family sent their breadwinner to foreign countries in search of work. My father went to the United States to Milwaukee and stayed there for two years from 1910 to 1912. I still have a photograph of him which was taken at the Star Photo Company at 338 Third Street in Milwaukee. He worked for the Falk Corporation and the Railroad. Although he would have loved to have come back to Milwaukee permanently, the United States did not permit anyone to immigrate in those years. Consequently, he had to go to Canada.
This is where I encounter my first recollection of life. On July 15, 1926, my father and two other men left for Canada. I remember waking up in the morning to the sobs of my grandmother with whom I slept. Dad was sitting at the table with his head buried in his hands. Mom was fixing breakfast when she turned and said, "Martin, go and call the boys in for breakfast." Jakob and Josef, aged 12 and 7, were sleeping in the barn. There was plenty of room in the house to accommodate them, for there was an empty room with three beds in it. But the tradition was that any boy who did not sleep in the barn was considered "chicken." Over breakfast, Dad told Jakob how to help Mother and Grandmother, as he would be the man now. Josef was also told to be a good boy and to do his share.
Then came the goodbyes. When Dad came to me, he took me in his arms and kissed me. I can still feel his big mustache on my face. He told me to be a good girl and asked, "What shall I bring back for you from Canada?" I looked at him and said, "Would you bring me back an orange?" He promised that he would not forget to bring back an orange for me. Then he walked over to the cradle where little Andrew was asleep, as he was not yet two years old. Father did not pick him up but gazed at him for a long long time and finally took out his handkerchief and wiped his eyes. He then placed his cane through the handle of his wooden trunk, slung it over his shoulder and walked out the door. Mom went to the train depot with Dad, and the boys went back to sleep. I tried to go back to sleep also, but to no avail, as Grandmother kept on crying and thus kept me awake.
I remember Dad writing that he had found a job in Canada (as a hired hand for a farmer in Saskatchewan in the town of Humbold). I also recall Dad sending checks home, which didn't mean anything to me at the time. One thing I will never forget were the Easter cards, which he had sent to us four children. We each received a special card from him, which we nailed to the wall (scotch tape having been unheard of). Our friends would stand at great length and admire the cards. They were more greatly impressed with these Easter cards than any art lover with a Michelangelo or Picasso. Even grownups spent several minutes admiring them.