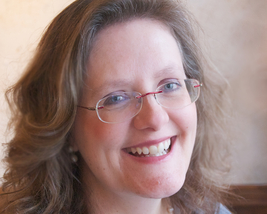 By Karla R. Jensen
BDAAA – Beaver Dam, WI

"James Milton Smith. He's got talent. Incredible, unmistakable talent," I hear. And not just once in a while either. These words flow freely. Often. Unsolicited. Candidly. At times, Smith is as popular as the Packers in Wisconsin, a beer with a brat and turkey on Thanksgiving. His work can be singled out in a crowd like a celebrity appearance, paparazzi at the ready. Little mystery dwells behind Smith's popularity and perfection. He has honed his talent through time, sharpened his skill with the fine edge of originality, and polished his technique with the supple cloth of character. He is at the same time confident and considerate, wistful and wise, assertive and gentle. He is never at a loss for words or motivation. He thrives on painting like cars run on gas. But his tank is always full, with the fumes of motivation catapulting him forward onto the next new project. He is an idea man.
Despite his height, his talent, his signature ponytail, and his penchant for storytelling in his artwork and through the time-honored tradition of oral narrative, James is a classic professional artist deserving of recognition. James began his career after graduating from Beloit College as a professional commercial artist, designing artwork by hand long before computers lent their virtues to the creative design process. An original Mad Man of the sixties and seventies, he excelled in commercial art in Janesville and gained a solid reputation as an artist. He has worked for General Motors, John Deere and for himself. He may not have had as many risqué adventures as the character Don Draper from AMC's Mad Men, but Smith certainly rubbed shoulders with A-List company heads and has even communicated about his art to many famous celebrities. A copy of the letter James sent to Jay Leno is impressive, and Smith is just the artist with enough savvy to pull that off.
With more talent than luck, and with perseverance and passion, Smith became the first Artist in Residence in Cedarburg through the Cedarburg Cultural Center. He has racked up a mountain of accolades for his artwork and his style is known by sight alone. John Deere hired Smith to produce limited edition prints celebrating the two-millionth lawn and garden tractor produced at the Horicon plant. He has also been on the staff at GM, where the company commissioned him to produce the artwork marking their hundred-millionth automobile at the Janesville assembly plant.
In ancient manuscripts, artists applied ornate illumination and employed steady, loving hands to allow the story to come to life. Art lifted characters and settings from the page. James is much the same; a walking, talking atlas of images and stories. His art invites the reader into the scene like a Saturday movie double feature. We look. We like. We stay for a second helping. We love to hear about the story behind the story of his works. When the credits roll, we want to see the secret scene. Literally all of Smith's artwork connects to a story much like dogs have owners. They are often inseparable, part of the family, and for James, his stories are as important and even vital to the makeup and DNA of his entire art collection.
How does his work differ from other high caliber artists? He owns his own style. It is unmistakable. James himself has told me, "I don't know lots of people because my artwork is solo work," he claims, and yet, his reputation precedes him. He enjoys repeat customers. Notable pieces of work stand out for Smith's fans who have told me exactly why they love his work. Through his original watercolors, he has made friends and held hands with history, its people and the environment. We can walk side by side with his work and feel at home. This appeal is universal. It is first-rate. It is dynamic. For example, Farewell England's Rose depicts a spot-on Princess Diana against the backdrop of a 1949 Jaguar. Smith captures the timelessness of both. The civil war battlefield with a Gettysburg mist of silence settling over a formerly blood stained field beckons us to hear the voices of patriotic ghosts who died for our country. Further evidence of his lively storytelling that captivates so many are found in several Art Nouveau pieces, a Holy Hill beauty, Boston Common, Wild Horses, Nippon's Tsunami (plucked from the headlines), and even Lady in the Purple Boa. Smith's captivating art allows us to sample his unmistakable panache.
James loves to share the remarkable tales behind his paintings. Too often, art lovers bask in the glow of beautiful art at one of The Seippel Center's amazing exhibits and do not get to hear the story of how an artist imagined or created a specific piece that spoke to him or her. To me, that is a beginning without an end, or winter without spring. We art lovers enjoy garrulous artists like Smith because he will address the ubiquitous unanswered questions of the heart. "When did you imagine this scene? Why did you place that character in this painting? What inspired you to include that object as part of this painting? Where were you when this happened?"
This fall, James is the first artist to display a mini art exhibit at Old Hickory Golf Club in Beaver Dam. His Heron Collection is showcased along with some classic automobiles he is famous for and a few more eclectic pieces from his art arsenal. He participated in the driving art tour in October at Old Hickory and generously donated work toward the gala fundraiser "Evening in Paris" back in August to benefit Church Health Services and the Beaver Dam Community Foundation future hospice house. He has contributed to many auction fundraisers, including those for LocaLeben and BDAAA. In 2012, a tidal wave of watercolors arrived at The Seippel Center as BDAAA enjoyed a one-man exhibit of his work, a never-ending menagerie of colors and parables. Through these avenues, the story of James Milton Smith has been told to me. It is the fascinating back story of Smith and his work with General Motors, John Deere and other amazing incidents that give James his storied reputation for grandeur, beauty and excellence.
Last year, as BDAAA prepared to house James' monumental amount of work, we sat side by side in my office, which has become a bean bag chair of places to hear stories. I enjoy getting comfortable for a good spin, recited in James own unique way, full of vivid recollections and details that only artists are able to relate. Smith especially has an uncanny memory for exact names, places and circumstances about his art, which is atypical. I recline and listen, awed by how inspiration sent James on a mission to complete this piece or that. I asked if he had difficulty letting go of any of his favorite pieces. He answered me with a story, of course. "A mentor once told me never, ever turn down an opportunity to sell your work. If you do, it will get in the way of your career."
Finally, I like listening to Smith's stories as if I am at home with my nose in a fabulous book. From Harley's to herons, civil war battlefields to cornfields, Smith uses his mind's eye to recreate famous and not so famous corners of the universe that are tied sometimes to the beauty of God's great earth, and other times to the intriguing people who impact James for no particular reason, or for amazing reasons. He shows prejudice towards neither. His stories grow like the tales in those storybooks that are larger than life, that are juxtsupposed against the backdrop of how ultimately his story came to live on canvas or on watercolor paper.
We are a human race that craves to meet memorable characters, engage in compelling scenes, and be touched by emotion and passion. James' stories are translated into a new language through his exceptional craft of painting where no words are needed, where a picture truly is worth a thousand words.