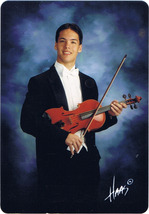 By: Robin Macheel
Beaver Dam Area Orchestra
Saturday, December 14, 2013 | 05:30PM – 06:15PM
The BDAO in concert in the Beaver Dam High School Auditorium. Read More
Thirteen years ago I sat down with the Beaver Dam Area Orchestra to play Rhapsody in Blue. It was sort of the culmination of my "high school years." I had been playing with the orchestra for five years and I was getting ready to head off into obscurity at Indiana University. That night I sat in front of dozens of musicians I had been playing with for all those years. It was a memorable night. I have a video tape of that concert somewhere. I have never watched it. I don't want to because that night is perfect in my memory. When the music director, Rich Zeman, asked me to come back to Beaver Dam to reprise that concert 13 years later, I knew I was going to be in for a treat.
About a month ago I had the privilege of attending a BDAO rehearsal and playing through the Rhapsody. I just happened to be passing through town. I have been away from Beaver Dam for 13 years. There is not too much to recognize coming back to this town. A lot has changed since the change of the millennium. The YMCA is now a police station, the WALMART is now a bigger WALMART further away, there is a sushi place and various coffee shops, and recently I heard (gasp) that Park Plaza Pizza is gone. Despite all that has changed over the years, the Beaver Dam Area Orchestra appears exactly as I remember it. Sure there are new faces but a lot of the core people are there. Rich Zeman still recycles the same jokes from the podium. Most importantly there is still the sense of community and joy which happens only when such a group of people gather to share in grass roots music-making.
Thirteen years after leaving town, I return to see this wonderful group as I left it. But why does this matter to me so much? In those 13 years, I have played with and conducted hundreds of orchestras. I have had a whole lifetime of such rich musical experiences, but you never forget your first. It has been 13 years since I last played with the BDAO. Interestingly, I was 13 years old when I began my relationship with the orchestra, a relationship that would shape me tremendously as a musician and a person for the years to come.
I remember a lot of things about that first day. I remember waiting around on my front porch clutching my viola and waiting for the right time to arrive. I did not want to arrive too early (I grew up across the street from the Beaver Dam High School so everything was a street crossing away). I remember timidly entering this strange room bustling full of noise and happy people. I remember the walk from the back of the room to my seat in the orchestra. I had to maneuver around the low brass. I made sure there was plenty of space between myself and the tuba as I circled around. I guess you never know what a tuba player will do when he sees a 13-year-old viola player entering the room alone. As I came around the corner, I saw the face of Mark Leiser, my middle school orchestra teacher. Good, he will protect me if the low brass decide to attack me on my way to my seat. I found a seat in the back of the viola section. Made it to my seat: still invisible. Enter the grey-haired who I knew as Rich Zeman. He stood up on the podium and silence filled the room. He started talking for what seemed like hours. I am sure whatever he was talking about was interesting, I just did not want to be noticed, and I believed that as soon as we started playing, I would be safe. If someone noticed me, they would be listening to me and judging me. Then they would find something wrong with me and I would not be allowed back the next week. The room was starting to shrink. These are the things that go on inside the head of a shy and self-conscious 13-year-old when he wanders into the wild for the first time.
Soon came the time to welcome the "new members." I was asked to stand in front of the whole room. I do not think this is actually the case, but this is the first time that I felt like I was the center of attention in a room. So much for being invisible. Finally it was time to play. First up was a Beethoven Symphony, the 8th. I looked down at the page: hefty long note. Use your whole bow Robin, let's show these folks how to play. Big breath, silence (there is nothing like the deadening silence immediately before an orchestra starts playing). Every bit of apprehension that I felt leading up to that single downbeat disappeared in that exiting opening F-Major chord. From that moment on, I was one of the gang.
Beethoven's 8th Symphony is the first piece of music I have ever played with an orchestra. I have certainly played (and conducted) them all many times. To this day, I sit down at the piano and play through the 8th when I am feeling tense. It is kooky, playful, and often downright sarcastic. A lot of my colleagues in "serious Beethoven circles" dismiss this 8th symphony but I hold it as high as any other. I guess you never forget your first.
All this reminiscing makes me feel old. As I sit at my old piano and revive the playful passages of Gershwin's Rhapsody in Blue, I get to have a conversation with a teenaged version of myself. An older version of myself struggles with hands embronzed with bad habits of years passed. For perspective, try to imagine yourself as a teenager trying to impress the adult version of yourself. Time has given me tremendous musical perspective but the last time my hands made these exact movements such perspective did not exist. This is one of the reasons that you don't learn serious music at such a young age: if you ever become serious about what you do, it is very hard to unlearn such technical flaws. As I began to relearn the Rhapsody, it was a struggle. I was fighting these bad habits. A few days into the process, I had an epiphany: What am I trying to fix? How many situations in life can you honestly say that you can make a direct connection to your youth? Somewhere, deep inside my finger muscle memory, was a visceral shadow of my 18-year-old self. That is when the collaboration began: the spirit of naïve youthful energy mentored by years of experience.
Music is a unique art in that it exists within the bounds of time. It has a beginning and ending, and then it is over. Yet, as I have just demonstrated, music is timeless. It can connect us between different moments of our lives and, by extension, can connect us to people and cultures centuries old. The witty F-Major opening of Beethoven's 8th mentioned earlier has been bringing young musicians joy all over the world for 201 years just like it did for me 13 years ago.
Congratulations to the Beaver Dam Area Orchestra for 60 long years. As the community grows and becomes unrecognizable may you continue to bind together generations and provide inspiring moments for musicians and music lovers alike.