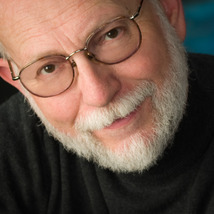 John Walcott

John was born August 18th in Beaver Dam, Wisconsin. For his first five years, he lived on Sunset Beach Road in a log cabin his father built. Then his family moved to Columbus when his parents purchase the Pratt and Emkow studio.

He grew up at his father's feet in the darkroom, watching his mother [Frances] hand paint portraits, helping in the studio and assisting his father [Mert] photograph sports events, confirmations, large first communion groups and weddings. John had a camera and would photograph football games. He sang in church and school choirs, studied piano and organ for many years and began playing Clarinet in high school, which he continues to play in the New Horizon's bands sponsored by Ward-Brodt Music and H.O.B.
At 17 he joined the Navy and went to their photography school and then spent 3 years processing pictures of the earth, which were used to update navigational charts. He spent winters in Spain and Puerto Rico and the warmer times in England, Iceland, and Norway. After finishing his time in the Navy, he attended Layton School of Art (now Milwaukee Institute of Art and Design-MIAD) and graduated with honors. Today he and his wife still attend many schools and professional classes.
In 1972, John married Suzanne and they moved to Columbus. He went into business with his father and then bought Walcott Studio in January 1976. He and Suzanne own and operate Walcott Studio, photographing: Families, Children, High School Seniors, Couples, Pets, Architecture Products and lots of sports. Two of their specialties are custom framing and the copying and restoration of old photos.
In 1996 John earned his Masters of Photography degree and in 2001 he earned his Photographic Craftsman degree.
John "loves helping others by capturing the essence of life with portraits of distinction."