Roan from Oshkosh asks: Which one does not belong – 1) strawberry flavoring, 2) raspberry flavoring, 3) vanilla flavoring or 4) blueberry flavoring?
Answer: Blueberry flavoring does not belong because it does not come from the butt of a beaver. The other three flavorings (strawberry, raspberry and vanilla) may be partially composed of beaver butt juice. Yes, it is true – humans harvest the bottoms of beavers for their castor sacs, which contribute to strawberry, raspberry and vanilla flavorings, and which can be found in such foodstuffs as iced tea, ice cream, gelatin, candy, fruit-flavored drinks and yogurt. In addition to flavorings, castoreum plays a supporting role in the perfume industry. Over the years, castoreum has also been used for medical purposes, which accounts for the fact that beavers were eliminated from Sweden in the 19th century (they have since resettled from Norway). Note: We are not talking about voluntary castoreum donations like the Red Cross Bloodmobile. Rather, castoreum is procured at the same time and through the same undemocratic process that beaver pelts are procured. If you wish to purchase some castor sacs, check out www.castoreum.com, where like-minded people can purchase ambergris, aka whale vomit, which is also a useful ingredient for parfumeurs.
_____________________________
Followup question from Roan: Okay, so how do we know if our food contains beaver butt juice?
Answer: It is hard to tell. The FDA allows manufacturers to list beaver butt juice as a "natural flavoring" because beaver butt juice comes from . . . well, it is natural.
_____________________________
Another followup question from Roan: What should be done about this?
Answer: Well, the bottom line (so to speak) is that the Beaver Dam Common Council should pass an ordinance outlawing castoreum from all foodstuffs unless it is specifically listed as an ingredient. In other words, Beaver Dam would become the world's first "Castoreum Transparent Zone" allowing our fair citizens to decide whether they wish to ingest this nasty stuff. Once the ordinance is passed, I suspect that most of humanity will "pull up stakes" and move to Beaver Dam, which will result in huge lines outside Edith's and Ming's, but we will deal with it.
_____________________________
Ellen from Montello asks: I've heard rumors about a 2014 BEAVER CALENDAR; what's with that?
Answer: As a fundraiser, The Family Center Ice Arena in association with the Dodge County Parenting Project is selling BEAVER CALENDARS featuring mug shots of yours truly. These are bound to become collector items since there are a limited number available. I personally cannot think of a better Christmas present, with the possible exception of pickled cattails (the plant kind, not the furry ones). While supplies last, you may purchase a BEAVER CALENDAR from one of your skating friends, or stop by the rink, or contact Mr Jim Szopinski at 885-9816.
_____________________________
Burt from Albuquerque asks: How's the Busy Beaver sign coming?
Answer: The sign is large and beautiful, it is world famous, it now welcomes everyone to the home of 16,000 busy beavers, it is located right next to a sign that states: YOU ARE NOW ENTERING A CASTOREUM TRANSPARENT ZONE, and unfortunately, it only exists in my mind, or perhaps our collective unconscious.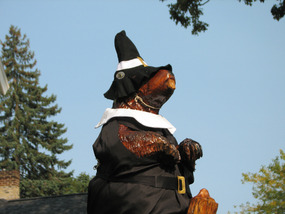 Send questions to Beav@localeben.com and let me know if you'd like to receive my Sunday e-mail complete with photo and silly story.