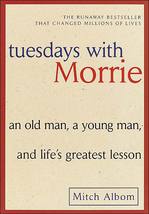 Beaver Dam Area Community Theatre – Beaver Dam, WI
Beaver Dam Area Community Theatre announces open casting for the play "Tuesdays with Morrie" by Mitch Albom. Auditions will be held on Monday, December 9 from 6:30 pm until 8:30 pm at the community theatre located at 219 N. Spring St. Scripts are available at the Beaver Dam Community Library to peruse ahead of time; however, they will not be available to checkout.
"Tuesdays with Morrie" is the autobiographical story of Mitch Albom, an accomplished journalist driven solely by his career, and Morrie Schwartz, his former college professor. Sixteen years after graduation, Mitch happens to catch Morrie's appearance on a television news program and learns that his old professor is battling Lou Gehrig's Disease. Mitch is reunited with Morrie, and what starts as a simple visit turns into a weekly pilgrimage and a last class in the meaning of life.
Morrie is a charming, fiercely intelligent retired professor suffering from ALS. He has an innate benevolence and wears his heart on his sleeve as a result of challenging life experiences. Morrie is thoughtful and kind, but has a sharp view of the world and how people work. His desire to learn and teach never diminishes.
Mitch is an amicable and aggressive man approaching middle age who has been led by fear most of his adult life. Like Morrie, he has an innate benevolence although this aspect of his personality has been buried by years of his fast-paced lifestyle. He is a bit distanced and cool and yearns for a change in his life.
Show dates are February 27, 28, March 1, & 2. If you have any questions or are interested in helping with the show in other areas, please call show producer Ron Wilkie at 920-390-0854 or director Trevor Kastein at 920-319-0498.