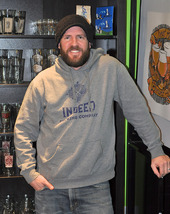 By: Matt Kenevan
I was born and raised in Beaver Dam. For 13 years of my adult life, I worked for the satirical news publication The Onion while it was still headquartered in Madison. The Onion moved me to Minneapolis back in 2004, and though I intended to move back after completing my project there, wouldn't you know I met a girl and she lured me into staying longer.
My entree into the beer scene was that I started producing beer-tasting events and festivals more than five years ago. It's not as easy as it sounds. Through a lot of perseverance in learning the tricks of the trade, our Beer Dabbler festivals have grown from a modest start of a few hundred people in attendance in their infancy to now drawing crowds of 10,000 people. The biggest event is The Beer Dabbler Winter Carnival where I bring in 125 breweries to showcase special limited release brews of their beer. The event has more to it than just beer: food trucks, live music, Hammerschlagen, a jumbotron screen, an extreme snowboard exhibition, a hot air balloon launch, and an attempt at the Worlds largest snowball fight (previous record is held by a group of 5,800 people in Seattle, Washington). The rarity of this particular beer festival is that it is all outside in the middle of winter.
Two years ago I left The Onion to go full time with my own business. I launched a new publication called The Growler magazine focusing on the craft beer movement and related lifestyle interests. We write stories on beer, food, home brewing, music, travel, biking, distilling, education and other topics of interest to the growing audience of craft beer enthusiasts. The Growler magazine is available at about 700 locations in Minneapolis, St. Paul, the surrounding Twin Cities Metro Area and Duluth, Minnesota or by mail subscription for those in any geography in the rest of the world.
To round out the business, I've opened a retail shop called The Beer Dabbler Store offering merchandise from about 75 different breweries. For example, we have over 100 different kinds of beer glasses from which to choose. In The Beer Dabbler Store you can find apparel and beer accessories and hundreds of other items from a variety of local, regional, national and international breweries; everything but the beer itself.
You might say I like beer. You might even say I love beer. I think that is true, but at the same time I'm not obsessed with beer. A good life is one of balance. There are many other things that I love in life. Family tops the list: I have a two-year-old son; a beautiful, helpful wife; a mom whom I love dearly and a sister who has always been one of my biggest allies. I like to fix things and build stuff. I enjoy hunting and fishing. I have a black lab named Porter who goes to work with me every day. My point is that I'm not a total beer dork. I've learned a lot about beer over the past 10 years and saw this craft beer movement coming, and therefore, I put my best foot forward to build a business around it.
Now that I've introduced myself, the plan is for me to be a guest columnist who will share some things about beer in upcoming issues. I don't intend to bore you with industry vernacular and stats of IBU's and specific gravities, but rather share topics, info, and thoughts relating to the social luxury of beer. Hopefully you will stay tuned and find it entertaining.
If you have questions or requests for topics, feel free to email me at: mkenevan@thebeerdabbler.com
If you would like to look at my site, go to www.growlermag.com
If ever passing through the Twin Cities area, stop on by in person to The Beer Dabbler Store at 1095 West 7th Street, St. Paul, MN 55102.
If you hate Minnesota but like the idea of the store you can visit it online at www.thebeerdabbler.com
Until next time, be nice to each other and have a beer together.