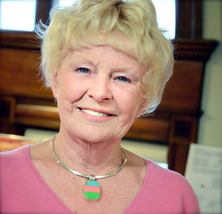 Beaver Dam – Another Connection
Dodge County Historical Society – Beaver Dam, WI

By: Laurie Propst
This is the tale of two houses. Actually, it is the story or history of two homes, because families make a house a home. There is a connection between these homes that I was unaware of until I did some reading and further research on earlier times in our community.
These homes have always been two of my favorites in a city that abounds in wonderful, historic buildings. In her book A Closer Look at Beaver Dam, Jean Goodwin Messinger states this when talking about historic architecture in our city. "Our buildings are part of what we are, and they also reveal what we have been." She is right. These two buildings still stand proudly, one on Yankee Hill (Park Avenue) and the other on what was North Division Street, renamed Lincoln Avenue. One of the homes was built in 1866. The other may date to the 1870s. Two totally different types of houses, and yet, a connection…
In 1841, Joseph Goetschius and his father-in-law Thomas Mackie became the first settlers to choose our city for their new home. These early pioneers looked for fertile soil, an abundance of fish and game, and access to fresh water. The area we now call Beaver Dam provided all of these. Soon, others joined them. Jacob and Paul Brower, Abraham Ackermann, Moses Ordway, and their families settled here and began to tame this wilderness.
In l847, S.P.K. Lewis and his wife Sara came to Beaver Dam, as did so many of our early residents, from the state of New York. He had apparently considerable experience with water power and engineering and saw the potential for its use here in our frontier town. The first five years he lived in this community, he ran a general store under the name S.P.K. Lewis and Company.
Several years later, he and Abraham Ackerman built the Empire Flour Mill on the south side of Mill Street between the river and South Center Street. The high grade flour was shipped to market in barrels, manufactured by the Hodgman Barrel Company, the first cooper or barrel maker, another local enterprise. The mill also did considerable business grinding grist for growers of grain. The Empire Mill kept one-eighth of the product as a grinding fee.
In 1853, Mr. Lewis became part owner in a local woolen mill. The firm specialized in the manufacture of high grade cassimere, a closely woven smooth, twilled fabric, which is mostly wool. He was involved in other various successful business interests, and he was a well-respected member of the new community. He served as mayor, alderman, school board member, justice of the peace and town treasurer.
Sometime during the early years of the Lewis family's arrival, they bought property located at 219 Park Avenue. They lived there in a comfortable home of modest means. Then, Lewis became a very successful businessman, and he and his family wanted a home that reflected his success.
Beaver Dam has always had a "waste not, want not" philosophy, even in our early days. A building could be and was moved to another location. Much like children's building blocks, churches, homes, hotels and old mill buildings were relocated. They might be utilized for a different purpose or perhaps just a change in location. Our early settlers saw no reason to destroy them because they had outlived their original reason for existence or stood in the way of progress. Many of the homes you see in the neighborhood of South Vita once had a life on Park Avenue. The first Lewis home was relocated to Henry Street. Construction could now begin again at the Park Avenue site.
Park Avenue was the grandest of Beaver Dam's early neighborhoods and the new Lewis home, built in l866, only enhanced the neighborhood. The house is considered to be a light version of the Italian Villa style. The red brick used on the exterior was transported from Milwaukee by oxcart. The cupola, or belvedere (Belvedere means "beautiful to see" in Italian), was a vantage point from which one could see for miles around. It was a natural play and pretend area for the five children of the Lewis family and their friends. It is amazing to me that a home like this was constructed only 25 years after Goetschius and Mackie began settling the wilderness now called Beaver Dam.
If you look carefully at the picture of the Lewis home, you will see small maple trees planted in the parkway of the home. As mature trees, these and the other maples planted on Park Avenue created almost a cathedral effect over the street. It was a gorgeous sight in fall with the big maple leaves in vibrant colors covering the lawns and sidewalks. These trees, undoubtedly, came from the Gould Nursery, another local enterprise. This nursery grew to be the largest in the country west of Rochester, New York.
One of the Lewis' daughters, Annie, married Warren Shipman, a merchant in our community. Lewis gave the young couple a home located on the corner of Division Street (later renamed Lincoln Avenue) and Maple Avenue. Many of us know this early Shipman home as the Murray Funeral Home. The Shipmans lived here for only a few years. When Mr. Shipman died, his widow and the children, including their 10-year-old daughter Lucy, moved back to her father's home on Park Avenue.
Lucy Shipman, holding tightly to her mother's hand as they walk to "Grandpa's" house, trying to understand what has happened to her little world, is our connector. Lucy lived her childhood in these two wonderful homes.
This building's exterior has been altered over the years as both owners and usage of the building changed. No construction date has been established, but Greek Revival features are apparent. Compared to other Greek Revival houses in Beaver Dam, the Shipman home was distinctive because of its size. The styling of the house may date this structure to the l870s. I cannot help but wonder. We know the early address for this building was Division Street which was renamed Lincoln Avenue. Was this building turned to front on Maple Avenue, or remodeled, changing the entrance?
In 1928, McKinstry-Yauman purchased the house from Dr. Edward McDonald and converted it into a funeral home of "Old English Colonial style." This was the first funeral home in the city. In 1951 the name was changed to McKinstry, Yauman and Murray, and by 1972, the name used was Murray Funeral Home.
In my memory, this building has always been as it is today, beautifully kept with a pristine, white painted exterior and green shutters. Since the brick is painted, what color was the original brick that has been hidden behind its painted exterior for so many years? Jerry Hankes, a funeral director and one of the owners of the Murray Funeral Home answered that question for us. Jerry said in the attic of the funeral home the original bricks (hidden due to additions) are a light cream color. Bricks that were made from Beaver Dam clay were an orange red color. The light cream color tells us that these bricks were imported from Watertown, Portage or Milwaukee.
What happened to Lucy? In 1902, Fred Rogers from Quincy, Illinois, became actively associated with The Malleable Iron Range Company (Monarch). Here in Beaver Dam, he married Lucy Shipman. Fred and Lucy had a daughter, Ann Rogers Pfeffer.
We have a model of the Empire Mill at the museum. The museum also houses a wonderful cutter. This cutter was donated to the museum by the F.B.Sherman family, early owners of the Spring Brook Farm property. Oil paintings of these early settlers are on the wall, near the cutter. Spring Brook Farm was one of the childhood homes of Ann Rogers Pfeffer.
Come see us at the museum and enjoy these and other treasures from our community's early years.