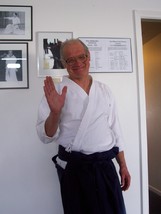 Musings of Winter Verse – It's Not a Mistake
-Tamon Mark Uttech
Driving down a highway in a white-out is tense, but dreamlike. And the Spring Equinox is not so far away…
A white-out,
Isn't that, like,
When you make a mistake?
–tamon
But, no, I seem to remember that white-out is used for covering over and 'fixing' mistakes. Nice. Comfortable. Secure.
I spent New Year's Eve just like I did the New Year's Eve before, staying home and watching "Stranger Than Fiction" a film starring Will Ferrell and Emma Thompson. Will Ferrell is an IRS agent who discovers that his life is happening because someone other than himself is creating it; Emma Thompson plays a British author who discovers that the main character of her latest novel is a real person.
I thought the movie fit well with the perennial fiction of New Year's resolutions; it did fit with mine! My own New Year's resolution started out in a joking manner: I simply resolved one New Year's Eve that for the coming new year I was going to commit myself to making "one less mistake." It seemed honest. It also seemed both doable and impossible.
January, being the first month of a new year, is depicted as an infant – fresh, strong, leaping with life! The first day of January, many of us who scaled the heights of foolishness just the night before would rather stay in the warm womb and sleep. I've read that if we learn to understand rules and regulations thoroughly, we will also understand when and how to bend and break them. Making and breaking is a classic human trait; more than a trait, it is the very basis of being human.
What could have been?
What should have been?
We don't know!
–tamon
Last night I had the most Technicolor dreams that I remember having only once before in my life. I wandered in foreign cities and surreal landscapes, passing through crowds and streams of people that just seemed matter-of-fact. There were wastelands as well as elaborate jungles, wild animals that seemed tame. Bathrooms that seemed designed to look like fountains with no trace of toilet paper anywhere. I had moments of waking up, so it seemed to be a series of short dreams braided together. No sooner would I wake up from one colorful dream only to plunge into another, thinking, "Wow, dreams arising from dreams…"
And when you wake up from such dreaming, things around you seem different; you seem to know that you have been somewhere. It is no place that you can will yourself to go; it is a mystery, and it is enough. All you can do is wonder about an experience like that. Was it a chance to wake up? Or a chance waking up? Once you wake up, it does not matter. That is an interesting point, I think: that it does not matter. Right up to the point. And what if there is no mistake about it?