March/April 2014
To The Reader
By: Erik Dittmann

What can a community accomplish when we band together? Anything –
When you look around this community, all of the best things were simply created by those who buckled down and got to work making something they felt was needed.
Looking back into the history of our community always impresses me. It is one of my favorite parts of this job. We have an amazing history in this little part of the country. I enjoy bringing you snippets of it with each issue. I truly believe knowing our history can give citizens a sense of pride and commitment to make history that will be worth putting in a magazine (or its equivalent format) 100 years from now.
In just the few years we have been doing this, I have seen great energy come through in the community. This is the main reason I felt this magazine was needed. We needed a place, a platform where people could share the great, energetic things they were doing – in their own voice. But most importantly, in a format that everyone could easily access – FREE both in print and online.
I admit, I am partial to the paper copy, though – mainly because I need it to be able to slow down and disconnect. Paper allows you to truly dive into what you are reading. No random notification from your computer or tablet that you have a new email or text message. I am more guilty than anyone of not taking a break and simply relaxing. I am more connected than I need to be. How about you?
I hope in the time you take to read the magazine you are able to disconnect – then connect with the positive energy in this community. I give all of the credit to the contributors in each and every issue. Honestly, what I do is nothing in comparison to the work of the people featured in each issue.
What continues to delight and surprise me is how little I know about what is going on in the community.
If you are one of those who is finding your own way of making history – let's meet for coffee and share your story with the community.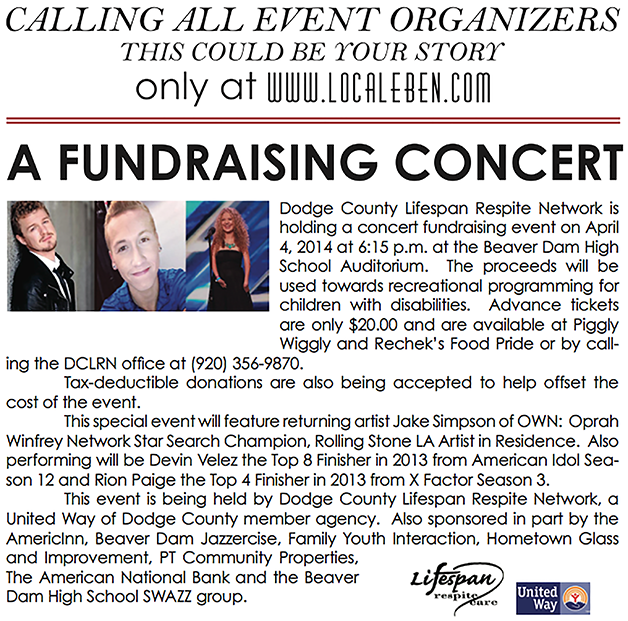 SDFASDF

Feature: A City Built – Monarch Malleable
On eight and one-half acres, the 430,000 square foot factory provided much more than stoves to the residents of Beaver Dam, it provided jobs, homes and livelihood to generations of our citizens. Read more

Powerful Ambitions
I just could not let that one last source of hope leave me. As much as the thought emotionally hurt me, I knew that if I ever wanted to do something good with my life, I had to combat this debilitating illness and fight the compulsions. I would no longer let OCD control me. Read more

Stump The Beaver: March/April 2014
Here's Chippy the Beaver celebrating National Popcorn Day on January 19, 2014. Read more
This & That: March/April 2014
The He-Man Cigar Club Read more

Bunny
He was a giant of the swing era and perhaps could even be credited with the introduction of that music to the world. Read more

Legend & Lore: Family Stories Told By A Tree
After the storm, several weeks passed before I was able to visit the island. Picking up the pieces left by a tornado is both sad and nostalgic. Read more

Artist Feature: Chef Chanse
Some artists are teachers. Some are students. Some are hairdressers, social workers or librarians. One of the region's most talented unconventional artists is a chef, and he is serving up more than mouthwatering cuisine. Read more

A Royal Clark – Worth A Risk
Under those biblical black skies, which envelop as one senses the complete loss of six months' labor, the guys of A Royal Clark imagined their first record racing down the rapids toward Lowell. Read more

Teddy the Bull Moose
Saturday, March 29, 2014 | 06:00PM The Beaver Dam AM Kiwanis Present An Evening with Theodore Roosevelt Featuring Joe Wiegand in a one-man show as Theodore Roosevelt. Read more
The Wandering Man – March/April 2014
It's Not A Mistake Read more

Dodge County Historical Society: Another Connection
This is the tale of two houses. Actually, it's the story or history of two homes, because families make a house a home. Read more

The Social Luxury of Beer: March/April 2014
The good news for beer drinkers is that even if winter lingers on like last year, the new seasonal beers will still be released in time for spring because they were brewed in the winter doldrums. Read more
Parting Thoughts: March/April 2014
Reader's choice award – favorite fish fry place. Read more