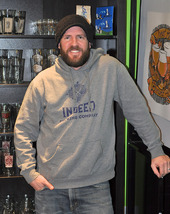 By: Matt Kenevan
It has been a long, trying winter, but one way to stay positive is to think like a brewer and look forward to spring seasonal beers. Brewers are constantly planning ahead in their production schedule in order to source their raw ingredients and to clear enough room in the tanks for upcoming brews. The good news for beer drinkers is that even if winter lingers on like last year, the new seasonal beers will still be released in time for spring because they were brewed in the winter doldrums.
Stout Season
A good stout never goes out of season in Ireland, but here in the States many folks consider St. Patrick's Day to be the peak of stout season before moving onto spring seasonal beers. If you are looking to trade your Guinness for a locally crafted stout, Wisconsin's breweries are happy to oblige. Try Rush River Nevermore Chocolate Oatmeal Stout, Karben4 Deep Winter Coffee Stout, New Glarus Coffee Stout or any of the superb bourbon-barrel and imperial stouts from Central Waters.
The Bock family of beers: Bock, Maibock, Helles Bock, Eisbock, and Dopplebock
Of German origin, bock beers hold a great history. While many modern-day craft brewers have their focus on the tremendous variety of ales, these lagers are a true tradition for springtime. Bocks take a long time to make. As a lager, they ferment at cooler temperatures and need to age longer than ales – usually about six weeks. Brewers start these bock beers at the end of fall or beginning of winter, then let them age in cellars or caves, a process called lagering, until they are ready to be finished and served in the springtime. Look for Sprecher Maibock and Dopple Bock, New Glarus Back Forty Bock, O'So Dominator Dopplebock, or the many fine bocks and dopplebocks from Capital Brewery this spring.
Wheat beers: Wit, Weiss, Weizen
Witbier, from the Dutch for white, is brewed mainly in Belgium and the Netherlands, while Weissbier, from the German for white, is brewed in Germany. Weizen is a designation that points to the use of wheat in place of malted barley, oats, or rye. These beers are supremely refreshing, and when people start to spend time outside again, their thirst takes on a different form than a try-to-warm-up-from-the-inside wintertime thirst. Reach for New Glarus Dancing Man Wheat and Thumbprint Berliner Weiss, Furthermore Fatty Boombalatty, Lakefront Wisconsinite Summer Weiss or the classic Leinenkugel's Summer Wheat for prime examples of the styles.
What is The Beer Dabbler up to this spring?
We are diligently preparing for the summer festivals we produce. The Beer Dabbler at Twin Cities Pride in Loring Park of Minneapolis to be held on Friday, June 28, 2014, will again pair 25 food trucks with 25 Minnesota breweries. New this year is our Fourth of July Beer Dabbler beer garden at St. Paul's Harriet Island on the Mississippi River. Details will soon be available at www.thebeerdabbler.com
We have also been invited to open up a taproom within the American Craft Council's spring show at The RiverCentre in downtown St. Paul, Minnesota. The American Craft Council is dedicated to showcasing artists who handcraft jewelry, clothing, furniture, décor, and for the first time, beer. The show hosts 225 of some of the country's finest artisans. Our booth will be one of ten featured spaces constructed by local architects and builders. Each day we will feature three brewers who will sample their beer. We also include local art in the project and will feature nine limited-run brewery posters, screen-printed by the artist of their choice. We will also feature handcrafted beer-related merchandise made by some very talented artists. The breweries participating in this year's show are Indeed Brewing Company, Fulton Beer, Dangerous Man Brewing Company, Hayes Public House, Fitger's Brewhouse, Sociable Cider Werks, Bang Brewing, Bent Paddle Brewing Company, and Blacklist Brewing.
AMERICAN CRAFT COUNCIL ST. PAUL SHOW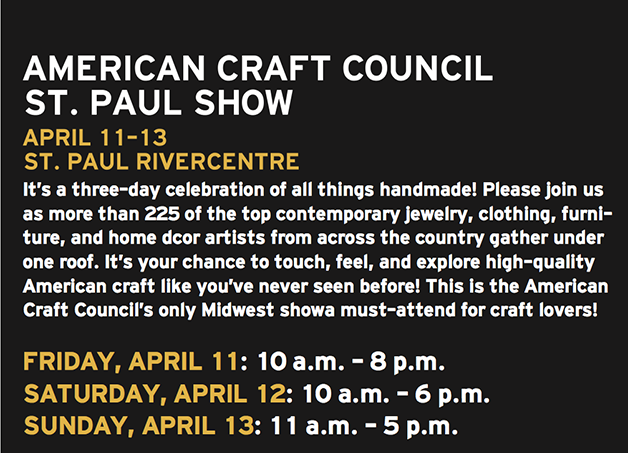 LOCATION
The St. Paul RiverCentre is at 175 W. Kellogg Blvd.
ON-SITE ADMISSION
$12 one-day pass
$28 three-day pass
FREE for American Craft Council members
SPECIAL FRIDAY EVENING ADMISSION
$5 after 5 p.m. Can't beat that!
www.shows.craftcouncil.org/stpaul