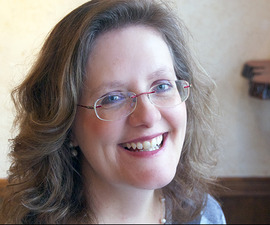 By: Karla Jensen
BDAAA – Beaver Dam, WI

Patsy Radtke paints like she breathes. Deeply, with lots of fresh air, discovering the simplest of subjects, a pebble on a beach or the point of a church steeple, from which to draw the deep, cleansing breaths of creativity. Patsy is a prolific artist who jokes easily about her talent and escapades on the way to becoming an artist. Her sense of humor equals her sense of wonder. She is as down to earth as she is elegant and kind, with a beautiful smile that is always present.
When Patsy met me at her home studio in Randolph, I discovered walls on both floors of her home tastefully loaded with reflections of her. We began in the living room, but ended up in New York, Texas, Door County, Portage and even Iowa. All she would need to do is put up an "Open" sign and there would easily be another snazzy high caliber art gallery in Dodge County.
Radtke did not pick up a paintbrush until the late '90s, raising three children and helping her pharmacist husband Dennis in their drugstore in Randolph. Over time, she left behind evidence of her creativity, breadcrumbs of clues to her true passion, in classes like cake decorating, sewing and stained glass. Painting waited for her like a house on the market ready to be occupied. She tried on her creativity, like a ranch, a condo or a colonial, until she found one that suited her best of all, painting. This is where she has dwelled happily, finding herself and forging an identity as an artist for nearly a decade and a half.
Taking a private tour of an artist's full body of work is like holding up an x-ray of someone's chest to the light. There is no way to hide what is inside; Patsy's heart, her genetic makeup, her stamina or frailties, her past. Her family tree, her passions and her soul are there in broad daylight, illuminated in paintings. For Patsy, there is not one subject or theme she paints; she tackles many. For each situation, for every circumstance, Patsy discovers exactly how to reflect what is on her mind, often materializing in people or places dear to her.
Patsy has been involved with BDAAA since The Seippel Center became its home on Spring Street. She has served on the exhibit committee, on the board, as a docent and an artist. Patsy also came highly recommended as a mentor to high school senior Emily McKnight, the most recent Proctor Award winner at BDAAA, and has worked to pass along her knowledge and experience. She has trained at the prestigious Peninsula School of Arts in Fish Creek and continues to be active in the Columbus Area Arts Association at the Senior Center and with a group in Texas every winter. She is a fixture in the annual Randolph Library art exhibit and has participated often in the Portage art walk. Patsy is incredibly plugged into the art scene around the country and she is as put together as a puzzle: complete, connected and whole because of her art.
One of her most sought after prints is an image of the New York City skyline with the Statue of Liberty. "It's not a happy painting, but it's thoughtful," reflects Patsy. In the days following the collapse of the Twin Towers, her spirits had fallen because of the tragedy in our nation. "I had visited New York with friends and my German immigrant parents had come through Ellis Island. New York was an important place to me. I felt as if my emotions came through every brush stroke. I entitled the painting Lest We Forget…" The hazy skyline expertly captures the overcast atmosphere of American hearts in the most touching but simplest of manners. No, Patsy, we have not forgotten, and this kind of art treasure assures that we will not.
With dozens of individually framed paintings to her name, one might wonder why she did not just skip all the fuss and just draw on the wall. Oh wait…she has done that too. Her kitchen mural is a work in progress; she tweaks the painting, adds to it, changing anything she believes could be better. "I began the painting fall of '13," Patsy explains, like she is a tour guide welcoming guests to a marvelous get-away, although the entire scene is simply from her fertile imagination. She began with the sketch of a tree, included birds, foliage, two characters fishing, a dog, added sailboats, and of course, her tranquil water. "Dennis' favorite part is the tree with the heart, right here," she points to the left where "D + P" obviously equal a lifetime of love. She might as well have written a love poem, because this is what the mural truly is – a love poem in the disguise of a panoramic painting. She is not fooling anyone.
Patsy speaks highly of her adored mentors who helped achieve success as an artist, knowing she could not have arrived at this point alone. She had family members who were artists – kindred spirits who urged her to hone her skill. "Carmie Dunning became my mentor back in '98. I had individual lessons from her," recalls Patsy fondly. They became fast friends and when Carmie died with an uncompleted sketch for a future painting, Dunning's family contacted Patsy to complete her 'final' work. "I had six great years of wonderful times with Carmie and felt honored to complete the painting. 'Fish House 1934' is a labor of love." She also has a self-portrait of this mentor in her living room. Patsy does not hesitate to give kudos to her Columbus group as well for their ongoing encouragement and support.
"I paint what I love – I don't know why I paint – I just have to." This is the compulsion of those afflicted with the creative spirit, to find purpose in their gift and to carry it out. Patsy has done exactly that. Her low profile is getting higher every year. "I've painted in my studio. I've painted outside in the winter. I've had my work fall into snow while creating en plein air and stuck my fingers in my coffee to warm up," said Patsy. "You really cannot know nature unless you are in it." Her artwork sincerely reflects that principle, especially noticeable as she flirts with all kinds of clouds with their varying form and depth and height that captivate her imagination and ours.
At one time, Radtke showcased her work in up to ten galleries. These days, she is represented in the Cornerstone Gallery in Baraboo and The Paint Box Gallery in Fish Creek. She and Dennis are 'snowbirds' traveling to Texas for three winter months. She joined an artist group in Texas and stays active in summer with Rural Rembrandts of Wautoma until her return to the group in Columbus. At her home studio, she files references of all kinds, with the same meticulous enthusiasm and devotion to her craft, keeping tidbits about technique for light, shadows, angles, or any new ideas. Forget the living room or even the screened porch. This is where Patsy truly lives…in her studio.
Although Patsy mentioned her favorites, I found many outstanding pieces she should consider keeping in rotation to the public eye, including one of those cloud sanctuaries. There is a magnificent standout piece of a shifting effervescent Texas sky that will not be ignored. She also has painted her church, Friedens Lutheran in Randolph, from four separate angles, which is a fascinating study in detail and perspective. "Lest We Forget…" should also be added to the list. How does she know when her art is complete? "I hold the painting in front of a mirror and upside down; if something stands out, I fix it."
Before I left this artists' retreat, I noticed how smartly every frame matched her artwork, which can often become a chore. Not one looked out of place, which truly enhances the entire painting, the entire room and her full body of work. "I am very fortunate to have a Door County artist couple who 'critique' my work and I value highly their opinions. My greatest admirer, though, is my husband Dennis; he also helps works in-progress"….like Patsy and painting….meant to be together.
After examining so many paintings, any guest in Patsy's home would come to the conclusion that her work cannot be categorized as just another gallery. This collection is Patsy's autobiography. It is not bound by a spine or identified with an ISBN number, but within flattering frames safeguarding emotions, people, places and moments in time. If you get the chance to see Patsy's work, it is clearly the passageway to an artistic time capsule worth opening.