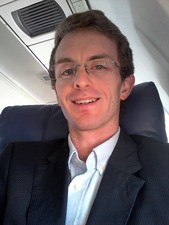 Interview with Nathan Patterson

How are you connected to Beaver Dam? I graduated from BDHS in 2002. I was an active member of the music and theater programs, as well as Trinity United Methodist Church. I went to Ripon College for my first years of double majoring in Religion and Music. Later on, I ended up changing my major and earned a Business Administration degree overseas.
How long have you been out of the country? Ten years as of New Year 2014.
Where did you go? Manaus, Brazil (a 2-million-populated industrial city in the heart of the Brazilian Amazon).
What originally took you overseas? I had a friend on a chiropractic exchange program from Brazil and I wanted to visit Brazil just as a tourist. I ended up liking it so much that I started working, finished my undergraduate studies, and have lived an American dream overseas since then.
What can you initially tell us about the 2014 FIFA World Soccer Cup in Brazil? This year, the World Cup will be held in Brazil from June 12 to July 15 and one of the host cities is where I have been living this past whole decade. I managed prime seats for two great games here: our own team USA vs. Portugal and England vs. Italy. They should be amazing games to see! The other two games being played in Manaus will be Cameroon vs. Croatia and Switzerland vs. Honduras. I recently participated in a TV station report about my expectation as an American living in one of the cities where my home team will play. Portugal has the soccer star Cristiano Ronaldo. I think the game will be tied 1-1. I would recommend to anyone who comes to Brazil for the games in Manaus to take advantage of an Amazon jungle excursion. I know people from Beaver Dam who have gone on an Amazon River trip and absolutely loved it.
What do you miss being so far from the United States? Excellent infrastructure, pop tarts, homemade casseroles, snow (even considering these past few years), and my family. Nearly everything American-made is at my fingertips abroad, too – even the latest tech releases and international cable television.
Where do you work? For nearly five years now, I have been working as an International Trade Analyst (special account coordinator) at an import/export customs clearance brokerage house and international freight-forwarding agency. It is comparable to UPS, FedEx, or DHL, but with big freight instead of just little neighborhood packages. We fully manage import/export logistic operations for major industrial companies like Procter & Gamble, BIC, Gillette razors, Owens Illinois glass, Varilux lenses, Bombardier watercraft, and even Rexam – just to name a few. We also transport American Blackhawk helicopter parts for the Brazilian Army Air Division located in the Amazon.
Did you find it hard to get hired as a foreigner overseas? The language difference was a barrier at first, but it was funny that my first job here was working at a McDonald's. From there, I worked as an international telephone operator at a five-star hotel, taught English in a private language school while finishing college and, at the same time did a human resources-related internship at the Brazil Bureau of Weights and Measurements Division.
What language do they speak in Brazil? Brazil is the only country in South America that does not speak Spanish. We speak Portuguese. It takes a while to get the hang of Portuguese, but I have been fluent for years now. The best way to master any language is to assimilate and live it. That is what I would recommend for anyway seeking to become proficient in another language. The more languages you learn, the easier the next one is. I studied German at BDHS for three years and learning Portuguese was much faster because of my previous experiences with a foreign language.
So, do you think and dream in English or in Portuguese then? This is my favorite question people tend to ask. Since I do not need to translate between English and Portuguese, my dreams and conversations all depend upon whom I am talking to at the time. For example, if I am talking to a co-worker in Portuguese, then I think in Portuguese, but then if an English-speaking customer calls me up all of a sudden, I automatically think and am able to carry on in English. Dreams happen the same way.
What do you do for leisure? I love going to classical and jazz music events. We have an opera house where many concerts are held and my favorite part of the season is the month-long international opera festival. Besides music activities, ever since 1996 I've been a stamp collector. In a foreign country, you can get some pretty neat stuff, and with the World Cup this year, I have taken advantage of some excellent deals on collector's items.
And what about travel back to the U.S. or other places in the world? I have taken several trips through my work in international trade. I have been to Miami and Boston on Procter & Gamble business twice. On a weeklong vacation I took to Boston last year, I happened to be only a few blocks up from the Boston marathon bombing, on my way back from the Patriot's Day Red Sox baseball game. On other leisure trips, I have been to other major cities throughout Brazil.
What do you enjoy about living abroad? I enjoy fully experiencing and sharing rich diversity and the good found around the world. Along with obvious differences in perspective, the culinary, artistic, and social contrasts have positively influenced me, turning me into a more conscious, erudite, and eclectic person. I've perceived that cultural differences complement and nurture each other, therefore enlightening both those I come in contact with and myself.
What are you looking forward to? I am not a fanatic soccer fan, but I am a fan of the Olympics, so I am looking forward to hopefully attending the 2016 Summer Olympic Games in Rio de Janeiro!
Do you plan on moving back to the United States? Since I always plan my vacations to the U.S., for now I don't plan on moving, but in 10 or 20 years from now, I think I would like to get back to my roots. Although I call Brazil my home now, I can say that in relation to Wisconsin "there's no place like home."