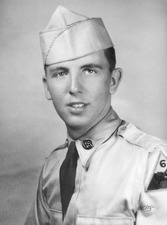 By: Bob Frankenstein
The granite "Flame of Freedom" grabs your attention when you arrive. On its face, it invites you into Veterans Memorial Park. As you proceed up the "Walk of Honor" leading to the memorial, you soon realize your wheelchair is welcome too. Looking ahead, you see a treat to the eye in brick, stone, green grass, flowers and trees. You note the walk lights form a "V" to symbolize the sign of victory.
"War Buddy Circle" encircles a garden of flowers. Flowers caress the senses and are a message of respect and love. You are reminded of the loyalty and friendships formed by survivors of long hours of terror while sharing a foxhole, ship, tank, gun position, etc. You may even sit down on one of the granite benches and share a story with your grandchildren about a buddy from your outfit, a buddy who enriched your life.
You continue up the walk to "Memory Square." In the middle of this square stands a special memorial with a beautifully polished black granite top stone imported from India, one of the most populace democratic countries in the world. To some this may be a simple rectangular stone, but to others this warrior stands proudly at attention, tall and straight, shoulders squared, feet firmly planted in solid American grey granite. On our granite soldier's chest is carved a heartfelt thank you from our community for the sacrifice each veteran gave for our freedom. Our soldier is heavily armed with six crests, three on each side. Army, Navy, Marines, on one side, and Air Force, Coast Guard and Merchant Marine on the other. This warrior carries a backpack of powerful printed words carved in stone, thanking this community for its incredible war production efforts and support of our soldiers. The granite warrior faces south with great granite arms (walls) outstretched, embracing the brave confederate soldiers who gave their lives during the civil war. Our granite warrior has no head, but if you look real close on the mirrored surface of the stone, you might see a heroes face!
Moving on to discover why it is called "Memory Square," the "Warrior Wall" greets you. You see name after name of sacrifice in our homeland or terrifying foreign lands. They bought our freedom with an arm here, an eye there, or maybe you even find one marked (KIA) killed in action, (POW) prisoner of war, or (MIA) missing in action. Unknown or missing veterans can only be remembered in our hearts, but chiseled in stone is our thanks. The courage that these men and women summoned is legendary. They all did their part! We still have our freedom! You may see your great grandfather's name, your aunt's name, your brother's or your father's name, and you get a lump in your throat. Certain walls have names on both front and back as warriors are in battle protecting each other's back. Other walls face the eastern and the western oceans to honor those lost at sea. You feel the spirit of GIs around you! You grow quiet…you are in the presence of greatness. Wall after wall, you are treated to the history of our communities' veterans.
As you move about the park, walking on a carpet of grass, you feel the warmth of the sun and the touch of the wind. You admire the beautiful evergreen trees. There is a tree for each branch of the service. They stand guard over the fallen. Color is added with shrubs and flowers. Admiration and respect invade your thoughts. Nearby, a POW/MIA Memorial stands mute, ever vigilant, awaiting the return of a veteran! This memorial is a very special one…it symbolizes openly what each veteran's club does in a ceremony privately at every meeting. Every veterans' group begins its formal meetings with a salute to our beloved flag (our symbol of liberty) after which an empty chair is designated with a black POW/MIA place marker, and thus in spirit, prisoners of war and those missing in action attend all our meetings. This is a core value of each and every veteran.
The POW/MIA Memorial consists of a six foot grey granite compass with planet earth in the center; meaning we will search in every direction possible to find and bring them home to rest in peace and honor in the soil of the United States. This memorial also features a black granite bench reserved for returning POW/MIAs so they may find peaceful rest upon returning. The sturdy walkway surrounding this memorial is wide and solid symbolizing the need to travel around the earth time and again searching each point of the compass. A black granite book documents their plight and hammered in stone is a pledge to never give up looking for them! It reads… My classmate and I went to war, I never saw him any more. My soul mate went to sea, never did come back to me. My roommate served her share, now I have an empty chair. My shipmate is somewhere lost. We must share the terrible cost. The compass of this earth pursue, to our promise we must be true. They grieve for home every day. Bring home our POW/MIA. The POW/MIA Memorial is set beneath three flowering trees …renewing our promise each new season…in Veterans Memorial Park, and overhead is the POW/MIA flag acting as a beacon for the returning spirits of missing soldiers still on faithful duty.
Veterans Memorial Park memorializes the struggles and sacrifices of families on both our home and war fronts. This park reflects the indomitable human spirit of our community, but we are not alone! High overhead there is an umbrella of protection and icons of all that we hold dear in our land. They were paid for with flesh and blood. One of them was carried into every battle, on a supply ship, in a soldier's pocket or painted on a plane. Flowing in the wind is our guarantee to live in freedom. If we lose them, we lose our freedom. If we lose one, we lose the other! They are the great flags of Wisconsin and the United States of America!
The granite "Flame of Freedom" grabs your attention once again as you leave the park; it charges you with responsibility. It reads…
THE PAST GENERATION DID ITS PART
OUR GENERATION MUST PERFECT THE ART
YOUR GENERATION MUST CARRY THE LIGHT
THE NEXT GENERATION MUST HOLD IT TIGHT
BURNING BRIGHTLY THROUGHOUT THIS PARK
OUR LIBERTY GREW FROM A TINY SPARK
COURAGE AND STRUGGLE FUELED THE COALS
A CONTINUING STRUGGLE WITH LOFTY GOALS
OUR YOUNG SOLDIERS GO OFF TO FIGHT
THEY CARRY OUR FLAG AND MAKE IT RIGHT
DANGER THREATENS, THEY ANSWER THE CALL
THE FLAME OF FREEDOM IS STANDING TALL!
Veterans Memorial Park is located on eastbound Wisconsin Highway 33 just east of its intersection with U.S. 151 in Beaver Dam, Wisconsin.